Indoor garden ideas: 16 ways to turn your home into a plant-filled haven
No outdoor space? No worries! These stunning indoor garden ideas will help you fill your space with all the plants you love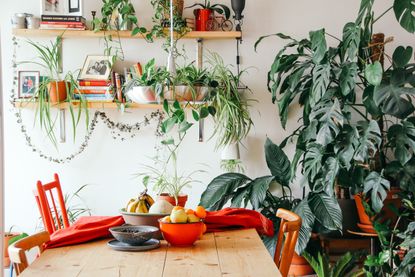 (Image credit: Brina Blum/Unsplash)
Looking for indoor garden ideas to introduce some more greenery into your space? We're not surprised! After all, there's nothing like having a load of leafy green foliage, and maybe a bloom or two, to brighten up the interior of your home.
Although many of us are lucky enough to have an outdoor space to call our own, some of us city folk are, well, lacking in the garden department. If that's the case, maybe our design ideas have got you pining for some green-fingered action of your own. But that's okay – whatever your outside-space situation, nothing can stop you creating a plant-filled sanctuary indoors! And even if you've got an outside plot sorted, there's always a reason to welcome more of the best indoor plants into your world.
'Plants don't just have to be laid out in garden areas or as patio plants – any environment can benefit from the vibrancy and health benefits of plants,' says the team at Indoor Garden Design. 'No matter what the environment, plants and plant holders can be styled to suit the aesthetic of your space.'
So, why not fill your shelves with succulents, string foliage from your ceilings, line your windows with herbs, or grow an actual tree indoors? You'll be hooked before you know it. Trust us – plants just make everything better!
1. Surround your bathtub with greenery
We have serious bathroom envy over here – just look at that tub! The galvanized containers complement the color scheme beautifully, whilst the chandelier and fringed curtains add a touch of modern elegance.
It's the masses of plants that makes it for us, though – see how these parlor palms pop against the more neutral-hued decor and bring this set-up to life.
Try it yourself – fill your space with bathroom plants! There are tons which will thrive in the humidity. And what could be more relaxing than lying back in a mountain of bubbles, with a fresh green view to admire?
2. Fill your kitchen with herbs
Herbs are great – they make every meal feel that little bit fancier. A smattering of chopped chives across new potatoes, a crushed mint leaf in a mojito, the heady scent of basil as you blitz it to pesto, our mouths are watering already!
Don't just save them for the garden though, use them as part of your indoor plant ideas too. They'll look beautiful in a mix of multi-coloured pots in your kitchen, and will be easy to access when you're deep in the cooking zone.
Check out our advice on how to grow basil, or the best herbs to grow in your garden, for more ideas.
3. Create a lush planter at the end of your bed
As the team at Indoor Garden Design says, 'Balancing your work or home space, indoor plants are a natural and adaptable way of creating healthier and more enjoyable environments.'
'Plants work as great room dividers,' adds Alice Dobie, owner of Botanica Studio. 'These plants have been grouped in a trough at the end of a bed in a small room, to keep an air of privacy.'
'Plants are great for oxygen levels, as sound absorbers, and can visually divide a room without the need for big furniture – hence why they are great in offices! They also benefit from being grouped as they can create a mini atmosphere between them called 'transpiration', which helps the plants stay happy and healthy.'
So why not bring them into the bedroom and sleep in your own private jungle?
4. Turn your dining area into a jungle
Ah, Monstera, everyone loves it. Otherwise known as the Swiss cheese plant (because of the holes), they're as much of a hit in our houses as they are on Instagram, and it's easy to see why. They're huge! They're beautiful! And they bring an awesome jungle vibe to any indoor space (if you're wondering, it's the big one on the right).
Pair with shelves heaving with potted plants – we spy spider plant here, amongst others – a great low-maintenance choice.
A fabulous setting for your dining area, so boost your morning breakfast's view, or your dinner party's atmosphere.
Want more snap-worthy plants? Take a look at our article on Instagram's most popular houseplants revealed for ideas!
5. Repurpose a bar cart for a stunning display
Okay, so perhaps you'll need to store your drinks elsewhere. But we think it's worth it for a scene like this. As you might agree, there's something rather magical about filling an old globe bar with masses of succulents.
The small plants in old glasses make a lovely touch to the theme. And check out the moss and lichen around the bottom too – it gives it an almost overgrown, yet totally enchanting vibe.
It's a stunning focal piece for a sitting room and bound to be a talking point with your guests. Head over to our advice page on how to grow succulents to get started.
6. Paint your room to match a living wall
If space is tight, or your walls are looking bare (or both), then why not plant vertically?
Even on a smaller scale, a living wall will always have the wow factor. You can buy ready-made systems such as this online. Or take a look at our guide on how to make a living wall for more ideas – just swap the plants for indoor ones such as ferns, peace lilies and philodendrons.
Paint the supporting wall a bold blue-green and match with sumptuous textiles for a statement-look you'll love.
7. Or use vertical planting to add colour
If a pared-back style is more your taste, then why not use greenery as a focal point?
This chic indoor courtyard is given a serious lift with two huge vertical panels bursting with foliage. They inject a boost of vibrancy into an otherwise minimalistic room.
8. Cram in the plants for maximum impact
If you've got the space – maybe a spare dresser, table, or desk, then why not go all out and load on your pick of our best indoor plants? Potted plants en masse is always an uplifting sight. Plus, you can enjoy the relaxing process of tending to them lovingly, when you have the time.
We love the inclusion of hanging pots and the adorable air plants poking through the wire frame behind. The result is a breathtaking indoor garden for everyone to admire.
9. Try pared-back pastel pots
If that last idea was a little OTT for you, then how about this look instead? A complementary palette of soft greens, a hint of dusky pink, a mismatch of subtle yet oh-so-gorgeous textures, a plethora of sizes – yet all pulled together in a grown-up, sophisticated way.
We love how it provides so much interest to a space, without the slightest hint of being overbearing. A wonderful addition to a neutral-toned, contemporary room.
10. Make the most of your ceiling
'Go high,' encourages Alice Dobie of Botanica Studio. 'Make use of any space. I love having plants up high, on shelves, from the ceiling... They create drama and interest.'
'They can add colour to a sad corner and grow wild. Really lean into how a plant grows – create your home around it. I love trailing plants, but if they get too long, I bring them along shelves. Not all plants have to be in eyeline, mix it up!'
These ferns and other trailing plants look spectacular suspended from the stark metal beams, adding to the eclectic styling of the rest of the room.
11. Bring a burst of spring colour with indoor bulbs
If you've read our guide on how to force bulbs indoors, then you'll know that these beauties are not for outdoor use only.
Plant in a large pot, as seen here, to make a striking centrepiece to your kitchen table. As well as the lovely paperwhite narcissus with its incredible fragrance, you can also try delights such as grape hyacinth, amaryllis, snake's head fritillary, even tulips!
Don't stop at one pot – plant up a few, and then dot around the house for bundles of spring cheer.
12. Create a laid-back boho vibe
This set-up from @indoorgardendesign brings all the fun and chilled-out vibes of a festival straight to the living room. Full of plants of all heights and lots of comfy seating, it's got a bohemian feel that we love.
Add festoon lights, bunting and a bongo or two and you'll be transported to Glasto in no time.
13. Grow a tree, indoors
Okay, so maybe your living room's ceiling isn't quite as tall as this (it might not have a glass dome, either). But, there's indoor trees suitable for even small spaces, as long as they have good access to natural light. And the results can be spectacular.
Try citrus trees such as the calamondin orange tree. Its fruits are tiny and bitter but add a stunning pop of orange, and what's more, they have a wonderfully-scented white blossom. The fiddle-leaf fig tree, with its large, glossy leaves, is another great indoor option.
Or, if you don't have the room for a full-on tree, why not consider a bonsai? These miniature trees in pots will add a magical, forest-like feel to any room.
14. Use the natural light
'If you have a good light source, use it!' says Alice Dobie of Botanica Studio. 'My first tip for plant growers is noticing the light in your home.'
'Have you noticed what time the sun comes into each room? Rule of thumb – the sun rises in the east and sets in the west.' North/east-facing rooms get the sun in the morning and south/west-facing rooms get it at the end of the day, Alice goes on to explain. 'North rooms are therefore 'low light' and south rooms are 'high light'.'
If your plant is okay with low light (check the label!), then pop it in a north/east-facing room. 'If it's a light lover – a west- or south-facing room.'
If you don't have much light, then don't worry – take a look at our low light houseplants for advice.
15. Frame your home's features
'Plants can make their own focal point,' says Alice Dobie of Botanica Studio. 'I enjoy adding to my interiors by using different plant shapes and textures to really complete a room.'
'In this photo, I've moved the plants around the fireplace, almost as if they are statues,' she continues.
'Plants on the mantelpiece also add colour to a room, and mantlepieces often get some lovely light. So the plants will thrive.'
We love the finished result. And if you're eyeing up the spotted plant on the top left, it's an indoor begonia – one of our favourites!
16. Learn to propagate
You'll be happy to know that lots of houseplants will produce babies – yes, it's true – that form brand new, free houseplants! So if you're a budding indoor gardener, then propagation is a fabulous skill to have up your sleeve.
Alice Dobie of Botanica Studio explains: 'Raising your own can be very rewarding. A lot of plants will naturally create 'pups' in order to pro-create – the Aloe vera is the classic. The Pilea also does this.'
'This picture is of a Sansevieria and these 'pups' grew up the side of the pot of the 'mother' plant. After a year, I repotted the 'mother' and took a sharp knife and cut as close to the bottom of the root of the baby as possible- giving the little baby plant as much root as I could. I then transplanted the new plant into fresh soil and watered it in. After a while this new root will support the plant and new roots will form in the soil.'
'There are many ways of propagating plants, you can grow from seed (this is more complicated!), propagate from a single leaf (Peperomia 'Watermelon'), take stem cuttings (Monstera 'Deliciosa'), or divide the plant up at the root (Marantas, for example).'
How do I start an indoor garden for beginners?
'Start small,' suggest Alice Dobie of Botanica Studios. 'Indoor gardening and keeping houseplants can feel daunting and often people don't know where to start. I recommend just picking one plant, one you like which is also universally accepted as 'easy'.'
Try something like Pilea peperomioides to start. 'Read up about that plant, let it grow, get to know it and its watering habitats, how it likes the light... By starting small you will gain confidence as it gets bigger and better.'
'Then, look for ones that have a similar nature, and bring that in,' Alice continues. 'For example, if you enjoyed the Pilea, you can move onto a devil's ivy (also known as a Pothos) or a Monstera deliciosa and put it on a similar watering schedule.'
'This 'slow grown' way of having plants in your home means you learn to care for each of them and they will last longer.'
How do you grow vegetables indoors year round?
You don't have to have an outdoor raised bed to grow some types of veggies. Micro greens, chillies, tomatoes, and even brassicas can all be successfully grown inside.
These tips that will help them on their way:
Place a heat pad beneath your seed trays to get them off to a good start, it will emulate the warmth of outdoor soil in spring. They are affordable, usually around the £10 mark and especially great for veg that likes hot climates, such as chillies and tomatoes.
Through winter, light is especially important to keep veg growing happily. Invest in LED grow lights if your home is a little on the darker side. For more tips on caring for indoor plants in winter, check out our guide.
Again, if you feel daunted, start small. Grow-your-own alfalfa sprouts kits are readily available online and simple to do.
Where should I put a herb garden indoors?
Herbs, as a general rule, like as much sun as possible, so give them lots of light and don't let them get too cold. Try a sunny windowsill, for example. Chillies are the same.
Mint is less fussy, so a great one to start with. There are lots of fun varieties to experiment with, including chocolate mint and apple mint. You can easily propagate it from cuttings, too.
A good way to check when to water them is to touch the soil – once it doesn't stick to your finger, give them a drink.
The garden was always a big part of Holly's life growing up, as was the surrounding New Forest where she lived. Her appreciation for the great outdoors has only grown since then. She's been an allotment keeper, a professional gardener, and a botanical illustrator – plants are her passion.