5 colour ideas for your garden planting scheme – which one will you choose?
Check out our favourite colour combinations and find out how you can use them to great effect in your own garden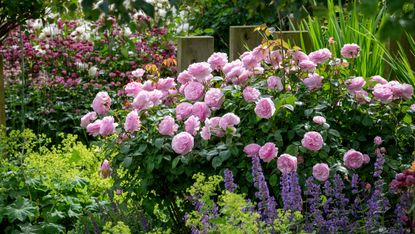 (Image credit: David Austin)
When it comes to choosing colour schemes for our gardens, finding the right combination of plants and colours can often seem overwhelming. So taking the time to plan your garden now as we head into winter is a great use of your time to allow you to get everything ready for spring.
Working out whether you prefer cools shades or warm colours, multiple shades together or beds of one colour will help you refine your planting scheme. You can create different moods within your garden, such as calming and restful or energising and vibrant, simply by grouping colours together.
Even if you don't have a big garden, you can still have fun with colour by experimenting with pots, window boxes and hanging baskets. This is also a good way to test out colour schemes on a smaller, less expensive scale before you take the leap and try them on a bigger scale in garden borders the following year.
To get you started, we've put together five of our favourite colour combinations for you to try in your garden, so keep scrolling to find your perfect hues, then head over to our guide to garden borders for the best design and planting ideas for your space.
1. PINK AND LILAC
One way to shape your borders and beds is to consider using shades of a similar group of colours, such as lilac, mauve and pale pink. You can use some darker shades like cerise and purple to add highlights, and it's also worth thinking about height variation too. In this garden border, you have the blousy pink roses, the lovely lilac in the forefront, the pops of cerise at the back on the left, and the bright almost lime green of the Lady's Mantle that weaves in and around the stems to break up the pastel tones. Follow our advice on how to plant bare root roses to ensure you'll get beautiful blooms.
2. Yellow and white
Just as you can be a minimalist when it comes to the interior of your home, you can also keep your colour schemes super simple in the garden. Classic yellow and white is fresh and easy on the eye whatever the time of year, but particularly in spring. Although this pot is predominately white and yellow, you can see hints of orange in both the primula and daffodils, adding a lovely depth to the overall look. Don't forget that however much you may want a specific two or three colours in your scheme, nature always has a way of adding in some extra shades! Head over to our guide on how to plant daffodil bulbs for more spring planting tips.
3. Multi-coloured schemes
If you can't decide on a particular colour scheme then don't worry, simply go for a multicoloured look instead! The result will be nothing short of stunning and think how happy the insects will be too if you include lots of the best bee-friendly plants. You can buy mixed seed combinations that are easy to grow and are usually pretty speedy. Look for mixtures that have brightly coloured blooms like cosmos, hesperis, Nigella, salvia and calendula. Simply sow at the correct time and wait for the beauties to fill your garden with masses of cheery colour.
4. Fiery tones
Once you've chosen your colour scheme you can start buying for spring, as Head Gardener Lucy Chamberlain, host of the Talking Heads podcast advises, 'Don't just rely on bulbs for flowers, look to spring-flowering shrubs, too. Forsythia, daphne, rhododendron, hamamelis, chaenomeles, fothergilla and pieris are just a few to choose from. These can all be planted in late autumn or winter, ready to support and complement your bulb displays.'
We love the idea of planting rhododendron as a source of one single colour for spring, and choosing a strong shade will create an eye-catching focal point for your garden. A deep shade of orangey red across one side of your garden will look amazing, and by choosing a flowering evergreen you can be guaranteed repeat yearly colour, which means you can choose the rest of your scheme around it.
5. Classic white
Choosing a single colour for a garden border can often be as beautiful as choosing many. Here, this stunning pure white Kew Gardens English shrub rose looks fabulous sitting in front of a naturally wild looking garden. It works because of all the other shades around it that come from the trees in the background combined with the wild grasses and daisies. They all help to keep this scheme predominantly white, but with stunning shades of green and copper that lift it even further.
Read more:
Sophie has been an interior stylist and journalist for over 20 years. She recently trained to be a florist and launched The Prettiest Posy where she curates beautiful flowers for weddings and events.