5 fabulous fruit trees to plant in your garden
Do you love eating juicy fruit treats on your patio every summer morning? Plant some fruit trees so you can grow your own and make delicious puddings too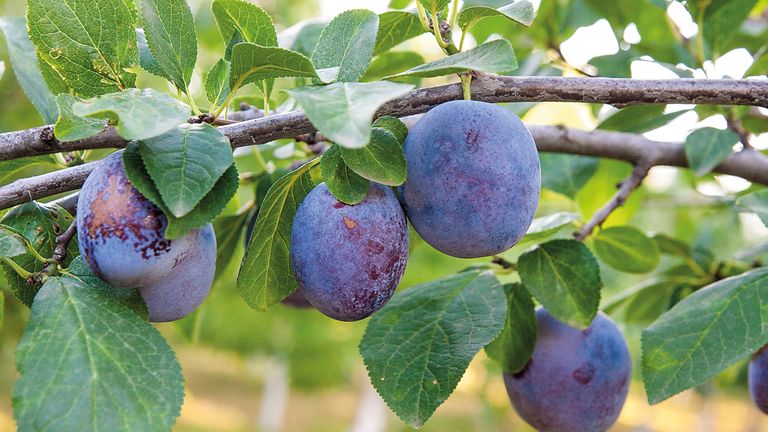 (Image credit: Thompson & Morgan)
Fruit trees can be a wonderful asset to any garden. Not only do they look good and help encourage wildlife into your garden, but they'll produce delicious varieties of fruit for you to enjoy every summer. After all, what could be better than picking apples, pears and plums straight from your own trees, then using them in tasty pies, homemade jams and a whole range of mouthwatering recipes?
Plants and flowers tend to be the stars of the show in most gardens, but we think adding a couple of fruit trees to your planting scheme too is a great idea. Choose the right varieties that are easy to look after, and you'll be reaping the benefits within a couple of years.
We've chosen five of our favourite varieties below for you to try in your own garden. If you want to try growing other fruit and veg too, you'll find advice on everything from how to grow garlic to growing summer fruits like strawberries and raspberries in our grow your own hub.
1. Pear tree
If you love pears, then this variety is for you. Known as the tastiest available, it's said to have a 'melt in the mouth' texture and is super sweet to boot. It take two years from planting to the first crop, so don't delay and get growing today!
Pears trees like well drained soil in a sheltered sunny spot, but before you plant yours make sure you prepare the ground with plenty of well rotted manure or garden compost. A good tip is to plant the stake with the pear tree, rather than pushing in the stake afterwards, as this may damage the root ball.
Find out how to compost in our step-by-step guide.
2. Peach tree
There's lots to love about this peach tree. The fruit is super sweet and juicy, it's ideal for small garden ideas and it produces beautiful pink blossom in the spring. The best time to plant it is between October and March and it will take two years until you get the first crop, which will be around August.
We love this variety as the tree has an ornamental quality to it and we're sure it will add a burst of colour to your garden every summer. Not to mention all that delicious fruit. Peach crumble anyone?
This variety comes as a bare root tree, which means it will have been growing in a field until shortly before you buy it. The roots are cleaned of soil and then they are packed in material for delivery. Our guide to planting bare root trees has all the info you'll need on growing a tree in this way.
3. Plum trees
Plum tart? Plum jam? Think of all the delicious things you can make with a plum tree! This is a heavy bearing variety that will give you plenty of rounded, firm fruit that can be eaten straight from the tree. It's partially fertile, which means it's best grown with another variety, so if you have room for another tree plant two next to each other to act as a suitable pollinator. Four years from planting it will give you its best crop, so plant out your fruit trees now.
4. Cherry tree
Perhaps not a fruit that may initially spring to mind, but one that will do very well in a small space and can cope with being freestanding or up against a wall or fence. This variety will bear a heavy crop and the tree will grow rapidly in the first couple of years. You can plant it from November to March and it will be ready for harvest in July to early August a couple of years later once it's big enough to bear fruit. Once planted little needs to be done to it, and pruning can be limited simply to remove unwanted branches occasionally. There's more advice on how to grow cherries in our dedicated feature.
5. Apple tree
Last, but by no means least, is the apple tree. Who wouldn't want a bounty of apples every year? This variety was awarded the RHS Award of Garden Merit Winner and is a cross between James Grieve and Golden Delicious – it takes the best qualities of both so you get the best taste and texture.
Another bonus is that it's dual purpose. You can eat it and cook with it, and it's a good pollinator, which means it is easily pollinated by other apples nearby. You will get your crop from September to October, so get your recipes ready for those autumn apple pies.
Want to try growing other trees but don't have much space? Our guide to the best trees for small gardens has plenty of suggestions.
More grow your own advice:
Sophie has been an interior stylist and journalist for over 20 years and has worked for many of the main interior magazines during that time, both in-house and as a freelancer. On the side, as well as being the News Editor for indie magazine, 91, she trained to be a florist last year and recently launched The Prettiest Posy where she curates beautiful flowers for weddings and events.