5 of the best companion plants for your rose bushes
Roses are an integral part of many gardens and it's easy to see why, so make sure you choose their fellow companions with care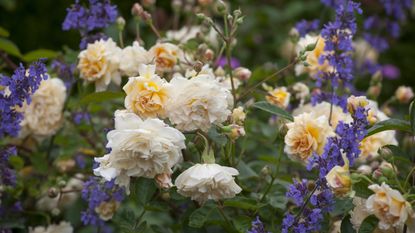 (Image credit: Jonathan Buckley/National Trust)
Choosing the right plants to grow alongside your treasured roses is an important element of any planting scheme for several reasons. First, roses can be rather 'leggy' with long, bare branches lower down so it can be good to have something next to them that will hide that aspect.
Second, some roses can have short flowering seasons so including different plant varieties will ensure you get lots of colour in your garden for longer. Third, and perhaps most importantly of all, growing roses on their encourages pests and diseases that love to attack them. By planting lots of companion plants alongside your roses, you'll attract a greater range of bees, butterflies and birds that will eat the insects that like to live off roses.
To help you choose the best plants to complement your roses, we've highlighted five great varieties for you to consider below. Make sure you check out our guide to garden borders for more planting inspiration too.
1. Alliums
This beautiful variety of allium has a large and vibrant head that attracts butterflies and bees. Flowering in July and August, they are ideal for borders and will complement roses perfectly. They will also give height and unique texture to your grouping. With a spread of between 20-30cm you can plant them in between roses to add a splash of colour and interest.
2. Catmint
A fabulous choice to plant next to roses as it looks beautiful and is perfect for covering up the bare stems of your roses. The bright violet flowers give a burst of colour next to fluffy headed roses and it will repeat bloom throughout the growing season which begins in the summer. It's also a favourite of bees and butterflies – find more plants for pollinators in our guide to bee-friendly plants.
3. Lavender
Prized by most gardeners for its beautiful scent and looks, lavender is also a great choice as a companion to roses. It's the perfect border and edging plant too and as it blooms early in summer it will attract all the neighbouring bees. The deep lilac shade looks fabulous with pink, red and peach coloured roses and its spread will ensure it covers the ground well. For top tips on how to plant a lavender hedge, head over to our guide.
4. Foxgloves
A multicoloured array of foxgloves look stunning in the midst of pretty coloured roses. The flowering period of foxgloves is much the same as many roses, and their towering shape perfectly complements the blousy nature of garden varieties. Bees adore them and their petal shape allows easy access for them to acquire all the pollen they require.
5. Geraniums
The advantage of geraniums is that they bloom all summer, so when your roses have finished, they will carry on giving your borders that much needed burst of colour. This particular weather-tolerant variety produces masses of single blooms that will look fabulous with roses in various shades of pink. They also successfully hide bare rose stems, which is always a bonus. We've got lots more patio gardening ideas in our feature.
Read more:
Sophie has been an interior stylist and journalist for over 20 years. She recently trained to be a florist and launched The Prettiest Posy where she curates beautiful flowers for weddings and events.