5 vegetables to sow now – add these to your grow your own planting list before spring
It's time to dust off your seed trays and get sowing vegetables! Here are five vegetables that you can start sowing before spring arrives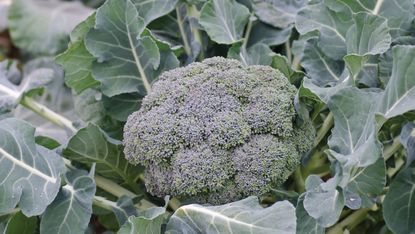 (Image credit: Thompson & Morgan)
Although in many climates it might still seem too early in the year to be considering sowing veggies, now is actually a great time to get your seeds sown indoors. You can nurture them until they're big enough to be acclimatised outdoors, and if you don't have a greenhouse or cold frame, you can use your garage or even a windowsill instead.
Once the soil gets warmer you can them plant them outside, but now is a great time to get a head start before the busy season takes over.
If you've read our guide on how to grow garlic then chances are you will already have made a start on your veg patch for the year ahead, but why not try some of our other favourites too and add something new to your grow your own list this year? Keep reading for some ideas to get you started...
1. Aubergines
This beautiful looking variety produces large pear-shaped aubergine and is ideal for sowing in February or early March. It's best started off under glass – you can keep your seed trays in your greenhouse, or if you don't have one, invest in a cloche, cold frame or the best mini greenhouse.
Once the last frosts are over you can plant your seedlings out, or plant direct after March when the soil is warmer. If it's still a bit chilly then cover with fleece or cloche overnight.
2. Brussels sprouts
This variety has a mild taste and no bitterness, so potentially a good one to try with the members of the family who frequently turn their noses up at the sight of sprouts on their plates!
Bred for easy de-leafing, which makes harvesting quick and easy, they are a great variety to start off with if it's your first time growing them.
Sow indoors until the end of April then you can plant out, or sow direct until the end of May. They'll be ready to harvest from the beginning of September.
There's more tips on how to grow Brussels sprouts in our guide.
3. Leeks
A great veggie for soups, the leek can often be forgotten. The Musselburgh is an exceptionally hardy variety and one that can withstand cold temperatures. It's tender when cooked with a good flavour and produces heavy crops with short, thick stems.
Start off indoors from February to April using a free-draining seed sowing compost and pop in a propagator, or from March to April you can sow directly into well prepared seedbeds and move to their final positions in your raised beds in June.
4. Parsnips
This variety is a much improved smooth-skin version with long and firm tapering roots. It has been bred for resistance to all the latest strains of disease which makes it ideal for organic growing. And it's an RHS Award of Garden Merit winner!
Prep your soil first and sow directly outside into well-cultivated ground from late February to May. Harvest time will be from September to late March, so a pretty good all rounder for the year ahead.
Our guide on the best vegetables to grow in raised beds has more suggestions for veg to grow in your patch too.
5. Broccoli
If you're thinking of growing broccoli for the first time, choose a variety that's got a good record like this one. It has a consistently good head quality and uniformity and you can sow regularly from February to June for months of use. So if you sow now you can go from seed to harvest in as little as 75 days after transplanting!
There's expert tips on how to transplant seedlings in our guide.
Sophie has been an interior stylist and journalist for over 20 years. She recently trained to be a florist and launched The Prettiest Posy where she curates beautiful flowers for weddings and events.