5 quick ways to prepare your garden for spring
Now's the time to start prepping your garden for the wonderful warmer months ahead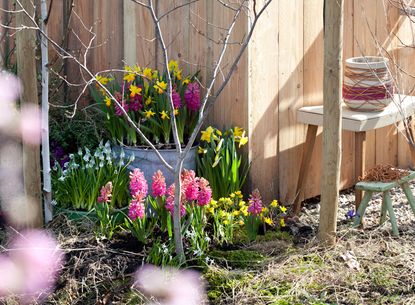 (Image credit: iBulb)
As we head further into March and our gardens slowly start to wake up after their winter sleep, our thoughts naturally turn to the months ahead and the start of the growing season.
If you're already planning your spring garden ideas, there are some key jobs to start this month that will make your life easier as the gardening season gets busier as more things start to spring into life.
We asked Lucy Butler (@themindfulgardener) for her top tips for preparing your garden for spring.
1. Cleaning and maintenance
Late winter/early spring is the perfect time to carry out any cleaning and maintenance tasks before the growing season really kicks off. Tasks such as sweeping/pressure washing patios to remove winter debris, cleaning greenhouses, emptying containers, washing pots, and cleaning and sharpening tools are all essential jobs.
It's also a good time to install new fences and trellis as well as equipment such as water butts. Complete these jobs and you'll be fully prepared for the busy gardening months ahead.
Our top tips on how to clean a patio will get yours in great shape for spring.
2. Mulching
Mulching is a great way to give your soil a kickstart and get it in tip top condition ready for the seasons ahead. Not only does it improve the organic matter and the general structure of the soil, it also provides nutrients, encourages beneficial organisms, helps retain moisture, suppresses weeds, protects plant roots from extreme temperatures and gives beds, borders and pots a neat and tidy finish.
Late winter/early spring is a good time to do this as annual weeds have not yet germinated and herbaceous plants are still dormant.
3. Lawn maintenance
Take the time to show your lawn some love by giving it its first cut of the season - and it will thank you for it! Before starting, ensure the grass is relatively dry and frost free – mowing in wet and cold conditions can damage the turf and lead to compaction.
For the first cut, set the cutting height on the highest setting, then gradually reduce over the season until you are happy with the height.
Don't forget to edge your lawn for a neat and tidy finish. Spring is also a great time to feed your lawn – feeding will help to prevent moss and weeds from establishing. There's more spring lawn care tips in our guide.
4. Pruning
Many plants benefit from an annual prune at this time of year – not only does it help to keep a plant's height and shape in check but regular pruning also improves plant vigour by encouraging strong new growth, increasing flower and fruit production and improving plant health. Plants that benefit from being pruned now include: fuchsia, buddleja, dogwood, sea holly, sedum and thistles.
Head over to our guide to the best secateurs to find the right tools for the job.
5. Planting
By now you should be starting to see the fruits of your labour if you planted any spring bulbs back in autumn. If not, don't worry, all is not lost as you can still buy bulbs in the green – they'll still be ready to flower in spring as they are pre-grown.
Why not have a go at creating a spring planter to provide a splash of colour using plants such as primroses, polyanthus, hyacinths, violas, daffodils, tulips, muscari, heuchera, heather and daisies to name but a few.
You can find out how to plant a last minute spring container in our guide.
Sophie has been an interior stylist and journalist for over 20 years. She recently trained to be a florist and launched The Prettiest Posy where she curates beautiful flowers for weddings and events.