6 shed paint ideas: quick and easy ways to give your garden shed a new look
Breathe new life into your garden shed with these original paint ideas we're excited to copy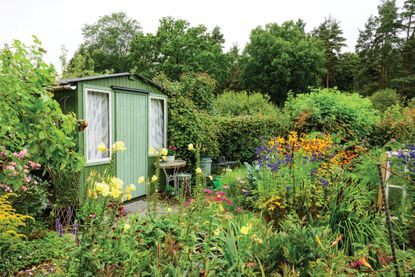 (Image credit: Harris Brushes)
What's your favourite part of your garden? We bet not many of you are thinking about your shed right now. But that needn't be the case! With the potential to be so much more than just a practical storage unit, our sheds can be attractive design feature in their own right.
In a bid to show our all-too-often neglected sheds some love, we're sharing our top six paint ideas of the moment. From the subtle to the striking, it's about time we throw away the garden shed rule book for a design that enhances, rather than detracts from, our garden scheme. Don't have a shed yet? Discover the best sheds on the market right now. Or check out these garden design ideas for more inspiration.
1. Go dark and let your greenery take centre stage
Black paint in the garden is having a moment, and if you're thinking this is far too dark for your shed, think again! A black background will make plants and flowers stand out louder and prouder than ever before. If you're painting a she shed like this stylish design by @e.t.shown_home, choosing black for the interiors gives a cosy, cocooning feel for a relaxing garden hideaway too.
2. Highlight your windows with a vibrant colour
If your shed is blessed with attractive windows, transform them into a statement focal point by painting them a vibrant shade. The full-length windows on this shed by Waltons are brought to life by the striking yellow paint colour, which stands out boldly from the grey base. From inside, the yellow paint will create a warm, sunny glow, which is an added bonus if your shed is a living space too.
3. Get those seaside vibes with nautical stripes
Craving the seaside but not keen on a long car journey and packed beaches? Create your very own holiday at home by painting your shed in beach hut–inspired stripes. It's a fun and quirky way to give your outside space a whole new look. Go all out with nautical accessories too for a garden that oozes fun. This design was shortlisted for Cuprinol's Shed of the Year, and we can certainly see why!
4. Choose green to blend in
If your garden is on the smaller side and packed with flowers, going green with your shed is a great way to help it blend into the background and make your space feel bigger. Choose a shade of green that will work well with your plants for a space that's easy on the eye, without taking the focus away from your plants. We're loving these patterned curtains too, perfect for keeping all that shed paraphernalia out of sight.
5. Create character with Tudor style monochrome
Wishing you lived in a cute timber framed country cottage? Paint yourself a mini version for that quintessential English country garden feel, in any outside space. Go for a white base, black stripes and black roof for a nod to past design. We love how this shed is used as a gin bar, a very timely design choice we wish we'd copied months ago!
6. Embrace your creative side with all over pattern
If you're a budding artist, why not let your shed become your canvas for a larger- than-life piece of alfresco artwork? This floral design was another shortlist for Cuprinol's Shed of the Year competition, and is the perfect exterior for this artist's studio. While an intricate pattern like this may not be achievable for everyone, there are many stencils available (check out Dizzy Duck Designs) to make the job much easier, or you could even hire an artist, such as Lucy Tiffney, for a professional, bespoke creation.
Read more:
Amelia has worked on Real Homes magazine since 2016 and is now Deputy Style Editor. She's a flower lover, and her dining table is never without a bright and blousy bunch of blooms. She loves the excitement of planting seeds in her container garden, and watching beautiful flowers appear from nothing. This year she's on a mission to enhance her new rented garden with a colourful bistro set, a patterned outdoor rug and plenty of fairy lights. Her favourite houseplant is a Calathea, as she loves how they lift their leaves at night, as if tucking themselves into bed!