Sales of these low cost trees are surging in lockdown
Garden centres are reporting an increase in bare root plants this January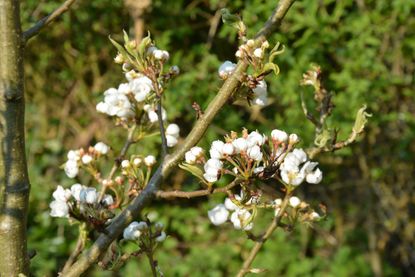 (Image credit: Future)
UK garden centre are reporting a huge increase in sales of bare root plants, with one garden centre in Buckingham saying they're seeing a surge of interest in bare roots hedging and fruit trees, according to Horticulture Week.
The bare root season runs roughly between November and March, when shrubs, trees and hedging plants are in their dormant season. Traditionally, bare root plants aren't the most popular garden centre stock, mainly because they don't look as exciting as potted plants full of fresh foliage that are sold throughout spring and summer.
However, bare root plants have some real advantages, not least their lower cost compared to potted plants. With so many people now redesigning their gardens in earnest during the pandemic, finding a cost-effective way to plant up larger areas – or creating a living fence with hedging – is more important that ever.
The pandemic has made many people who are lucky to have gardens rethink how they're using their outdoor spaces. The increase in the popularity of fruit trees chimes with our newly-found enthusiasm for growing our own fruit and veg, since many of us now work from home and are able to give even challenging plants a bit more attention. Besides, dwarf fruit trees look equally amazing in containers in a conservatory as they do in the garden.
Bare root fruit trees can be potted up if the weather's not suitable for planting them straight in the ground. With bare roots, you have to be careful not to plant them in frozen or waterlogged soil, but you can just plant them in a large container and let the roots develop that way.
Monty Don has sung bare-root plants' praises on his website, saying that these plants 'are invariably cheaper, usually better quality and there is always a much wider range of types and varieties of bare root plants to choose from as opposed to containerised ones. They also are more likely to get established and grow quicker in your garden than container grown ones.'
With so many advantages and so few drawbacks, we can totally see why bare-root plants are so popular, even if they do look like bunches of twigs when you buy them.
Read more:
Anna writes about interior design and gardening. Her work has appeared in Homes & Gardens, Livingetc, and many other publications. She is an experienced outdoor and indoor gardener and has a passion for growing roses and Japanese maples in her outside space.