Beginner beekeeping is the new craze among gardeners
Lockdown sees numbers of amateur beekeepers surge; this is good news for us and the planet, says beekeeeping expert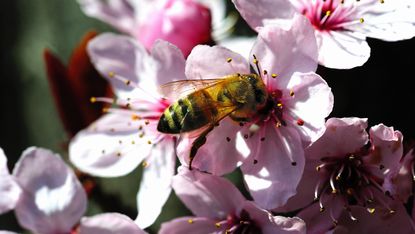 (Image credit: Alamy)
Beginner beekeeping is surging across the world, with installing hives in our gardens during lockdown named as one of the top lifestyle trends in the influential Trend Hunter forecast. Undoubtedly, this surge in popularity has been helped by a number of celebrities who have taken up beekeeping during lockdown, from David Beckham to Beyonce.
As a wildlife garden idea, beekeeping is as good as it gets. It helps conserve the world's most important and fast-declining pollinator, and it increases biodiversity more generally, because people who keep bees plant up their gardens with bee-friendly plants that are beneficial to a whole range of insects and other wildlife. But there are other, perhaps surprising, benefits to beekeeping that are emerging during the pandemic.
Dr Agnes Tyburn has been interested in bees since early childhood and founded the beekeeping community Beesitter, which shares Dr Tyburn's scientifically backed beekeeping methods with an audience of enthusiasts. Since the pandemic, she has had to move all her educational courses online on Eventbrite; remarkably, Tyburn discovered that attendance surged instead of going down, and she thinks that the online beekeeping events work as a bonding activity for loved ones forced apart by the pandemic. 'It's great to see families, who can't see each other in real life, meeting up on my events,' she says.
Attendance of beekeeping events, both online and physical, shot up by 50 per cent in 2020, with the numbers peaking in June, when restrictions were briefly lifted. And it wasn't just beekeeping that captured our hearts. Last year in the UK, nearly 20,000 beginners and professional beekeepers enjoyed Q&As, webinars and lectures from top bee ecologists and scientists on topics such as the crisis of decline, as well as talks by gardeners on how we can attract bees into the garden and from charities on how to make money with beeswax.
Agnes explains that beekeeping can be a gateway into many other environment and gardening-related hobbies, and it develops a whole range of great skills. 'You get sharp as there's lots to learn and it not only keeps you busy, but you're also in contact with nature and the outdoors, which is a great thing,' she explains. 'If you take up beekeeping then you learn a lot about the biology of bees, but also gardening and blooming seasons.'
There is another important function of beginner beekeeping – some of the amateur enthusiasts starting out now will become professionals: 'Bees are in decline so there's a need now more than ever for trained beekeepers and as there's an ageing population of beekeepers,' she adds. 'It's important younger people start to get involved to ensure the future for these amazing insects.'
Anna writes about interior design and gardening. Her work has appeared in Homes & Gardens, Livingetc, and many other publications. She is an experienced outdoor and indoor gardener and has a passion for growing roses and Japanese maples in her outside space.