Cleaning outdoor furniture cushions couldn't be easier with these expert tips
Follow these tips for cleaning outdoor furniture cushions and enjoy garden seating that looks like new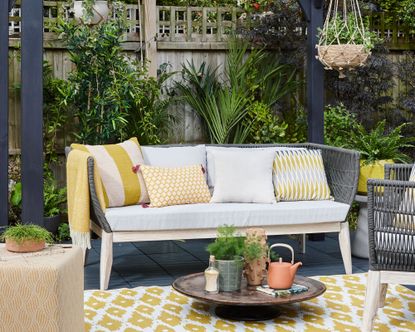 (Image credit: Future)
Cleaning outdoor furniture cushions can be a difficult task. First, even the best garden furniture often uses cushions with non-removable covers, which makes the cleaning much more labor-intensive. Next, outdoor cushions are prone to mold and mildew, which can be particularly hard to remove. And, finally, depending on what fabric your cushions are made from, the drying process after cleaning them will be different.
Fear not, though: cleaning outdoor furniture cushions is easier than it may seem, if you follow these simple expert tips. These are all for cushions that have non-removable covers; if yours are removable, just wash them in the washing machine.
1. Determine how heavily soiled your cushions are
Less is always more where it comes to cleaning outdoor furniture cushions. If yours only have a stain here and there, go easy on them. The less contact with the foam inner, the easier it will be to dry them – and the less chance for permanent damage to the foam.
Nadeem Abbas, owner of Love2Laundry, says: 'make a solution of water and detergent in a spray bottle and apply to the cushions before scrubbing dirt away with a soft brush. Avoid oversaturating the cushions as this may damage the foam.'
2. Go in with the hose for heavy soiling
If your cushions are heavily soiled, with mold or midlew spreading all over the covers, you'll need to do a more intensive clean. To do this, you'll need to mix borax, dishwasher liquid, and water, and apply liberally to the entire surface of the covers (watch the handy video from HGTV above). Let the solution sit on the cushions for five-10 minutes.
Next, wash off the cleaning solution with the best garden hose or best pressure washer. Soaking through the foam is inevitable in this case, so make sure it's a quick rinse: the less water soaks through the foam, the better.
3. Make sure you're drying correctly
This is actually the most important thing to get right when cleaning your outdoor cushions, because if you don't, the result will be even worse than before you cleaned them. If the foam is not allowed to dry all the way through, mold and mildew are guaranteed. Nadeem comments: 'Ensure they are completely dried through by leaving them in the sun, putting them in an airing cupboard or putting them on the radiator. Leaving moisture in the cushions can result in the foam degrading and mold or mildew developing.'
Leaving your cushions out against a sunny wall or garage door for several (dry) days is the best course of action, unless your cushions cover are not color fast. Generally, if they're made from dyed linen or cotton and are brightly colored, it's not advisable to dry them in direct sun. In this case, you'll need to wait until the summer so that you can dry them off in dry shade during warm weather.
Want more cleaning advice to get your outdoor space ready for summer? Check out our guides on how to clean a patio and how to clean decking for more top tips.
Anna writes about interior design and gardening. Her work has appeared in Homes & Gardens, Livingetc, and many other publications. She is an experienced outdoor and indoor gardener and has a passion for growing roses and Japanese maples in her outside space.