5 clever uses for your Christmas tree post-December
Struggling to think of uses for your Christmas tree in the garden? Here's what to do with it once the decorations have come down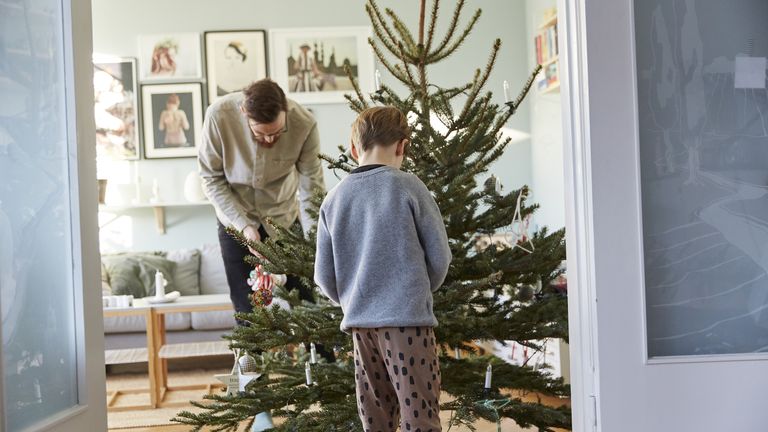 (Image credit: Getty Images)
After the last mince pie has been eaten and present unwrapped, you might be wondering how to get rid of your real Christmas tree in the New Year. However, before you put in a call to the council to take it away, there are a whole host of ways to make use of your old Christmas tree in the garden.
If you didn't learn how to grow your own Christmas tree this year, chances are you spent a significant amount on buying a real tree instead and followed the best Christmas tree care tips to ensure it's stayed looking its best for as long as possible. As you know, real Christmas trees aren't cheap, so it's important to get as much use as possible out of your purchase.
From creating a natural bird feeder to protecting your flowerbeds, Squire's Garden Centres has shared five creative uses for your Christmas tree post-December.
5 uses for your Christmas tree in the garden
1. Use the tree as a stake
Save yourself some money in the new year by turning your Christmas tree into a frame for flowers or runner beans. Simply strip off the pine needles and some of the smaller branches to create a fantastic frame ready to be used in your raised beds or vegetable garden.
2. Protect flowerbeds with the branches
Want to know how to protect your plants from frost? Well, have you ever thought of using your Christmas tree to help? You can make your Christmas tree work extra hard by using the branches to protect your flowerbeds from the worst of the winter weather in January. Strip the branches from the trunk and lay them on top of your flowerbeds to protect them from frost.
3. Make a bird feeder
This is one of the easiest ways to recycle your Christmas tree, and the birds will thank you for it. Simply remove any of the most unsightly brown branches and position the tree in a heavy pot, making sure it isn't going to tip over. Then hang a few of the best bird feeders on the branches for an easy idea on how to attract birds into your garden.
4. Use on a fire pit
This last year has seen a boom in many households revamping their outdoor space with the best fire pits and BBQs for socially distanced get-togethers and winter garden party ideas. Make use of your old Christmas tree by cutting it up and storing it somewhere dry, ready to use as firewood in the new year.
5. Turn it into mulch
If you have one of the best garden shredders, turn your old tree into mulch to use around your garden. Cut the branches off the tree and put them in the shredder one by one. Then scatter the shredded material around trees and shrubs to improve the soil and suppress weeds. There's more advice on how to do this in our ultimate guide to mulching.
If you are lucky enough to have purchased a Christmas tree in a pot or one with its roots still attached, plant it up outside. Look after it and you can use it again next December.
Read more: