Rose expert reveals the top 4 ways to prepare your roses for summer
Want to ensure your roses look their best this year? Here's what you should be doing now, according to a gardening expert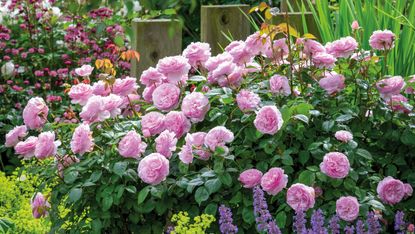 (Image credit: David Austin Roses)
This time of year is perfect for starting to prepare your roses for summer blooming. Putting in the extra care now will pay dividends and your roses will love you for it once the warmer weather and sunshine arrives.
Roses are easy to grow and tolerant of most conditions. Even without much attention they will still bloom, but showing them an extra bit of love will give them a better chance of producing even more impressive blooms.
So what tasks should you be putting on your gardening list as we head towards spring? Who better to ask for their advice on everything from how to plant bare root roses to essential rose care tips than the head gardener at the world famous David Austin Roses? Keep reading for his top four tips, plus his prediction for the best selling rose for 2021.
1. Pruning roses
'One of the most important jobs that benefits your roses the most is pruning,' says head gardener Steve. 'We recommend pruning in January and February. However, if you still haven't pruned by late March then it's better to still do it rather than not at all.
'Pruning gives your roses shape and structure – it allows you to remove any branches that are growing in the wrong direction or that may look diseased in anyway.'
Our guide on how to prune roses has more top tips.
2. Plant bare root roses
'It's the perfect time to plant bare root roses, which will flourish come summer,' Steve explains. 'The last month of the year to plant them would be April, so there's still time to do it this year. Do wait a little while if the ground is frozen or waterlogged though.
'Make sure you know where you want your rose to go first – they love the sun and can cope with up to four hours a day. Give your bare root rose plenty of space too as you don't want the roots to suffer from competition from neighbouring plants.'
3. Feed your roses
'Feed your rose twice a year with rose food, once in early April and again after the first flush of flowers in July,' says Steve. 'Simply sprinkle 30g of feed onto the soil around the base of the rose, spreading it to the width of the canopy. Mix it into the surrounding soil and water.
'Feeding is one of the most beneficial jobs you can do as it will give your roses a head start for the season ahead. And don't forget to water – you should start to pay attention to watering around Easter time as the weather starts to get warmer.'
4. Add mulch to roses
'Mulching is like a protective layer that you can use to look after the base of your roses,' explains Steve. 'The main advantages are that it helps them to retain moisture, suppresses weeds and provides valuable nutrients that feed the roses during their growth.
'After feeding your rose, water the surrounding soil then apply a 1-2 inch layer of mulch around the base of the rose, spreading it to the width of the canopy.'
Want to know more about adding mulch to your garden? Our ultimate guide to mulching has all the information you'll need.
5. The top rose for 2021
Before we let Steve go, we asked him what rose variety he predicts will be the best seller this year. His top pick was the beautiful Olivia Rose Austin which has been incredibly popular since its launch back in 2014.
'Its pretty pink colouring ensures it will stand out in your garden,' he says. 'It has a light to medium fruit scent and one bonus of this variety is that it blooms early in the season compared to some others, so if you want to stagger your flowering displays then do consider this one. It will continue to bloom into autumn and will look great in pots, borders and for cutting.'
We think it's the perfect pick to complement our stunning cottage garden ideas.
Sophie has been an interior stylist and journalist for over 20 years. She recently trained to be a florist and launched The Prettiest Posy where she curates beautiful flowers for weddings and events.