Sarah Raven reveals her top 3 favorite tomato varieties
Sarah Raven talks about easy to grow tomatoes that also look great in her latest podcast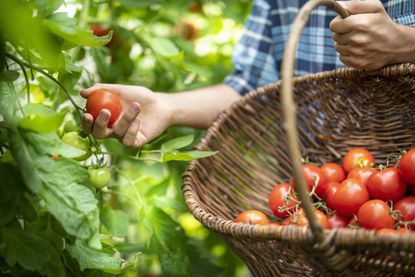 (Image credit: Getty Images)
Sarah Raven's favorite easy to grow tomatoes might surprise you, if you expected the gardening guru to pick classic varieties (think Gardener's Delight) as part of her latest podcast. Instead, Sarah devoted much of her time talking about tomatoes trying to convince her co-host Arthur Parkinson that they're not 'needy and ugly' plants to grow, as he puts it.
It is true that learning how to grow tomatoes can be tricky, with many growing leggy and messy quickly. In the podcast episode, Arthur also objects to having an unsightly grow bag in his front garden – 'I don't want to go there,' he confesses.
This is why Sarah describes her favorite varieties – which she says are easy to grow, beautiful, and extremely good for you. These are the ones she picked in the latest episode of her podcast.
1. Texas wild cherry tomato
Also known as Currant Tomato, they are 'the size of my thumbnail', says Sarah, who has been growing this micro tomato in her garden for years. They have an explosive, sweet taste, like 'a sugar bomb', but what's even better, they look great if you like growing vegetables in pots.
This variety 'cascades out of the side of a pot', and it doesn't have to be the only plant in the container, either – Sarah advises planting them around a large pot with zinnias or even dahlias in the center. 'They're really pretty, coming out of a window box or doorstep pot,' says Sarah. 'Try these before you discard the idea of growing tomatoes.'
2. Sun Gold
Sun Gold is a tomato variety that wins on both looks and ease of growing. Of their color, Sarah says they're comparable to 'deep egg-yolk' or even saffron. What's even better, she says, is that they're 'incredibly productive' plants, producing huge quantities of fruit every year. Sun Gold is an early-fruiting variety and will give you delicious fruit come August.
The only thing to bear in mind with Sun Gold is that it's an indeterminate or cordon tomato type; Sarah helpfully explains that an indeterminate tomato is 'a jungle plant' and 'will go on climbing to the heavens' if you don't prune it. The key to success is to give them a cane for support and to keep pinching them out between the leaf and the stem to encourage bushier growth and better fruit.
3. Indigo Rose
This is the type of tomato Arthur says he loves to eat – and Sarah to grow. First, there's the striking look – the nearly black color that makes this plant look stunning in any garden. The rich color is thanks to a high content of anthocyanins – the natural pigments that give fruits such as blueberries and raspberries their deep colors.
As it turns out, these pigments are also 'incredibly good for brain health and also for our circulation'. Sarah even calls the Indigo Rose a 'superpower antioxidant tomato'. Who wouldn't want a fruit with superpowers in their garden?
Why are my tomatoes not growing well?
Like Arthur, you may have been turned off growing tomatoes because you had no luck with them. Sarah explains that it's often because people don't know about the special root structure these plants have.
'You need to recognize the two types of roots in tomatoes,' says Sarah. One type is the superficial ''green finger'' root' that would normally feed on dry leaf matter in the jungle, and the 'water root' that goes deep to find water. This is why Sarah advises to use ring culture pots for growing tomatoes; if you don't have one, just use an empty plastic bottle with the top half cut off as your outer chamber.
Ready to give growing veggies in style a go? Find more small vegetable garden ideas in our guide.
Anna writes about interior design and gardening. Her work has appeared in Homes & Gardens, Livingetc, and many other publications. She is an experienced outdoor and indoor gardener and has a passion for growing roses and Japanese maples in her outside space.