Expert shares the best position for your outdoor bar – whatever garden aspect you've got
The home outdoor bar is a pandemic must-have for your back yard – here are top tips for getting it right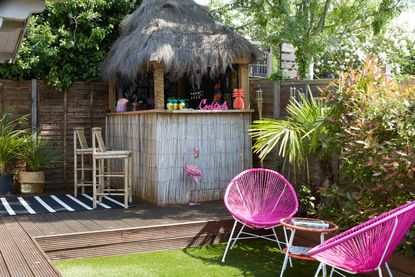 (Image credit: Simon Whitmore/Future)
A home outdoor bar is one of the most in-demand pandemic garden features. For many of us, actual bars aren't really an option, and even if you are able to go out where you live, you may prefer to host a party in your back yard instead.
There are many outdoor bar ideas to choose from – tiki bars with their palm leaf roofs, DIY wall-mounted bars, outdoor bar carts...the style is entirely up to you. But did you know that the success of your outdoor home bar largely depends on the correct positioning? Depending on what kind of garden you have and which way it faces, here are the top tips* for placing your outdoor bar.
For north- and east-facing gardens
If you've got a north- or east-facing garden, you might find it lacking sunshine in the afternoon. If that's the case, try opting for a cover-free home outdoor bar to take advantage of as much sunlight as you can. The last thing you'll want is more shade!
If you want to keep things going well into the night, be prepared with one of the best patio heaters, best fire pits or chiminea. A basket of blankets will make things cozy, too.
You may also wish to use your outdoor home bar for brunches, while the morning sun is still in your back yard.
2. For south- and west-facing gardens
Typically seen as the dream gardens for the amount of afternoon sunlight they get, south- and west-facing gardens are the perfect setting for outdoor home bars. However, they will get hot, especially after lunch, so a canopy or cover is a must.
Also, if you have a mature tree in your backyard, you'll want to place your outdoor home bar next to or underneath it for maximum shade. The sun worshippers in your party can always walk further out, but not providing any shade spells disaster.
If there are no trees and your outdoor home bar doesn't have a roof or canopy, consider adding one of the best garden parasols to your setup.
For smaller gardens
If you're worried about how to fit a home bar in a smaller garden, fear not – there are plenty of options that will work as part of small garden ideas. A compact wooden bar fits great into small spaces. Build some shelves on the inside to store your glasses, fit a spirit dispenser to the back wall (great for saving space and giving a real sleek look) and set up a couple of bar stools on the other side.
*Tips generously provided by Vincent Efferoth, co-founder of Noveltea.
Anna writes about interior design and gardening. Her work has appeared in Homes & Gardens, Livingetc, and many other publications. She is an experienced outdoor and indoor gardener and has a passion for growing roses and Japanese maples in her outside space.