5 beautiful flowers you should sow in March – you'll love these colourful blooms
The warmer weather of spring is fast approaching, so get sowing this month for beautiful flowers this summer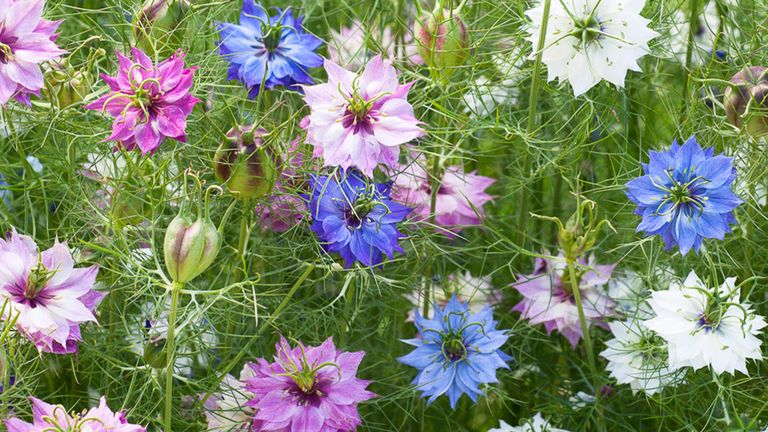 (Image credit: Jonathan Buckley/Sarah Raven)
The month of March means we are almost on the cusp of being able to direct sow seeds in the ground, but in most cooler climates it's still worth hanging on for a few weeks until the threat of frost has gone.
With that in mind, why not use this month to follow our advice on how to grow flowers from seeds and start off your blooms indoors? A budget friendly way to indoor sow seeds is using empty egg cup boxes, or you could invest in a few trays that can sit on your windowsill if you don't have a greenhouse.
Now is the perfect time to plan your beautiful displays for summer colour, so check out our top picks and get sowing!
1. Zinnia
Look how vibrant these stems are! Zinnia are a great variety if you want to pack a punch in your garden borders this summer. They are rather exotic and particularly showy, so make the most of them and use them for borders and containers.
If you prefer to direct sow instead of starting them off inside you can with these, but do wait for risk of the last frost to have passed. They love a sunny spot so sow thinly into finely raked, moist and warm soil. Give them a final spacing of 25-30cm once they've become seedlings.
If you want to indoor sow then use a windowsill propagator, greenhouse or the best mini greenhouse, and then acclimatise them before planting out.
2. Nigella
Nigella is a firm favourite if you love cottage garden ideas, plus they also make good cutting flowers. This variety loves a full sun position in well-drained soil.
You can sow under cover in March and September, or if you prefer to direct sow then do it in April and August. They will be ready for harvest throughout July, August and September.
3. Delphinium
Add height to your borders with these beautifully coloured delphinium. Bees love them and as they're a vigorous growing mixture, if you sow them early enough they will flower in this year.
A traditional cottage style favourite, you can sow under glass in March and they'll flower by September. If you direct sow in May, June and July they won't bloom until June, July or August next year. So it's definitely worth squeezing them into your sowing plan this month.
You can find more bee friendly plants in our guide.
4. Lobelia
With this mix you get a pretty array of pinks, mauves and whites to brighten up your borders. Lobelia are easy to grow and have a long flowering period – two bonuses for new gardeners!
They're ideal for patio gardening ideas and small rock garden ideas and you can sow them now for flowering between June and September. Happy to be in sun or semi-shade, Lobelia are versatile as they also look great in containers and work well for window box ideas.
5. Achillea millefolium
Achillea, or yarrow as it's otherwise called, is a pretty flower that comes in a variety of shades. They're happy in full sun as long as the soil is moist and well drained.
You can sow them now on the surface of good quality seed compost, just remember to keep it moist. Once the danger of the last frost has gone, plant the seedlings out in the middle of your border and group the seedlings in groups of three for impact. They will flower from June until September.
Find out how to transplant seedlings successfully in our step-by-step guide.