If you could have only one plant in your garden, what would you choose? Five garden experts reveal their top choices
We asked five gardening experts to choose a single plant that they would always have in their garden. Would their choices make your list of favourites?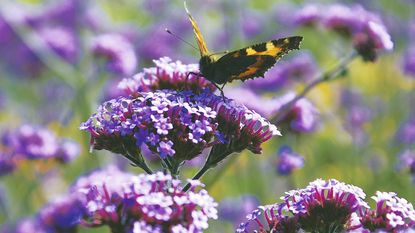 (Image credit: Suttons)
Imagine if you could only pick one plant to have in your garden. Would you be able to narrow it down to just one, and what would you go for? A beautiful blousy rose? Rows of hydrangeas? Or maybe some evergreen foliage for year-round colour?
Thankfully, most of us can have lots more than one plant variety in our gardens. But if you're looking to fill an empty space in your flowerbed or want to brighten up a dark and gloomy corner, choosing a plant recommended by a garden expert is a good place to start.
With that in mind, we asked five gardening experts to reveal their top plant choice for their own gardens. Keep reading to see what they suggest and find out if their favourite picks might work in your garden too.
If you're after even more inspiration for your flowerbeds, you'll find plenty of advice in our guide to garden borders too.
'This easy-to-grow annual would take my top spot'
Isabelle Palmer is a renowned city garden designer and founder of The Balcony Gardener. She has written four books that cover both indoor and outdoor gardening.
'Every year I follow my ritual of buying my seeds in January and here starts my gardening journey for the year.
'Cerinthe major 'Purpurascens' is the most wonderful plant that is so easy to grow from seed. It takes no more than tossing seeds in a sunny spot in February, covering with a fine layer of soil, watering and watching until May.
'The anticipation in watching its majestic beauty rise up is a true delight. The dark purple silvery bells come alive and form a carpet of interest until the end of the summer. It's a great self seeder, so although it's an annual its delights will normally appear again.'
'The colours of this rose are hard to beat'
Greg Loades, the Hull Urban Gardener on Instagram, is an editor for the Alpine Garden Society, Garden Media Guild and author of The Modern Cottage Garden.
'If I could have just one plant it would be the beautiful Lady of Shalott rose. It has several flushes of scented flowers from May to November and is an incredibly healthy rose, showing clean leaves all the way through winter in my garden.
'It can be grown as a shrub or a short climber and the rich orange-red buds open chalice-shaped blooms with surrounding outer petals in a beautiful salmon-pink. It's ideal for pots and containers, borders and as a rose hedge – and the bees love it!'
'I'd always choose this hard-working, colourful plant'
Garden expert Lucy Butler has been studying with the RHS for the last four years whilst volunteering on the gardens team at her local National Trust property.
'As a self confessed plant addict it's difficult to choose one plant to have in my garden – there are so many wonderful species that I want them all! But if I had to choose just one plant to have in my garden, it would be Verbena bonariensis.
'With its tall branching stems bearing clusters of tiny flowers in the most gorgeous, vibrant shade of purple it provides height, structure and colour to the back of a sunny border. It will flower well into late summer so it's great for bridging that awkward gap between summer and autumn when a lot of other plants have gone past their best.
'It self-seeds readily, so it's an easy and cost-effective way to increase your stock. Last but not least, it's perfect for pollinators, in particular bees and butterflies.'
Head over to our guide to bee friendly plants for more top picks for pollinators.
'This plant is a perfect mood booster on grey winter days'
Laetitia Maklouf is a writer who specialises in all things gardening. She is the author of The Five Minute Garden, her third book which came out last year. It's full of fabulous tips and project ideas that can be done in five minutes.
'If I could have one plant in my garden it would be the one that's about to come up... right now that's Daphne odora 'aureomarginata', and the scent takes me somewhere far away from anything grey or wintery.
'It can sometimes be a little fussy about where you put it, but if it loves you then it will reward you with generous, evergreen lushness and rosy-pink blooms that pack a deeply scented punch in the bleakest part of the year.
'It loves a patio container and it will flower between January and April, which is such a bonus during the winter months.'
Our guide to the best plants for winter pots is packed with more suggestions to brighten up containers during the colder months.
'Ferns are always a winning option'
Victoria Wade is an RHS Gold Medal winning landscape architect based in Wales. Together with her team she creates beautiful outdoor living spaces that include both residential and commercial projects.
'If I could have just one plant in my garden it would be a fern – specifically Polystichum setiferum as it's my favourite fern! They work well with so many plants and are super robust. I just love them and think every garden should have at least one.
'They love full or partial shade and are fully hardy. I love seeing them emerge with their quirky architectural shapes unfurling as the days warm up. The colour is such a rich green once the leaves are fully out and it's a wonder to see.'
There's more ideas for the best shade loving plants in our guide.
Read more:
Sophie has been an interior stylist and journalist for over 20 years. She recently trained to be a florist and launched The Prettiest Posy where she curates beautiful flowers for weddings and events.