Buying a new hot tub? Industry specialist shares the best place to put a hot tub in your garden
Wondering where your new hot tub should go in your garden? We've asked industry specialists for their top tip for positioning and installing your garden spa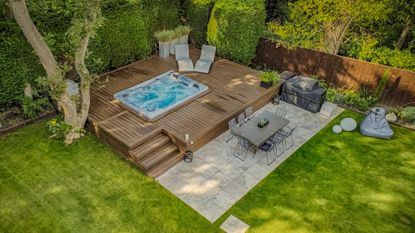 (Image credit: BISHTA/North Spas)
Now the weather is starting to improve and summer is on the horizon your thoughts might have turned to choosing one of the best hot tubs for your garden. However, a common question that often crops up is where should you position a hot tub in a garden?
Hot tubs have become incredibly popular since the start of the pandemic, as more garden owners are transforming their outdoor spaces into home spas. Don't believe us? Just take a look at fitness coach Joe Wick's recent garden transformation.
While adding one to your garden may seem straightforward – buy a hot tub, fill it up, and turn it on – according to the BISHTA (British and Irish Spa and HotTub Association) there are a few hot tub placement rules you need to bear in mind.
Hot tub placement rules
1. Decide if you want your hot tub to stand out
This first rule for hot tub ideas is all about the look you're going after – do you want the hot tub to be the main focal point of your garden, or would you prefer it to blend in as much as possible?
'Hot tubs are typically installed above ground; however, you can easily achieve an attractive, built-in look by installing your hot tub wholly or partially sunk in a surrounding deck or paving,' explains BISHTA.
2. Be wary of positioning next to a lawn
When choosing where to place a hot tub, you'll also need to think about what you'll be stepping onto when getting out. While positioning your hot tub next to a lawn isn't a problem if you have flip flops, not everyone will like this. Also, the last thing you want is lots of grass floating around in your hot tub.
3. Don't be afraid to move it around
This might be a round up of hot tub placement rules, but don't let that stop you from experimenting. It's actually not that difficult to reposition your hot tub if you find that the current placement really isn't working for you.
'These self-contained units can be moved and re-installed elsewhere if you decide that you wanted your hot tub in a different location (subject to the base and electrics), or you can even move it to a new property.'
4. Opt for a secluded location
It is important to think about both what you'll be looking at, and whether your chosen spot is concealed enough from the street/neighbouring gardens.
'A location that offers both a beautiful view and affords you some privacy is usually best,' advises BISHTA. So, a fenced or covered patio or decking area is usually best, although a living hedge will usually also offer enough protection.
Explore more garden privacy ideas in our gallery.
5. If in doubt place on a patio or deck
If you're also considering some of our patio ideas or decking ideas, then chances are you'll have the natural space for positioning your tub. 'Patios with good foundations are generally perfect,' say BISHTA. Particularly if you're going for a portable model.
Hot tubs require very little site preparation; you just need 'a dedicated electrical outlet, a standard garden hose, and a firm, level, solid surface that can support the weight of your unit, water and occupants without shifting.'
Now all that is left is to enjoy your luxury hot tub in piece.
Anna writes about interior design and gardening. Her work has appeared in Homes & Gardens, Livingetc, and many other publications. She is an experienced outdoor and indoor gardener and has a passion for growing roses and Japanese maples in her outside space.