Revealed! The hottest houseplant trend for 2021
Want to be in the know when it comes to the top houseplant trend in 2021? Here's what you should be buying...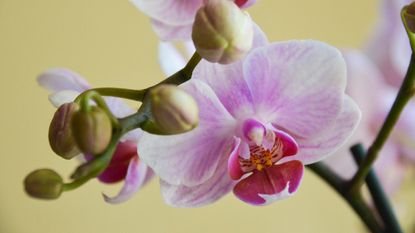 (Image credit: Jocelyn Hsu/Unsplash)
From cacti to monstera plants, houseplant trends have evolved from the small and prickly to supersized leaves. However, a new trend for the best indoor plants is due to take off in 2021, according to presenter and plant developer, Michael Perry.
Michael Perry, also known as Mr Plant Geek, predicts that flowering houseplants, particularly orchids, are the next big thing in house plants. Speaking on the Gardener's World magazine podcast, he revealed his prediction.
'Orchids are really due their time in the sun. I think they're going to be the next big trend,' he said. 'I think flowering houseplants are the next step in houseplant obsessions.'
'They offer so much,' he adds. 'When you look at orchids there is just such a great range. There is almost every colour of the rainbow. There are different shapes, you can use them in different ways. You can use them in mixed arrangements as well.'
For a long time orchids have had a bad reputation as beautiful, but difficult to look after. However, Mr Plant Geek has a few tips to make sure your orchids look their best long after you get them home.
Keep reading for his expert advice on caring for orchids, then check out our indoor plant ideas for ways to show off your latest houseplant additions.
The top houseplant trend 2021
Flowering plants look set to be the next big thing with orchids at the top of the trend list. Here's how to care for them.
1. Check the roots
Before taking an orchid home from the store, Michael suggests checking the roots. 'Have a little look at the roots, and if they are kind of reddish on the tips that is a really good sign that the plant is well hydrated in the right what, so not overwatered or underwatered.'
2. Buy a plant in bud
'Try to buy something that is a little more in bud than in bloom,' Michael recommends. 'Buying an orchid in bud means that you're going to enjoy it for a little bit longer when you take it home.'
3. Wrap your orchid in a blanket on the way home
Orchids are very sensitive to temperature. If you're buying on in winter, Michael recommends taking a blanket or sweatshirt with you to the store.
'Make sure you take a hoody or blanket to wrap around an orchid to get it home, not only safely, but warmly too,' he recommends. 'You want to keep really consistent temperature all the way from the nursery to your car, to your worktop at home,' he adds.
4. Water your orchid with a shot glass of water a week
'Water your orchids about once a week,' says Michael. 'Equivalent of a shot glass of water a week.' 'There is a lot of information that says give them an ice cube per week but that is a real no -no. That is going to be far too cold for your orchid,' he warns.
Read more:
Rebecca has worked as a homes and interiors journalist for over four years, and is currently the Deputy Editor on Ideal Home online. Previously, she was the News Editor across the Future homes and gardens brands, including Gardeningetc.com. She lives in a rented flat in South London where she makes the most of window boxes to create small container gardens. Inside she has a jungle of houseplants in nearly every room which she does her best to keep up with regular watering and repotting.