Impatient Gardener: these are 5 plants you should grow but probably don't
Don't neglect these amazing plants in your garden, says Impatient Gardener Erin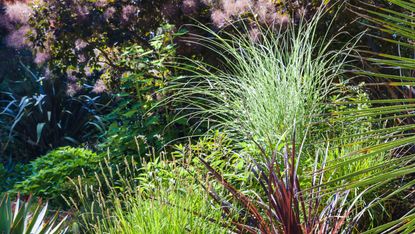 (Image credit: Getty/David Madison)
The Impatient Gardener Erin is genius when it comes to suggesting plants for your garden that are a little bit different. The gardener and blogger knows a thing or two about plants that have stayed under the radar and deserve more attention than they're getting.
If you feel that your garden design ideas could do with something bit more unusual, then you definitely should check out these five plants that you probably have never grown before – and may not even have heard of. Don't worry though, they're not hard to find or hard to grow, and they're pretty low maintenance, too.
You can watch Erin talk about these plants on her The Impatient Gardener YouTube channel.
1. Sesleria autumnalis (autumn moor grass)
Every gardener who wants great-looking borders should learn how to grow ornamental grasses. There are many to choose from, but Erin favors Sesleria Autumnalist, describing it as 'clump-growing and relatively short so you can work it relatively easily into the front of a garden.' It also has a soft, romantic look that 'gives a bit of area texture' but it won't get blown over by the wind.
2. Angelica Gigas (Korean Angelica)
One of the best things about this plant, according to Erin, is that 'pollinators are all over it'. It really is a spectacular plant, growing up to five feet and blooming in great, purple flowers. This plant has an 'amazing structure' and 'a sort of prehistoric look' that makes it look like nothing else in your garden. It's also really easy to grow: 'buy it once, and you'll probably have it forever.' It's biannual and will self-seed, so 'you'll eventually have a cycle where you have flowers every year.'
3. Pycnanthemum muticum (Mountain mint)
You've probably never heard of this one, although it's native to North America and grows abundantly in the mid-west. This delicate plant has tiny white flowers, and a soft look that's great both for borders and 'in floral arrangements.' Erin says that Mountain Mint is 'becoming more popular as people switch to natural gardens' and to 'providing for pollinators'. She reports that people call it the 'single best pollinator plant' in their gardens. Definitely worth checking out as part of your wildlife garden ideas.
4. Epimedium (Barrenwort)
Erin recommends this plant specifically for areas of dry shade in the garden; it is, in fact, one of the best shade loving plants and a fun alternative to the usual suspects in shade gardens. It's 'more interesting than hostas and ferns' says Erin, and has 'the coolest leaves in different shapes'. It's 'delicate and fills in nicely, never aggressive' and will be happy in a border.
For more advice on planting in parts of your garden that don't get much sun, head over to our shade garden ideas.
5. Thalictrum 'Black Stockings' (Meadow Rue)
There are many thalictrums out there, most of them identifiable because of their pale lavender flowers. This variety is Erin's top pick for its dark stems and the fact that this plant is 'so agreeable, can put up with full sun or part shade, doesn't tip over', only needing the 'smallest amount of support'. With its beautiful foliage, this plant 'deserves more attention than it's getting.'
Anna writes about interior design and gardening. Her work has appeared in Homes & Gardens, Livingetc, and many other publications. She is an experienced outdoor and indoor gardener and has a passion for growing roses and Japanese maples in her outside space.