Urban Farmstead's Kyle Hagerty shares how he created an amazing DIY firepit patio
Kyle Hagerty has transformed an empty back yard into a relaxing firepit patio space; here are his top tips for making this type of project a success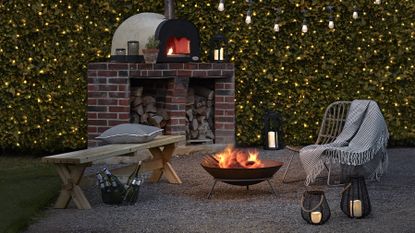 (Image credit: Lights4Fun)
Every backyard needs a firepit patio. As far as patio ideas go, adding a firepit is an all-round win for keeping the outdoor space warm and inviting in the evenings and creating a beautiful seating area that's nicely centered around something that can also function as a table (if you get a lid for your firepit).
Kyle Hagerty, of Sacramento's Urban Farmstead, used a firepit as the main focal point in a gorgeous backyard transformation project. If you're have been inspired to get the look in your home here are a few of his amazing DIY gardening tips.
1. Forget patio slabs – use crushed granite and gravel instead
What makes this project so interesting and different from so many other DIY patio projects is that rather than excavating the designated area and hard paving it, Kyle opted for backfilling the perimeter. He opted for this after he encountered some shallow roots as he began digging.
Rather than removing tree roots, he worked around the problem. He instead created a beautiful, natural-looking patio that's covered in gravel rather than paving slabs.
Kyle used layers of crushed rock sand road base, and decomposed granite, compacting both layers with a compactor. He explains that this can be the last step if you want, but he added an extra layer of beautiful Sonoma Gold Pathfines.
'Pathfines hold in place better than pea gravel, but they don't get muddy like D.G. Does. This stuff is awesome,' he explains.
2. Build a garden path using the same technique
He also used steel lawn edging to create the shape of the patio and border it off from the lawn. He used the same materials for the patio area and the garden path leading to it, achieving a streamlined yet relaxed urban garden look.
This patio idea is great because it's simple to build and doesn't require any special skills, just renting a compactor. It's permeable and will drain well.
3. Choose the right plants for the location of your patio
Kyle has been clever with his choice of plants, he has opted for a range of shade-loving plants for the secluded relaxation area. He chose casuarina 'Cousin It' plant, coffeeberry, and Western Sward Fern to provide a variety of textures and heights to the area. The casuarina will create an attractive ground cover, while the coffeeberry plant will easily reach 15 feet in height over time, thriving in the shady spot.
Read more: 7 ideas for a low maintenance patio - choose the right materials for your space
The overall look is somewhere between a Zen garden and a desert oasis – we really like it, and what we like even more is that anyone with empty space next to a garden fence or wall can create a similar space quickly and cheaply.
Anna writes about interior design and gardening. Her work has appeared in Homes & Gardens, Livingetc, and many other publications. She is an experienced outdoor and indoor gardener and has a passion for growing roses and Japanese maples in her outside space.