Large patio pavers are the hottest contemporary garden trend this spring
If your garden needs a redesign, you can't go wrong with large patio pavers for a statement effect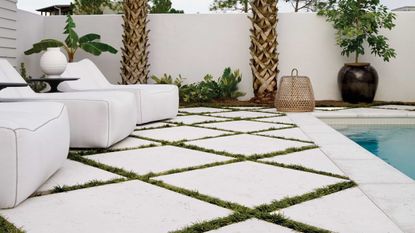 (Image credit: Peacock Pavers)
Large patio pavers are one of the best ideas for outdoor spaces that need a contemporary refresh. If you're wondering how to make your garden feel more modern without embarking on an overly expensive redesign, then you should consider large or oversized patio pavers as a first step.
As far as paving ideas go, large pavers are the opposite of discreet – and that's exactly why we're seeing more of them in outdoor paving designs. Bold and immediately noticeable, oversized paving slabs create an instant indoor-outdoor effect, because they look more like luxury tile flooring used outside than traditional paving.
Go for light colors
If you're keen to introduce one of this year's top garden trends into your space, the top tip for working with large pavers is to go for light, neutral colors – going for both a dramatic size and an overly saturated color will likely overwhelm your outdoor space.
Georgina Read, Director at Paving Superstore, says that oversized paving is 'a great way to make your garden look more luxurious' and advises using limestone or sandstone in most situations, especially if you're searching for good family garden ideas: this type of paving 'not only looks beautiful, but it also creates a durable, hardwearing and long lasting surface.'
As Georgina explains, choosing more expensive materials such as 'beautiful sawn sandstone or large format paving in porcelain' will 'make your garden feel even more high-end'. Porcelain in particular will look very refined, but it has practical advantages, too, being 'resistant to water stains, mould and salt.'
Decide if you want a continuous or broken-up look
The other important thing to decide with oversized patio pavers is whether you want a continuous or broken-up layout. As concrete paver experts from Peacock Pavers point out, 'thoughtful negative space between concrete pavers can add a lot of visual interest.' Whether you choose to 'punctuate' that space with grass or smaller pavers or bricks in a contrasting color, spacing out your large pavers will create a more organic and natural look for your patio ideas.
If, on the other hand, you choose to have continuous paving, you'll achieve more of an outdoor room look. Continuously laid large pavers look especially stunning in smaller patios and for creating an indoor-outdoor link with a rear extension. Our final top tip for this type of design is to use one of the best outdoor rugs to soften the look a little, especially if you're creating a space you plan to walk on barefoot.
Whichever style or material you choose, oversized patio pavers in light colors are here to stay. As most of us are set for another summer spent mainly in our homes and gardens, this contemporary and luxurious trend will find its way into underused urban patios and transform them into chic extra rooms for relaxing and entertaining.
After more paving inspiration for a sleek, contemporary look? There's lots to choose from in our modern paving ideas feature.
Anna writes about interior design and gardening. Her work has appeared in Homes & Gardens, Livingetc, and many other publications. She is an experienced outdoor and indoor gardener and has a passion for growing roses and Japanese maples in her outside space.