Self-watering vertical gardens are a growing trend – Mark Lane gives top tips on getting them to flourish
Enjoy a maintenance free living wall with these self-watering vertical gardens tips from a gardening expert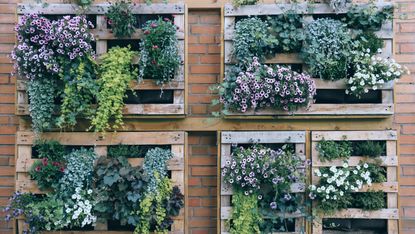 (Image credit: lulu and isabelle)
Self-watering vertical gardens are this year's biggest innovative gardening trend, according to gardening expert Mark Lane. While including a living wall in your garden has been part of contemporary garden design for many years, sometimes green walls aren't the most practical, particularly where it comes to watering. Especially if your living wall is exposed to drying winds, it can quickly go from looking luscious to sad.
Fortunately, a self-watering vertical garden avoids this problem and can work both for decorative vertical gardens and for growing vegetables in a small outdoor space.
What is a vertical garden?
You've probably seen vertical gardens in hotel lobbies or read about vertical gardening in agriculture, but how do they work in residential spaces? Actually, vertical gardens are simple to install and maintain.
'If you want to grow delicious veggies or fruit but are limited on space, then consider a vertical garden,' says Mark Lane. This trendy technique involves growing plants on a vertically suspended panel, that's either freestanding or attached to a wall. There are several vertical gardens on the market now; some even come with individual pots for plants so you can swap and change them around to get maximum sunlight. They can be made up of either ornamental or edible plants, and even wildflowers. Starter kits are also available from retailers like Waitrose.'
How to create a self-watering vertical garden
Mark Lane – Stannah's Gardening Expert and BBC Gardeners' World and BBC Morning Live presenter, explains how self-watering vertical gardens work: 'If you love the idea of gardening, but don't have the luxury of time to maintain it or would like to save water, then a self-watering system may be for you.'
'Here's where it gets a little technical. You need an irrigation system (for example, a leaky hose or small irrigation pipes and nozzles that drip-feed and nourish your plants) plus a water collecting reservoir at the bottom.'
You may be wondering: wouldn't someone still need to turn on the water to allow this irrigation system to water the plants? There is a way around this problem – installing a solar-powered pump with a timer. These are cheap and easy to get and are the key step in creating a self-watering system for your vertical garden.
'A solar-powered pump allows you to set a timer for when your plants get watered during the day —you can even add liquid feed!' explains Mark. 'As the pump starts to work, just the right amount of water and feed will be forced through the pipes and onto the soil or coir. But rest assured, a good old-fashioned long-spout watering can or a hose with an attachment on the end can work just as well.'
It's easy and will ensure that your green wall or vertical vegetable patch won't dry out when the weather gets dry and/or hot.
Want more easy ways to grow veg in your garden? Head over to our guide on growing vegetables in pots to get started.
Anna writes about interior design and gardening. Her work has appeared in Homes & Gardens, Livingetc, and many other publications. She is an experienced outdoor and indoor gardener and has a passion for growing roses and Japanese maples in her outside space.