Monty Don's weeding tip will help you get rid of weeds for good
Weeds keep coming back? Use Monty Don's weeding tip and eradicate them – forever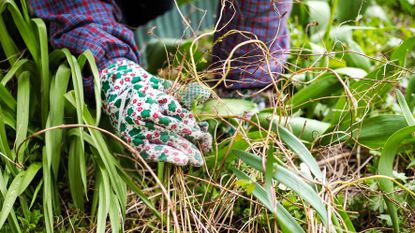 (Image credit: Alamy)
If Monty Don's weeding tip doesn't help you get rid of weeds in your garden once and for all, we don't know what will. Weeding is one of the essential spring garden jobs and how successful you are at weeding at this time of year will determine the health of your garden for the season ahead.
Sometimes, garden beds can get overpowered by weeds in spring, especially if you tend to plant annuals, but even perennials can get overwhelmed by weeds, as Monty demonstrated in an episode of Gardeners' World.
The legendary garden presenter demonstrated how to weed a garden by focusing on a garden bed of peonies that was badly overgrown by vigorous weeds – dandelions, nettles, and chickweeds, all notorious for being difficult to eradicate. Monty's solution here is mechanical weeding – not using the best weed killer, because you don't want to damage those peonies with a herbicide.
First, you will need an 'implement of some sort', says Monty. He uses a sickle – its curved shape and sharp blade allows him to go deep to get the whole plant with the root. 'What matters is getting in there. Also, it's a very good way of getting to know your soil, getting to know your plants, it's a very intimate process', he explains.
You use the sickle to dig deep in the ground until you reach the root of the weed. You then move the sickle in an upwards motion to loosen the root in the soil. And then pull, removing the entire plant. You have to do it like you mean and make sure all of the root is removed – watch out for roots snapping off as you pull.
This is a time-consuming but effective method, explains Don. You have to put the time and effort in: 'Do one metre properly,' he urges. 'That's far better than doing 10 metres half-heartedly.' Eventually, you can de-weed you entire garden this way, 'a little bit at a time.' It's effective and bypasses the use of chemicals, and the results will be long-lasting.
Head over to our weed control tips and tricks for more ways to remove weeds from your garden.
Anna writes about interior design and gardening. Her work has appeared in Homes & Gardens, Livingetc, and many other publications. She is an experienced outdoor and indoor gardener and has a passion for growing roses and Japanese maples in her outside space.