Spring garden jobs: 11 simple outdoor tasks to get your plot summer-ready
Get outside and enjoy the warmer weather with our spring garden jobs – from painting and planting to sowing and tidying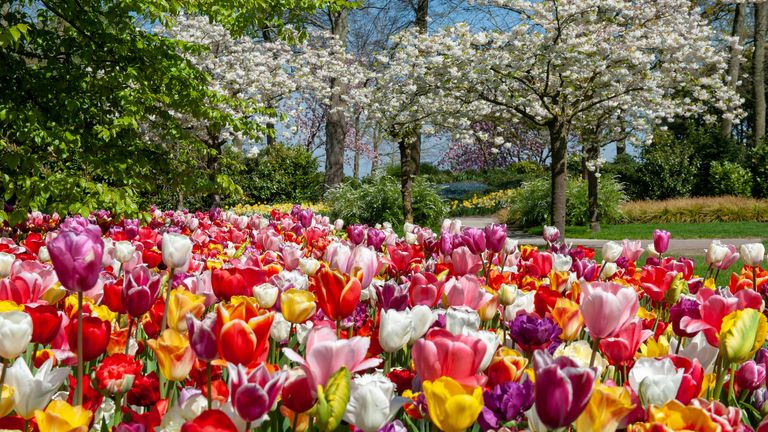 (Image credit: Wouter Koppen/iBulb)
It's time to roll up the sleeves and get cracking with spring garden jobs. The lighter days and warmer air beckon us all outdoors, which is just as well, as there's plenty to do this season!
In fact, our spring garden ideas may already have you inspired to give your plot a freshen up. After all, you'll want to make sure your space is looking its best, ready to be used as an important extension of your home.
As Kate Walsh of Colourtrend, says, 'now is the time to give your garden a little TLC, in preparation for the warmer months and outdoor living.' Whether that's by giving your furniture a chic new look, sowing flowers and veggies, or cleaning your patio – spring is the perfect time to get everything in order.
So keep reading for our advice on the spring garden jobs that should make it on your to-do list. None are too tricky, and they'll all help you get a show-stopping space this year.
1. Refresh your container plants
Spring is, of course, the season of bulbs. Whether bold and vibrant or pastel-soft, the glossy likes of tulips, hyacinths and daffodils are a reliable way to bring joy to a space. And if you don't have room for borders or beds, then containers are a fabulous way to give a patio or terrace a boost.
If you didn't plan ahead and plant bulbs back in autumn, don't worry. Simply fill up your favourite pots with plants from the garden centre instead, to make a quick, and certainly show-stopping, display. Our guide on how to plant a last minute spring container will help you on your way.
Got other containers on the go? There's a few extra things you can do now warmer weather is here. First, 'make sure the soil hasn't dried out and give it a good soaking if so,' says Landscape Gardener and QVC's Gardening Expert Mark Lane. 'Next, remove the top 3-5 centimetres of soil and replace with fresh compost,' he continues. 'You can then put a final decorative stone on top to keep down the weeds and help keep moisture in.'
Mark also suggests to encourage winter pansies to flower again by deadheading them, which stops them from setting seeds.
2. Get your patio looking shipshape
The sun's out, the knitwear's off (for a few minutes at least), and your patio is looking a bit...lacklustre. But spring is a great time to give it a proper sort out, ready for lots of summer use.
Winter brings all kinds of grub and grime, so start by giving it a good clean. Sweep up those leaves and get it back to its former glory, perhaps with one of the best pressure washers. Our guide on how to clean a patio has all the tips you need.
Then, why not invest in some gorgeous new outdoor seating, or a table or bench? Our garden furniture ideas has lots of lovely designs to get you inspired. Or if you're happy with what you've already got, why not give it a spruce? Our guide on how to clean outdoor furniture is full of advice.
3. Give your lawn some TLC
Now the soil is warmer it's time to start thinking about your lawn. Once you're sure that the risk of frost has passed, you can brush off your best lawn mower and get going.
You'll want to neaten up your edges too – it's a quick (and extremely satisfying) way to get a garden looking orderly. Think about using a lawn fertiliser too, for really verdant results.
Our spring lawn care tips has tons of advice to help you get your lawn looking its best this year.
4. Update your furniture with a fresh new look
Have you noticed that your natural wooden table and chairs are starting to look dull and grey, or maybe you painted them years ago and that shabby-chic look is now just shabby? Before you throw them away, try giving them a refresh, encourages Christine Gouldthorp of PrinceRunner. 'Invest in a power grinder or sander and take off those old layers of wood or paint,' she says. 'Think of your wallet and the environment – improve what you already have in your home.'
Kate Walsh of Colourtrend says that introducing colour to your outdoor space will add character and style. Whether you're upcycling a piece of garden furniture, or giving tired flower pots a new lease of life, a lick of paint can really improve the overall look of your garden, she says.
'Colourtrend's Weather Collection is a selection of paints suitable for outdoor use, specially formulated to meet the demands of weather; both good and bad,' she adds. 'The earth pigments used to create the palette mean the colours blend beautifully into any setting, urban or rural and on all types of properties.'
5. Paint the structures, too
Of course, you needn't stop at giving your furniture a refresh. Look to the larger features of your plot, too. A plain wall can be transformed with a bright new hue, and we adore the soothing tone of this outdoor fireplace.
And don't forget your fences. Give them a fresh coat of stain for the new season, or even a new lick of paint, to transform the overall look and feel of your garden, says Marcus Eyles, Horticultural Director at Dobbies. 'This is a nice job on a mild sunny afternoon – just be sure to check the weather forecast so you can plan painting around at least a few dry days either side.'
6. Prune your roses (and your hydrangeas)
Early-on in spring is the best time to prune roses, up to late March. Giving them a trim will encourage more prolific displays in summer, and keep them healthy, too. And whilst you've got your best secateurs handy, don't forget to prune your hydrangeas as well (unless they're of the climbing variety).
Our guides on how to prune roses and how to prune hydrangeas are full of top tips.
7. Sort out your shed
Have our shed ideas got you inspired to give yours a proper sort out? Whether it's a fresh coat of paint, or a thorough clean and sort, a shed spring clean is a brilliant job to be getting on with this season.
Start by giving it a sweep, wiping away cobwebs, and fixing any gaps in the walls or windows. Then, think about investing in some shed storage ideas, to make sure all your garden accessories have a proper place.
If you want to give it an extra layer of protection, or a summery new look, our guide on how to paint a shed has the advice you need. We're loving this turquoise hue against the nearby blooms, whilst the green window frames tie in beautifully with surrounding foliage.


8. Plant summer bulbs
Tons of blooms burst into action come spring, but don't forget to think ahead to summer flowers, too. Whether you're a keen gardener, a beginner, or a plantaholic, planning ahead is key, says QVC's Gardening Expert Mark Lane. 'So, start ordering your summer bedding plants or hanging baskets and think about what you want to grow this year.'
As Marcus Eyles, Horticultural Director of Dobbies says, 'Spring is the perfect time to plant your beautiful summer flowering bulbs such as Gladiolus and lilies.'
'Dahlias and Begonias should also be started now too, however these should be started off in pots under the protection of any early spring frost, in a greenhouse or potting shed,' Marcus says.
Head over to our guide on how to grow dahlias for more advice.
9. Mulch your borders
One of the most worthwhile spring garden jobs to be cracking on with is to mulch. This will give all your beloved plants a strong start for the growing season.
I love to give my plants a helping hand at this time of the year, says Landscape Gardener and QVC's Gardening Expert Mark Lane. Try and get into the habit of digging in a 5cm layer of compost or well-rotted manure, as well as organic fertiliser, into your beds and borders he says.
'Trees, shrubs, hedges and roses will grow well if a slow-released fertiliser is gently forked in around the plant,' Mark adds. 'Trust me, your plants will love you for this!'
Head over to our ultimate guide to mulching to find all the advice you need.
10. Get busy in the greenhouse
Start making the most of your greenhouse this season. For flowers, the experts at Suttons say that half-hardy annuals such as Impatiens, Cosmos, Gazania, Petunia, Lobelia and Calendula can be sown in a heated greenhouse (or indoors) in March.
In terms of vegetables, they also recommend to sow aubergine and cucumber seeds, along with other tender vegetables, in a heated greenhouse in March. During March and April, celery seed can also be sown into pots in the greenhouse, ready to be planted out in May and June.
April is the time to sow marrows, courgettes, pumpkins, squashes and tomatoes in a heated greenhouse or propagator, they add.
11. Grow your own summer berries
'Plant soft fruit now, such as raspberries, blackcurrants and blueberries,' says Horticultural Director at Dobbies, Marcus Eyles. 'Mulch existing rows of raspberry canes and fruit bushes,' he adds.
Now's also the time to plant rhubarb. 'Remember to allow enough room for them to develop to their full size,' Marcus says. 'Add a thick layer of farmyard manure around your new plant to help retain moisture and keep weeds at bay.'
Garden landscaper and QVC's Gardening Expert Mark Lane says, 'I love strawberries in summer, but you can encourage earlier fruiting by covering the strawberry plant with a cloche just as the flowers begin to set.'
'Watch out for mildew and other fungal diseases which can grow under cloches by providing ventilation during the middle part of the day, where possible,' he adds.
Head over to our guides on how to grow raspberries and how to grow strawberries for more info.
What flowers can I sow outdoors in spring?
One of the best spring garden jobs is to sow flowers from seeds, to provide your garden with colourful (and affordable) blooms come summer. If soil conditions aren't too cold or wet, hardy annuals can be sown outdoors in March, says Suttons. These include the likes of poppies and cornflowers. You can also sow Anchusa, Calendula, Clarkia, larkspur and Nigella, they add.
April is often the time to plant out sweet pea seedlings, or they can be sown directly into their final flowering position, Suttons adds. Our guide on how to grow sweet peas is a good place to start if you want to bring these gloriously fragranced flowers to your garden.
What vegetables can I sow outdoors in spring?
When the ground is no longer wet and soggy, you can start making early vegetable sowings in your raised beds or borders. Do so by warming up the soil beforehand using cloches or Envirofleece, says the team at Suttons. This will help to ensure good seed germination results.
Try artichokes, beetroot, broad beans, Brussels sprouts, cabbages, cauliflowers, carrots, lettuces, parsley and spinach, they suggest. Shallot sets can also be planted in March – space them in intervals of 15cm (6″) intervals in rows that are 30cm (12″) apart. Onion sets may also be planted towards the end of the month, when the temperatures are a little warmer, they add.
In April, you can direct sow carrots, peas, beetroot, winter cabbages, broccoli, salad crops and more, Suttons says. Don't forget herbs, too – try dill, fennel, hyssop, parsley and thyme. Our tips on how to create a herb garden will give you a helping hand.
You can continue to sow delicious crops when May arrives, either straight outside or under cloches, Suttons adds. Try radishes and swede.