These outdoor furniture layout rules will bring out the best in your small garden
These outdoor furniture layout rules work for even the tiniest gardens – follow them and you'll always get your layout right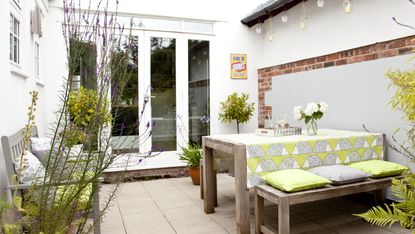 (Image credit: Future)
These simple outdoor furniture layout rules for small spaces will make designing your small garden so much easiser. When it comes to small garden layout ideas, the positioning of garden furniture can make or break the design; it won't work if it isn't placed correctly – or worse, just won't fit the size or shape of your garden.
You might wonder whether there's a whole science behind incorporating furniture pieces into small-scale layouts, but let these three easy tips from garden design experts convince you otherwise. Follow them, and you'll never have trouble furnishing even the tiniest patio or courtyard.
1. Go for multi-functional furniture
The one golden rule for arranging the best garden furniture in tiny gardens is that you'll want each piece to work as hard as it can. Choosing fewer pieces that can function both for outdoor dining and relaxation is always better than trying to squeeze more pieces in.
Steven Rogers, of Big Lots, says: ' Look for items that can perform double duty' – for example, ottoman seating that can store blankets and cushions when they're not in use, or an outdoor sofa that can be used both as an outdoor reading nook and for alfresco breakfasts.
2. Go big on vertical features
What small gardens lack in floor space can be compensated for in adding interest vertically. Arbors, pergola ideas, trellises, and decorated garden walls will all enhance a small outdoor space visually, and you don't have to worry about them being too big. As Landscape Architect Rob Steiner advises in Garden Design, 'Faced with a decision to make a staircase wider or narrower, a pool longer or shorter, a pergola higher or lower, the answer is almost always the former.'
'In my own garden, I remember laying out an arbor, with its posts 10 feet high, and listening to trusted friends wondering whether it wasn't "a little too tall." Thankfully I stuck to my guns, and some 18 years later, wreathed in wisteria and anchored at the ground by clusters of pots, the arbor seems just right.'
Of course, if you're worried about whether your garden wall ideas will block out sunlight, you may need to rethink a tall structure. In most gardens, though, enclosing at least two sides with tall features is one of the best garden privacy ideas that also, paradoxically, will make your garden look bigger.
3. Avoid bulky furniture sets
If you're trying to fit in a large sofa or dining set into a truly tiny outdoor space and it isn't working, that's because it just won't. The 'go big' rule applies only to the vertical space of your small garden; you should try to keep the floor space as uncluttered as possible.
As Chartered Horticulturist and presenter David Domoney writes on his blog: 'Furniture in a small garden can be used to great effect, but too much or the wrong type can clutter and could take up valuable space that you can ill-afford to lose. Instead of large benches or bulky seating, go for compact options like a bistro table set and chairs.'
With a slimline bistro set, you also won't need to worry about where to position it in your small space: you can just easily move it around until you've found the perfect spot. It doesn't have to be in the centre of your plot as the best bistro sets will look equally elegant in a corner.
Anna writes about interior design and gardening. Her work has appeared in Homes & Gardens, Livingetc, and many other publications. She is an experienced outdoor and indoor gardener and has a passion for growing roses and Japanese maples in her outside space.