Selling your home? These outdoor plants are popular among potential buyers
Boost your kerb appeal and your chances of selling by including these plants and flowers in your front garden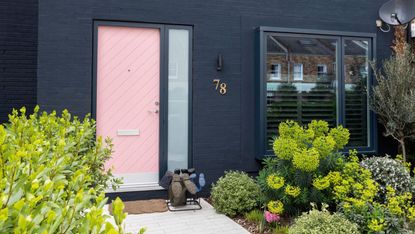 (Image credit: Fiona Murray)
Anyone who's sold a home knows the effort involved in making sure everything is clean, pared-back and ready for viewing. But how much thought have you put into your front garden?
When it comes to putting your home on the market, we all know the importance of kerb appeal, but it turns out buyers are fussier than we thought when it comes to garden planting. Online marketplace OnBuy found that a huge 67 per cent of people are more likely to view a house if the garden is up to scratch – and a survey has revealed the plants that are most desirable amongst potential buyers.
Hydrangeas ranked first on the list thanks to their beautiful bold flowers, closely followed by lilies, which are popular because of their low-maintenance nature and ability to grow back year after year.
Also high on people's lists were lavender, which repels bugs and smells divine, and shrub roses, which bring a country feel to a home.
The top ten plants for potential home buyers
The full list of popular plants among those surveyed were:
Hydrangeas
Lilies
Lavender
Shrub roses
Mimosa/Acacia dealbata
Petunia
Lilac dwarf flowerfest
Buxus topiary
Orchid
Rosemary
The importance of feng shui
Six out of the 10 plants are recommended by feng shui experts for their positive effects on the home – so it's well worth considering the ancient Chinese practice when you're getting your front garden ready for viewing.
Feng shui is centred around the idea of restoring balance to your life through the way you arrange and decorate your home, focusing on creating space for good energy, or 'chi', to flow – so embracing elements of the practice could be a way to boost your wellbeing through your home.
Speaking with OnBuy about the role of feng shui in garden design, housing experts at SellHouseFast said: 'Clutter is the biggest obstacle to the smooth flow of chi – without a clear space the flow is unbalanced and will not travel freely, reversing any feng shui progress made inside of your home.
'Although many people recognise the rules indoors, having the correct plants in the correct places is a major key to encouraging good energy into your life. Colourful plants are welcoming, and each colour has individual meaning so you must pay close attention when purchasing.
'It is important to encourage a large variety of plants in your front garden to balance out nature's five elements, not letting one type outweigh another. The shapes and sizes of leaves, plants and spikes all contribute to different aspects of feng shui and are necessary to keep in mind when gardening.'
More garden advice
After a stint writing for true life titles, Ellen made her venture into the world of interiors magazines in 2017 on Real Homes magazine where she is now deputy editor. She's a fan of clever tips and tricks for renters, and has a special interest in sustainability in the home. While she's waiting for a garden to call her own, Ellen keeps herself busy with her collection of houseplants – 28 at the time of writing, but ever-growing. She also enjoys helping out at her grandad's allotment and has made friends with the local cat along the way.