We're growing more plants in our front gardens than ever, says the RHS
New research from the RHS highlights the growing popularity of filling our front gardens with plants – and the many benefits of this trend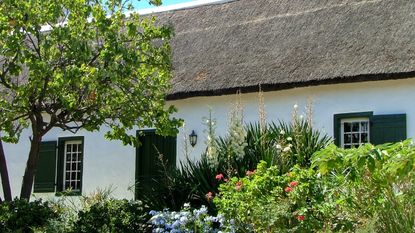 (Image credit: Unsplash)
The front garden is one of the first things anyone sees before entering their home, and yet front garden ideas haven't always been at the forefront of gardeners' minds. Until only a few years ago, it was quite common to see front gardens that had been completely paved over and turned into driveways, especially in cities, where parking space is at a premium. And yet, brand new research by the RHS shows a heartening trend: since 2015, front garden green spaces in the UK have increased by an area seventy times the size of Hyde Park.
Over 1 million more UK front gardens contain nothing but greenery and the number of front gardens containing no plants at all has halved. This explosion in the popularity of truly green front gardens will no doubt bring numerous benefits to the environment and people's health and wellbeing.
RHS Director of Science and Collections, Professor Alistair Griffiths says: 'The RHS has been promoting the importance of adding plants to paved over front gardens since 2015 when we launched our Greening Great Britain campaign. Although there is still much to do we are thrilled to see an improvement which has been helped by millions of people taking up gardening over lockdown and buying more plants to grow indoors and out.'
The trend will help urban gardens at a crucial time when we need all the help we can get in mitigating the effects of climate change. Filling the front of your property with greenery is also one of the simplest wildlife garden ideas to put into practice. And there is more: not only do green front gardens increase biodiversity, but they also help 'conserve water from rainfall' and cool cities down during the hot summer months.
It's not just the environment that green spaces help, however. The pandemic has been very tough on people's mental health, and there is plenty of evidence that gardening will be one of the things that will help restore it. Professor Griffiths explains: 'A recent RHS science project has shown that adding a few plants to a bare front garden reduces stress levels by as much as eight mindfulness sessions so we are delighted by this increase in plant cover.'
This isn't to say that there isn't still a problem with too many paved-over gardens. More than a third of front gardens in the UK contain less than a quarter plant cover and 2.5 million with no plants at all. Professor Griffiths says this fact is 'still pretty bleak considering how easy it is to incorporate plants in any sized space. Combined with the increasing threat to parks and green spaces from the growing demand for housing we know there is still much work to be done.'
There is also indication that some areas of the UK are better at 'greening' their front gardens that others. Wales is leading the green way, with only three per cent paved-over gardens, followed by the South West of England (five per cent).
Sometimes it's all about making a start on how you can create an eco friendly garden, even if it's just with one plant, concludes Professor Griffths: 'Let's continue to ride this wave of gardening enthusiasm and fill our gardens and homes with plants, no matter how small the space, to feel better for it and give the environment a much needed boost. Even adding a single plant to an empty space has the power to uplift.'
Anna writes about interior design and gardening. Her work has appeared in Homes & Gardens, Livingetc, and many other publications. She is an experienced outdoor and indoor gardener and has a passion for growing roses and Japanese maples in her outside space.