These are the biggest pruning mistakes you're making, according to a gardening expert
Are you pruning your plants correctly? Improve your technique by avoiding these errors, says a gardening expert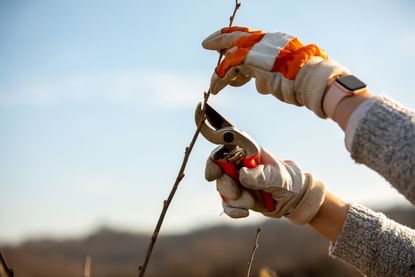 (Image credit: filmstudio/Getty Images)
Few gardening jobs cause people so much doubt and even anxiety as pruning. Should you prune at all? And if so, when is the right time to do it – February? March? What are the best secateurs for the job? There are many questions around pruning, and with good reason: pruning mistakes can result in plants that not only don't look their best, but could actually become unhealthy.
We've asked a gardening expert to identify the key areas where people do their pruning wrong – and why these could spell trouble for your plants. These are the top three that are avoidable though easy to make.
1. Not using proper pruning tools
Jeremy Hall, Group Plant Buyer at Squire's, says that it's very important to 'make sure your secateurs or loppers are very sharp. Blunt ones will crush the stem you are cutting and the bud may not develop, or the branch may die back.'
This also means that kitchen scissors are an absolute no-no for pruning – they'll never be sharp or strong enough to slice through thicker stems, almost certainly causing damage to your plants.
Need to replace your loppers or invest in some for the first time? You'll find the best loppers for the job in our guide.
2. Pruning too early
Winter is the main time to prune most deciduous trees and shrubs because this is when they are dormant and their sap has retreated back inside their trunks, so they won't lose any from pruning wounds. However, doing it when there's risk of severe frosts and snow is a poor pruning strategy. 'Never prune when the weather is cold and frosty or snow is expected,' says Jeremy, 'as this can lead to frost penetrating the pruning cut and may cause die back.'
The best time to prune deciduous trees and shrubs? Stick to milder spells of winter weather, but make sure you complete it before they start to grow again and the leaves and flower buds are coming out. This is because the sap is rising at this time and pruning will damage them or stop them growing so well.
3. Incorrect cutting technique
Most of us know to prune just above a fresh bud – but did you know that the angle at which you're pruning is also important? 'Use a slanted cut that runs away from the bud to prevent moisture running into the bud and spoiling it', explains Jeremy. So, if you're noticing buds turning black or falling off after pruning, it's because you didn't use the slanting technique.
Lastly, you should always prune above an outward-facing bud, or you'll have new shoots crossing over each other, creating a tangled mess and suppressing flowering.
There's more advice in our guide to pruning shrubs, or if it's roses you're looking to trim into shape, then check out our expert tips on how to prune roses.
Anna writes about interior design and gardening. Her work has appeared in Homes & Gardens, Livingetc, and many other publications. She is an experienced outdoor and indoor gardener and has a passion for growing roses and Japanese maples in her outside space.