Survey reveals how much people value their gardens in the pandemic
The way we see and value our gardens has changed dramatically in the past year, so the sooner you get yours in shape for the summer months, the better...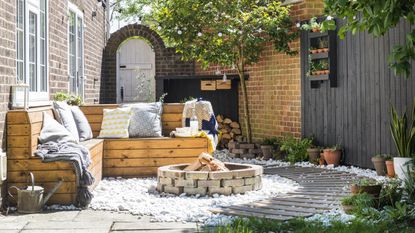 (Image credit: Future/Colin Poole)
It's safe to say that as well as our day-to-day lives, the pandemic has had a transformative effect on our homes, too. While once we may have occasionally pottered in the garden in summertime, our outdoor spaces have become a vital extension of our homes.
Almost overtaking the kitchen as the heart of a home, gardens have become a multifunctional space where – stay-at-home orders and lockdown rules permitting – we can socialise with friends or family, as well as relax, play, cook and dine alfresco.
It will be no surprise then to discover that the nation has already started investing in their outdoor spaces, with garden centres and brands selling the best garden furniture all experiencing a boom in sales.
What is the value of a garden now?
Garden tool experts Stihl polled 2,000 people in the UK to gain some insight into how their views on their gardens have changed since the pandemic began.
More than two thirds of the people who responded are looking forward to spending time in their garden this year, with almost half of them (46 per cent) admitting that their garden has become more important to them since the various lockdowns began almost a year ago.
Of those polled, Stihl has worked out that the average household has spent £241 on garden renovations and £180 on accessories in the last year. They spent a further £140 on garden tools, with well over half of those polled preferring to tackle their own gardening tasks rather than call in the professionals.
In addition, people are stocking up for their gardens a lot earlier in preparation for this summer to ensure they're ready to enjoy the good weather as soon as it arrives.
Fishpools, the largest furniture retail store in the south east of the UK, reported that they saw an increase of a whopping 97 per cent in online searches for garden furniture in the month of January. Since then, the brand has already sold over 53 per cent of all of their bestselling corner outdoor furniture – perhaps not surprising as it's one of the top looks for garden furniture ideas this year.
Before the pandemic hit, it's fair to say that a lot people didn't make the most of their outdoor spaces. This has changed considerably, with a garden providing a multifunctional space for all the family.
Three quarters of the people (76 per cent) polled by Stihl plan to use their outdoor space for relaxing, with an equally substantial 64 per cent planning to continue with their new hobby of gardening to help pass the time.
Paul Hicks, Product and Marketing Manager at Stihl said: 'After a year of spending more time in our gardens than ever before, it's interesting to see what the key features are and what they want to improve.'
'With spring around the corner, garden owners will be thinking about giving it a tidy up or even a full makeover ahead of spending time out there. With a lot of people still spending their days at home, there's never been a more important time to make our outdoor space exciting and inviting, if only for ourselves.'
So if all this tells you anything, it's that you shouldn't wait till after Easter to get your garden in shape for summer. Get ahead of the curve and start your garden prep now – whether that's investing in new furniture, installing one of our favourite outdoor kitchen ideas or simply tidying up your garden with our spring garden jobs – so you can reap the rewards when the sun starts shining.
Ginevra is the Deputy Editor of Ideal Home magazine but also writes for Gardeningetc whenever possible, as she loves everything about the outdoors. Over the years, she's worked for the majority of Britain's monthly interiors magazines and their websites, including Homes & Gardens, Livingetc and Country Homes & Interiors. She's written about every area of the home, indoors and out, from shopping and decorating, appliances and home tech, wallpaper and fabric, kitchens and bathrooms, even extensions and conversions.