A nest box for birds is a must in a winter garden – here's why
The National Nestbox Week starts today; here's why installing a nest box in your garden is important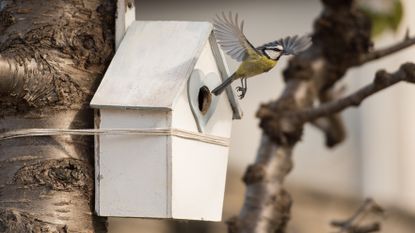 (Image credit: Getty)
If you want to show love for wildlife this Valentine's Day, what better way to do it than by installing a nest box for birds in your garden? Very fittingly, the National Nestbox Week, originally started by the British Trust for Ornithology, kicks off today, during one of the coldest weekends of the year so far.
If you want to learn how to attract birds to your garden or are looking for ways to make your garden more wildlife-friendly, a nest box is a must. And there's plenty of evidence that nest boxes are especially important now.
British birds are in decline. According to an official government report, wild bird numbers have declined by 25 per cent since 1970, with both woodland and farmland species affected. Part of the reason for the decline is that birds have lost much of their native habitats to human farming, which increasingly encroaches on woodlands and hedges, while birds that traditionally have nested in farm buildings can no longer do so due to changes to farm building designs over the past few decades.
These are just a couple of the reasons why birds really need our help in providing them with spaces for nesting, plus adding them to our outdoor spaces is a great way to boost our wildlife garden ideas. According to the RSPB, nest boxes are important year-round and 'not just used over the summer egg-laying season – many birds will use them on a cold winter's night.'
RSPB Wildlife Advisor, Charlotte Ambrose said: 'During the warmer months birds feed on insects and seeds, but the cold weather means they move into our gardens to find refuge. You can make a real difference and improve their chances of survival, as well as being rewarded by great views of wildlife in your garden or outside space.'
Don't worry about building only one nest box, because it turns out that many nest boxes are enjoyed by multiple occupants, all huddling together for warmth. The record number of birds found in one box is 63 wrens!
You can find a great deal of information about nest boxes, including how to build them, where to position them, and how to adjust them to the needs of different species, on the Nest Box Week website. If you don't think you can participate, you may well have a neighbour or friend who will. Nicholas Watts, MBE at Vine House Farm, commented: 'If you have a garden – even if it's a very small one – then there's always room for at least one nest box. And if you don't have your own garden, then chances are a friend or relative will have, so why not see if they'll let you put up a nest box in theirs?'
For more ways to keep garden birds happy, check out our guide on how to make bird feeders to keep them well fed over winter.
Anna writes about interior design and gardening. Her work has appeared in Homes & Gardens, Livingetc, and many other publications. She is an experienced outdoor and indoor gardener and has a passion for growing roses and Japanese maples in her outside space.