Gtech Cordless Grass Trimmer GT30 review – an easy way to keep your garden neat and tidy
We've reviewed the Gtech Cordless Grass Trimmer GT30. Here's how we got on...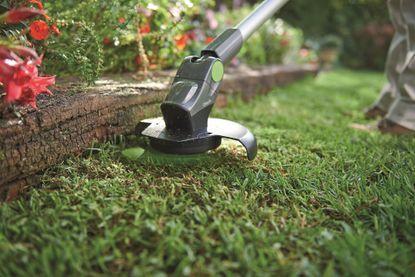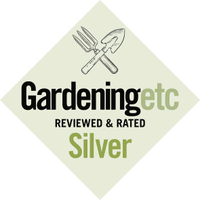 (Image credit: Gtech)
Quick to set up, lightweight and easy to manoeuvre, the Gtech Cordless Grass Trimmer GT30 is a good one to have in the shed for quickly trimming the edges of your garden lawn or cutting back any grass blade you may have missed after a mow
Reasons to buy
+

Quick to set up

+

Easy-fit plastic blades stay on securely

+

Lightweight

+

30 minutes runtime
Reasons to avoid
-

Holding down the trigger for longer than a few minutes at a time may begin to hurt hand and wrist

-

Could struggle to trim a large garden on battery

-

Takes four hours to re-charge
Why you can trust Gardeningetc Our expert reviewers spend hours testing and comparing products and services so you can choose the best for you. Find out more about how we test.
Grass trimmers have gone cordless now, too, so you can keep your lawn in tip-top condition without being tethered to a cable which is plugged in through the back door or kitchen window.
Intrigued, we called in the Gtech Cordless Grass Trimmer (ST20/GT3.0) from last year's enhanced gardening range to see if it will really revolutionise how we keep the garden looking more in order. We used it for the best part of the year (weather permitting) in the front and back garden to keep the edges and pathways looking trim. Our front garden – being at the front of our terraced house – gave it a couple of challenges for size, run time and convenience, too.
Keep scrolling to see how we got on then head to our best strimmer buyer's guide for more finishing touch options for your lawn.
Specifications
What's in the box?
- Grass trimmer main body
- Grass trimmer head
- Grass trimmer shroud
- Battery
- Battery charger
- Bag of blades (approx. half-a-dozen)
Cutting width: 23cm
Runtime: 30 minutes
Charge time: 4 hours
Weight: 1.75kg
Setting up
Image 1 of 3
The set up of this grass strimmer from Gtech was super simple – everything just clipped together nicely. It did take a bit of intuition to attach the shroud, however, but this was mainly because it's new so a little stiff to get into place. And the battery was fully charged so I didn't need to charge it before first use. Result.
The instructions were also easy to follow with pictures and descriptions guiding you though the process, step-by-step.
Ease of use
Using the Gtech Cordless Grass Trimmer was just as easy as setting it up and it will be reassuring for you to hear that it does trim grass, very well. Once you're happy with the head and handle position – which can be adjusted by pushing the button and rotating – you'll just need to hold the safety button on either side and press the trigger to operate. When you release the trigger, the trimmer will stop.
On the pathway
We have a garden path running up the centre of the garden and therefore dividing the lawn in two. Our guinea pigs do a pretty good job of keeping the main lawn trimmed – although not necessarily in a neat way – so the edge around the lawn needs a bit of TLC every now and then to keep it looking in shape.
Our garden levels are pretty uneven with ornate garden edging alongside our concrete pathway, which challenged the cordless trimmer somewhat. However, it didn't prove impossible for the trimmer to cut the blades of grass back as I wanted it to. It was so easy to manoeuvre across the various levels which is helped by it being super lightweight. The blade didn't even shear off as it caught the border edging as it whizzed up the garden, either.
Along the garden wall
Without a pair of garden shears or a strimmer (such as this one) it can be somewhat troublesome to get the blades of grass to the same length as the rest of the lawn. Thankfully, the Gtech Cordless Grass Trimmer transforms into a precision lawn edger with just the twist of the cutting head. This meant that I could get up nice and close to the red brick garden wall, without damaging the blade as it evened out the grass stems.
Skimming the front lawn
It's recommended that you avoid prolonged continuous use of this product, and to periodically rest the product. I did, however, try it out on skimming over our front lawn which doesn't seem to grow as quickly as the back lawn, nor is it as luscious. It was fine to use albeit for a few minutes, but after this time it began to cause a slight pain in my hand due to holding down the safety button and trigger simultaneously.
It was good, however, for not having an extension cable hanging out the front window to power it. And the blade coped very well with our low lying garden wall which it did inevitably clip but didn't faze it (or break it) which was a welcome relief. Navigating around my Hydrangea shrub was easily done, too, by using the handy twist feature.
Anything else?
The runtime of the battery is 30 minutes which was plenty enough time for me to work around trimming my garden. During use the battery doesn't fade so it may come as a surprise when it grinds to a halt.
Charging and product care
Now this is really easy. For charging the battery slots on, and off, the end of the grass strimmer main body by pressing both buttons found either side of the battery at the same time. The charger can then be connected to the battery and plugged into an ordinary socket found in the home.
Whilst it's charging you'll see that LEDs will progressively pulse until all four are lit up. It'll take up to four hours to charge from flat.
A super handy feature which the Gtech Cordless Grass Trimmer comes with is a charge status checker. If you were to press the button on the battery it'll show you how much battery is remaining as a percentage. And when there is no power left the final LED will flash for 10 seconds then go out. This is mega helpful so you won't get cut short when trimming and strimming.
As for product care you'll just need to keep an eye out for obvious defects to action accordingly, check all sections are securely in position and store in a cool, dry place. Any spare parts required for this trimmer –- model number ST20/GT3.0 – can be bought direct from Gtech.
Gardeningetc verdict: should you buy the Gtech Cordless Grass Trimmer?
If you want a quick trim around the garden edges and pathways then absolutely yes. The battery runtime is sufficient for the small to medium-sized garden and for use in quick, short bursts. A four-hour charge time is not that off-putting for even the most impatient folk. Plus being cordless means that you can roam around the garden freely, or take it to the front of the house without endless extension cables through the window. All-in-all, it's easy to set up, handle and does what is expected from a grass strimmer.
Jennifer is Appliances Editor at Gardeningetc who looks after our barbecue-related content, along with appliance and mattress content across our other Future Homes titles. When she is not scouting out the best offers and products for your outside cooking stations, Jennifer enjoys growing vegetables, flowers and herbs from seed. Up until recently she had an allotment, too, where she grew a bumper crop of rainbow carrots, sweetcorn and marrows – the crop was so successful in fact, she ended up giving it away to neighbouring gardeners.