Guide to soil types: how to work out what will grow best in your garden
Learn about different soil types and you can make sure you choose the right plants for your garden planting scheme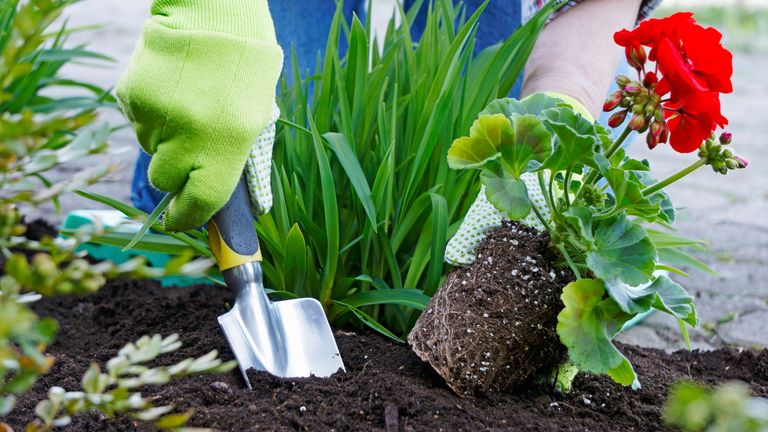 (Image credit: Alamy)
Knowing the basics about soil types can be one of the best ways to make sure you include the right plants in your garden. If you've found that plants have been a total failure in your garden despite you providing the best care, a common reason could be choosing the wrong plant for your soil type.
Soil can range from being either very acidic or alkaline, and knowing what types of plants grow best in specific types of soil can help you improve your mix of plants to suit the growing conditions in your garden. But it's not just a case of knowing whether your soil is acid or alkaline, as there are other characteristics of your soil that will also play a part in the success or failure of your planting. Read on for the main soil types and tips on how to get the most from yours, then head over to our guide on how to compost for more brilliant ways to help improve the growth of your plants.
How to identify different soil types
So how can you make sure you're picking the right plants for your planting scheme? The first step is to identify whether your soil is acid or alkaline and the best ways to do this is to buy a pH testing kit for your soil which will give you an accurate reading. Soil pH varies from around 3.5 (very acidic) to 8.5 (alkaline) – a reading of 7 is considered neutral and the optimum for most plants is 6.5. Another easy way to tell is to ask your neighbours which plants they are growing in their gardens and work out the pH based on what's performing well in nearby soils.
Some of the most attractive flowering plants, such as rhododendrons, azaleas and camellias, love acid soil, and will suffer if soil is too alkaline as some nutrients become locked up. The first sign of iron and magnesium deficiency in such shrubs is yellowing leaves. If you are unable to grow these lime-hating plants in the ground, plant them in containers or beds filled with ericaceous compost.
Soil over chalk or limestone is usually alkaline and is often rich in calcium. It has good drainage but can be thin and requires copious amounts of organic matter such as home-made compost or well-rotted manure added to retain moisture. When planting on chalk, break up the ground to a depth of 75cm to allow plants' roots to spread. Honeysuckle, Euonymus and verbascum will all love alkaline conditions.
HEAVY WET CLAY SOIL
How to tell if you have this soil type
Clay soil is easily spotted because it's sticky and lumpy when wet. It drains poorly and dries rock hard and cracks in the sun. This soil is nutrient-rich and is ideal for late-flowering perennials such as helenium, aster and bergamot.
Getting the most from it
Improve the drainage by digging in as much horticultural grit, sharp sand or even fine gravel dredged from freshwater sources as you can muster – around one bucketful per sq m.
After digging deeply, build raised beds to a minimum height of 25cm for plants that cannot survive with wet roots, with brick walls or timber beams to retain the soil, and fill with a topsoil rich in decayed organic matter (loam).
Expert tips
Mulch heavily with compost in spring to retain moisture and reduce surface cracking. If an area is permanently moist, possibly because of a high water table or nearby spring, consider a 'bog garden' with large-leaved plants such as gunnera.
Perfect plants
Iris pseudocorus or yellow flag iris is a moisture lover, while arum lilies are happy in boggy soils. Dogwood are perfect for heavy clay.
Shady and dry soil
How to tell if you have this soil type
This type of soil can be identified because very few plants can grow well here. You will often find areas under trees to have this type of soil. This is a difficult garden area in which to establish plants and only a limited few survive with no watering. But there are things you can do to improve the quality.
Getting the most from it
Before planting, dig a deep hole part-filled with compost, and thoroughly soak the plant's rootball. Water new plants weekly until they are established. Dig in organic matter to increase the moisture retention of the soil, mulching heavily with a thick layer of bark chippings in spring.
In spring and during hot spells, thoroughly soak the ground once every 10 days – this encourages deep root penetration, whereas watering little and often develops weak, shallow-rooted plants.
Expert tips
Under deciduous trees, plant spring-flowering bulbs such as cyclamen, anemones, snowdrops and narcissi. Create a ground cover of foliage to retain moisture. If planting in terracotta pots, line them with plastic to retain moisture in hot spells, adding moisture-retentive gel granules to the compost.
Perfect plants
Vinca major is a trailing spreader for tough spots. Epimedium latisepalum has dainty flowers. Helleborus orientalis is a flowering perennial.
SANDY AND FREE DRAINING SOIL
How to tell if you have this soil type
You have sandy and free draining soil if your ground finds it difficult to hold onto moisture. The ground will dry quickly after it rains. Sandy soil is low in nutrients and tends to be on the acidic side.
Getting the most from it
To give plants the best start, pour compost into each planting hole to the depth of the head of a spade. Weeds must be kept tightly under control. For minimal maintenance, cover the earth with a weedproof, semi-permeable membrane, securing it with stakes, then cut slits to plant through. Once planted, cover the membrane in a 3cm depth of gravel.
Expert tips
Mediterranean plants such as rosemary and lavender cope well, surviving on impoverished soils. Their small, waxy leaves reduce moisture loss. As these soils are dry and warm in early spring, they can be ideal for sowing early vegetable crops.
Perfect plants
Verbena bonariensis appreciates well draining soil. Kniphofia is an exotic choice ideal for coastal gardens. Echinacea purpurea 'Doubledecker' is also a good choice, especially if you're looking for bee-friendly plants.
HOT AND SUNNY SOIL
How to tell if you have this soil type
These will be areas like a south-facing bed or border that get the full heat of the sun all year round. Not all plants will survive such conditions but exotic choices will thrive.
Getting the most from it
Lay a hose with small holes punched along its length through the bed, to drench the soil in the evening when needed during particularly hot spells. Mulch the soil with well rotted manure in autumn and spring with course compost or leaf-mould to help with moisture retention.
Exotic plants which love the hot sun in winter will need more protection from the winter frosts. The crowns of tree ferns and banana plants must be wrapped in horticultural fleece or hessian.
Top tips
Sunny plots are ideal for many herbaceous favourites – roses, bergamot and tobacco plants, for example. They are also perfect for hot-coloured tender exotics such as cannas and ginger lilies, but grow them in large plastic pots that, come spring, are submerged in beds, but can be lifted in autumn and overwintered in a greenhouse to avoid frosts.
Perfect plants
Cannas give an exotic feel. Aeonium arboreum 'Zwartkop' is a beautiful succulent. Dahlia will work well in a hot border. Head over to our tropical garden ideas for more exotic plant inspiration.
Read more: