How to BBQ a turkey: get the best results with our cooking method
If you want to know how to BBQ a turkey you're in the right place. Done our way, it will taste so good you'll wonder why you've never tried it before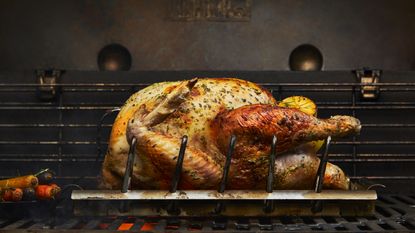 (Image credit: Weber)
When it comes to learning how to BBQ a turkey, the truth is that it's surprisingly easy to do. Whacking a whole turkey on the grill results in a golden, succulent roast that's full of flavour with a lovely crispy skin. It frees up the oven for potatoes and roasted vegetables too at a time when space is at a premium both in the oven and in the kitchen. And it doesn't take any longer than using a conventional oven either.
It's easy to cook your turkey on one of the best barbecues, whether you prefer cooking on a charcoal BBQ or a gas grill. The only other piece of equipment you need is a meat thermometer. Just remember to baste the turkey every half-hour or so with olive oil or butter to get that super crispy skinned finish and your best-ever Christmas roast – no more dry meat!
Read on for more detailed tips on how to barbecue a turkey and let us help you make your best Christmas dinner yet. Just follow our advice and make sure you don't miss the essential step-by-step guide we've included at the end. And if you want more ideas for grill recipes, check out our best BBQ recipes feature.
Why should you BBQ your turkey?
There are lots of reasons that you may want to barbecue your turkey rather than roasting it in the oven this Christmas. 'In terms of the science behind the cooking, grilling creates a moister turkey as you will be doing it in the open air as opposed to indoors with all the windows closed and the heating on,' says Dan Cooper, Head Grill Master at Weber. 'Similarly, cooking your turkey on the barbecue makes for a crispier skin. If the turkey is sharing cooking space in the oven with vegetables and other side dishes, these give off steam which can affect it. Finally, it's all about the fabulous smoky barbecue flavour you get when you cook your Christmas turkey on the grill.'
Why barbecuing turkey is a trend for 2020
There's been a big uptake in barbecuing this year, with more of us trying out new grilling recipes, according to Weber. And with so many of us spending more time at home, we're making much more of our outdoor spaces. There's also something pleasing about setting up a practical outside space for year-round cooking. So this festive season why not create a mood of cosiness by cooking your turkey outside. With the sound of the fire crackling and the scent of wood smoke there's no beating it.
What sort of BBQ works best?
You can roast a turkey successfully in a charcoal BBQ or gas BBQ by using indirect heat. There are lots of different types out there, but the key is to make sure that your fuel source or heat source will be able to sustain the longer cooking time that your turkey will take to roast. Try adding some wood chips to the grill. This can be done on either gas or charcoal grills very easily and makes a big difference to the final taste.
On a charcoal BBQ, the turkey sits on the grill with the coals underneath (not directly under the turkey though) and banked up at the sides, and you top up with additional fuel as necessary. You want to cook the turkey slowly from the side rather than having lots of heat directly underneath it. Make sure your coals have cooled down sufficiently before you start though. You can place a small container of water underneath the turkey to catch the juices which can then be whisked into a delicious gravy.
If you're using a gas BBQ or grill, then place the turkey in the centre of the grill and only turn on the outer burners so that it cooks via indirect heat.
How to BBQ a turkey: our step-by-step guide
1. Look at your BBQ and see what size of turkey will fit comfortably on it. As a rule a 5kg turkey or a turkey crown is usually a safe bet for most kettle BBQs, while if you own a bigger BBQ you can supersize your turkey.
2. Brine the turkey the day before unless it's self-basting. Then you need to find room in your fridge or other cold place for it overnight. On Christmas morning empty the brine and cover the turkey again, this time with fresh water and change this a few times.
3. Once your turkey is up to room temperature, stuff and season it according to your personal preference. You can choose traditional stuffing or a new take on it, or just use lemon and fresh herbs. Remember to rub butter or olive oil generously all over the skin and season well with salt and pepper, both inside and out.
4. Meanwhile head out into the garden and set up your BBQ for indirect cooking. If you're using a gas BBQ, only turn on the outer burners. If using a charcoal BBQ, they're ready when the coals have developed a thin covering of white ash. Bank them to the sides of the barbecue. Fill an aluminium tray with water and place this between the coals to catch any escaping juices for the gravy.
5. Put the turkey in the centre, over the drip pan. Place it directly on the grill (or you can use a roast holder if preferred), then close the lid. You need a decent amount of air circulating, so the vents in the barbecue lid should be three-quarters open. If you have an oven thermometer, you want the temperature to remain at a relatively constant 180C. As an estimate, allow 20 minutes cooking time for every 1lb the bird weighs. Or if you're working in kg, Weber advises that a 6kg turkey will take approximately three hours to cook when barbecuing at around 170C.
6. Check the coals every 45 minutes or so. Baste the turkey regularly with olive oil and herbs during cooking. The turkey is ready when its internal temperature reaches 65C at the most dense point, which is generally around two hours. Always use a meat thermometer or digital probe to check.
7. Rest the bird for the best part of an hour to ensure you get the juiciest meat, then get carving for your best roast turkey ever!
The best BBQs
Need something to BBQ your turkey on? Check out our top BBQs at their best prices below. Whether you prefer gas or charcoal, there's one to suit.
Our best-rated BBQs at their best prices:
Our best-rated gas BBQs at their best prices:
Cheap charcoal BBQs:
Read more:
Lifestyle journalist Sarah Wilson has been writing about gardens since 2015. She's written for Gardeningetc.com, Livingetc, Homes & Gardens, Easy Gardens and Modern Gardens magazines. Having studied introductory garden and landscape design, she is currently putting the skills learned to good use in her own space where the dream is establishing a cutting garden.