How to BBQ chicken – get perfect results every time
Here's how to BBQ chicken perfectly, whether you want tasty chargrilled kebabs or a succulent whole bird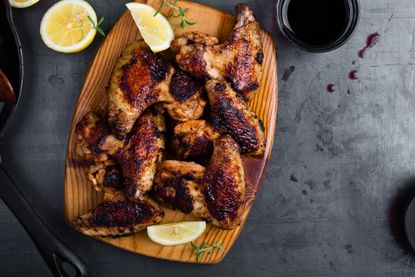 (Image credit: Getty Images)
A lot of us worry about how to BBQ chicken. Get it wrong and you could end up with meat that's burnt on the outside and raw in the middle, which is a sure-fire way to ruin the party. But get it right and BBQ chicken is hard to beat – smoky, succulent and a healthier alternative to those burgers and bangers.
The main options for BBQ chicken are kebabs made from breast fillets, chicken thighs and drumsticks, or a whole chicken. Once you've mastered the cooking technique, you can play around with marinades, from simple lemon and garlic to punchy piri piri and sweet and sticky BBQ sauce.
Make sure you take a look at our best BBQ guide if it's time to upgrade your grill, and head over to our best BBQ recipes for more great alfresco cooking ideas.
How to BBQ chicken safely
Ok, first things first, you need to follow some basic food hygiene rules. Always store your raw chicken wrapped in its original packaging or securely covered in silver foil well away from other foods on a low shelf in your fridge until it's time to cook it. Nobody wants to be starting a salmonella party in their fridge.
Take extra care to keep your raw meat away from ready-to-eat foods such as bread, salad and fruit. That's because these foods won't be cooked before you eat them, so any germs that get on to them won't be killed.
Make sure you wash your hands frequently and always use a dedicated chopping board and knife for your raw chicken.
Always remove the meat from the fridge 30 minutes before cooking to let it come to room temperature. This helps it to cook evenly.
Finally, have a separate set of containers and utensils ready for when the meat is cooked – you don't want to be picking cooked chicken up with tongs you've used for raw chicken.
Should I BBQ chicken on gas or charcoal?
It doesn't matter what kind of BBQ you use, what matters is that it's the right temperature for cooking chicken on. If you are using a gas BBQ, switch it on about 30 minutes before cooking and keep a section turned to low for cooking the chicken through once it's browned.
For charcoal BBQs, wait for the flames to die down until you are left with an amber glow, which normally takes about 45 minutes. Concentrate the coals to one side of the grill to leave you with a cooler area to cook the meat through.
When you're cooking chicken, start it off on the hot part of the barbecue until it gets some colour then move to a cooler part of the barbecue and cover with the lid to cook completely.
Just as a head's up, the NHS recommends starting all chicken products off in the oven to ensure even cooking before finishing them on the BBQ for that distinctive smoky flavour.
How do I know when my BBQ chicken is cooked?
While steaks can be eaten rare; chicken, pork or any minced meat products, like burgers and sausages, need to be cooked all the way through. The timings we've given below are just a guide as the temperature of your BBQ will impact how long your meat takes to cook.
Chicken is only safe to cook when:
If you have a meat thermometer, chicken should reach an internal temperature of 75C or 165F. Check out the Weber Connect Smart Grilling Hub, which turns any BBQ into a smart BBQ, using thermometer probes to tell you when food is cooked.
TOP TIP: All chicken tastes better if it's left to rest. Allow five minutes for breast, 10 for thighs and drumsticks and up to 30 minutes for a whole bird.
How to cook BBQ chicken kebabs
We'd recommend that you prep your chicken kebabs in advance, marinating in the fridge for up to 24 hours in advance. Once you're ready to get cooking, place the chicken pieces onto your skewers and barbecue for ten to 15 minutes, or until golden brown on all sides and cooked through. If you're using wooden skewers, make sure you soak them in water beforehand so they don't burn.
How to cook BBQ chicken thighs and drumsticks
Chicken with bones in is the hardest to cook evenly, so we'd recommend cooking it in an oven on 180C for 35 minutes before you BBQ, to make sure it's cooked through. Then you can pop it on the BBQ for 10 to 15 minutes to give it that delicious BBQ flavour.
If you want to BBQ chicken thighs or drumsticks from raw, make sure the chicken is located on a top rack with a low heat and expect it to take at least an hour to cook through.
How to cook a whole chicken on a BBQ
If you're on social media, you'll probably have seen somebody cooking 'beer can chicken' on their BBQ this summer. It's a great way to cook a whole chicken as the opened can of beer, which you insert into the chicken's neck cavity, releases vapour as the meat cooks, keeping it super tender and flavoursome.
Use a can opener to take off the top of the can of beer. Pour out half the beer and drink it. Then stand the chicken and can upright on the barbecue, on the side with no coals. Close the lid and cook for 1hr 20mins until the chicken is browned, the meat tender and it's cooked through. Cook for another 10 minutes if juices aren't running clear.
More outdoor cooking ideas:
Laura has been writing about homes and gardens for 17 years. She joined Real Homes magazine in 2015 as Deputy Editor and then become Editor before taking on her current position as Content Director for brands including Country Homes & Interiors, 25 Beautiful Homes, Period Living and Style at Home. She's currently redesigning the garden of her 1960s home in Worcestershire and will eventually reinstate the swimming pool that's currently filled with mud! Outside of homes, she's a TV presenter for QVC.