How to make a Christmas wreath using foliage from your own garden
Follow our top tips on how to make a Christmas wreath using foliage you can grow in your own garden for a unique, festive look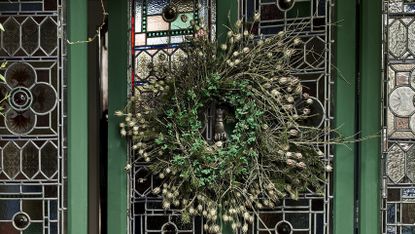 (Image credit: Annie Sloan)
There's nothing like making a Christmas wreath using foliage from your own plot to put you in a festive mood. An afternoon of seasonal crafting is a great way to unwind in the run up to the big day, and making a wreath with spicy aromatic leaves and branches cut fresh from the garden is particularly satisfying.
Evergreens, herbs and bright berries can be combined to create something beautiful and unique for inside and outdoor decorations. Using plants from your own garden is not only more environmentally friendly, but it's also a guaranteed way to create a unique design. Plus, what could be more uplifting than seeing your own creation on the front door to welcome you home each day?
As with many Christmas wreath ideas, once Christmas is over your wreath can be easily composted too. Many of the most attractive winter foliage plants are easy to grow and they will enhance the garden in every season of the year.
Get creative and learn how to make a Christmas wreath using foliage
Follow this easy step-by-step guide on how to make a Christmas wreath using foliage for a stunning look for your front door this festive season.
A floral foam ring is the easiest base to use for your foliage wreath. These are readily available online Amazon.
Soak the ring in water for 15 minutes before using.
Prepare the foliage you've collected from your garden for the wreath by putting it into a sink full of water for a couple of hours before you are ready to start.
Layer the foliage, combining different shapes, textures and colors. More is usually more on a wreath, so for a fulsome look, cram the foliage in. To keep it really secure, use green twine or florist wire to hold it in place.
Add natural embellishments such as dried seedheads, fresh berries such as cotoneaster or pyracanthus. Finish with a length of twine or a pretty ribbon to hang the wreath.
Hang on your door as a stylish focal point for your outdoor Christmas decor, remembering to mist the wreath with water daily to ensure that it lasts longer.
Growing your own Christmas wreath
Chances are you already have some of the below plants in your garden, and they make the perfect foliage for a Christmas wreath. Simply head outside to your garden with a pair of the best secateurs and snip off sprigs of your chosen plants and berries.
Why not consider adding a few more of our favorite choices to your garden borders so you can have a plentiful supply of festive foliage for many more years to come?
1. Eucalyptus
This should be on your list if you want to learn how to make a Christmas wreath using foliage. Not only is it beautifully aromatic, but sprays of silver-blue eucalyptus gunnii add a contemporary look to a wreath. Grown as either a shrub or a tree, this species of eucalyptus is fast growing and easy to care for. The real challenge comes in containing it, as it can grow as tall as 25m if it is not pruned back hard in the spring.
It is the young foliage which has the pretty blue-green colour. The more mature it is, the greener the leaves become. As a garden plant it has another plus: the prettily textured bark, which semi-peels to reveal different tones, from pink to grey white. It's an evergreen, so there's no problem with having a good supply in the winter garden.
2. Bay (Laurus nobilis)
The glossy, edible green leaves add depth to any Christmas wreath. This popular evergreen shrub can be grown in as part of your container gardening ideas, either as a shrub or it could be shaped into topiary with a rounded top. It needs full sun or partial shade to thrive, but it is an easy plant to grow.
To plant in a container, use John Innes No 2 compost and feed with fertilizer granules or a liquid feed every couple of weeks from mid-spring to late summer. To keep it healthy, and to stop the leaves from yellowing which is a common problem, repot it every two years in spring.
3. Rosemary
Adding fresh herbs to a Christmas door wreath is a lovely touch, but choose woody, evergreen ones for a lasting display. Rosemary is one of the best herbs to grow in your garden as it's a real trooper, an evergreen perennial which keeps going year-round. Its bendy branches are well suited for twisting into shapes. Try creating some mini rosemary wreaths and securing them with florists' wire, or incorporate strands into a larger garland.
Rosemary prefers a sheltered, sunny spot, and if you live in a very cold area, it will do best in pots. After it flowers in late spring or late summer, prune the rosemary to avoid the appearance of bare, woody stems.
4. Holly
The best holly for a garland is English holly (Ilex aquifolium) with its glossy green leaves and shiny scarlet berries. Although ultimately a tall tree, it is a slow growing one, so it will suit anyone looking for small garden ideas so long as it is kept pruned.
For a holly to produce berries, a male and a female plant is needed for pollination and only the female ones will bear fruit. Check the label for a small 'f' after the plant name when purchasing. The partner tree does not have to be in your garden, so if there are other hollies in the neighbourhood, this might be enough to ensure that your plant will be laden with berries. There is only one holly which will produce berries without another plant nearby, and that is 'Holly JC Van Tol,' which has spineless leaves.
Hollies can be grown in containers filled with John Innes No.3 compost. They need to be kept well-watered to give them the best chance of producing plenty of fruit. Head over to our best plants for autumn berries feature for more top picks for autumn and winter colour.
5. Ivy
It's seen by some as an invasive pest, but evergreen ivy (Hedera) can provide interest in the garden all year round, plus plenty of curling, twisty fronds and interesting flower heads and berries to add to a festive wreath.
Common ivy (Hedera helix) grows best in alkaline soils, while Persian ivy (Hedera helix) is better suited to acid soils. Ivy is simple to grow, thriving in the shadiest spots, and providing ground cover and valuable habitats for wildlife.
The flowers come in the autumn, providing a good, late source of nectar for bees, and the black berries show in midwinter. Ivy does take over if it is left to get out of control. Pruning it back hard in mid-spring will keep it nicely contained.
6. Myrtle
A Christmas wreath that smells as good as it looks works well inside the house. Adding myrtle to the mix will create a deliciously spicy scent. This evergreen shrub (also known as Myrtus communis) has neat, glossy green leaves. It is best grown in a pot, at least 30cm in diameter, as it can grow up to 2m tall. It needs full sun, a very sheltered spot and moist, well-drained soil. In the growing season, add a potash-rich feed on a regular basis. The leaves are edible and can be used in the same way as bay to add depth and flavour to stews and casseroles.
7. Nordmann Fir
With no-drop needles and a warm, pine scent, this is a tall but slow-growing tree, with foliage that makes a classic festive statement. It needs neutral to acid soil, and a sunny, sheltered spot.
It is not one for a smaller garden, as the tree will grow at least 12m tall over 20 years. The size will be contained if it is grown in a pot, in John Innes No.2 potting compost. Pot-grown trees may only last for a few years, however.
There is no need to prune a Nordmann fir, except for the removal of any dead or brown branches. If you're considering learning how to grow your own Christmas tree, a Nordmann fir is also a great tree to go with as it's long lasting choice and doesn't drop needles.
8. Lawson's Cypress
The feathery, fan-shaped foliage of this evergreen tree makes a particularly attractive addition to a wreath. It has a pretty blue/green tinge which can be mingled with dark green leaves and red berries. Often used for hedging, as well as a standalone tree, it is fast growing and tops 12m tall, so it does need to be carefully pruned at least twice a year and it is not suitable for smaller plots.
It needs full sun and moist, well-drained soil. Lawson's Cypress is planted as a bare root between November and March. Our guide to the best fast growing hedges has lots more advice on the top plants to choose if you want to create a new garden boundary, fast.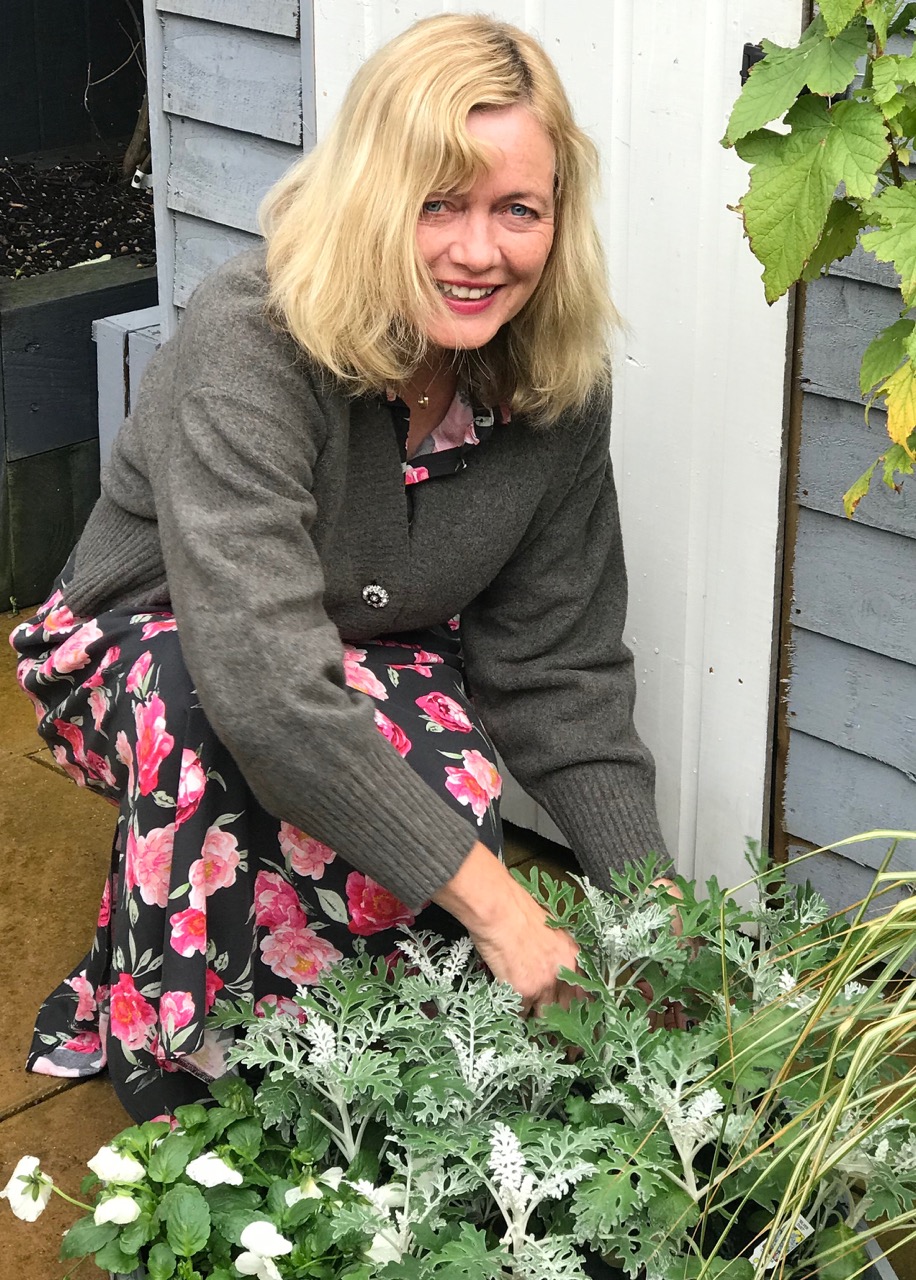 An experienced freelance journalist, editor and columnist writing for national magazines and websites, Fiona now specialises in gardens. She enjoys finding and writing about all kinds, from the tiniest town plots to impressively designed ones in grand country houses.