Hot tub deals to shop today: grab an inflatable hot tub from just £200
Hot tub deals are in full swing, with up to 40% off Lay-Z-Spa, CleverSpa, and Canadian Spa models. But you'll need to move quickly as these deals won't be around for long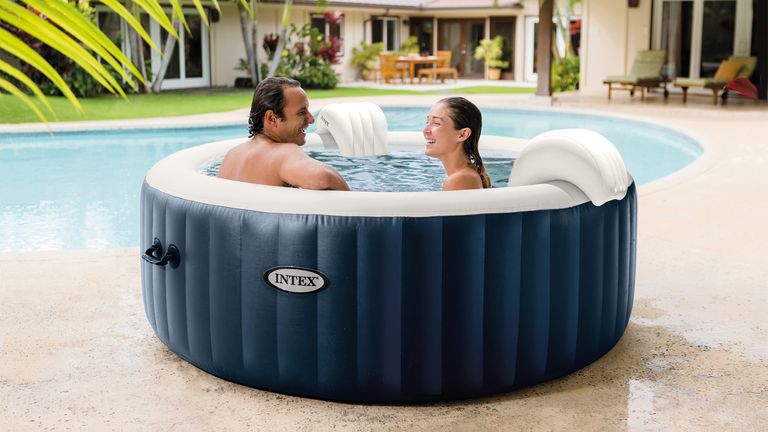 (Image credit: Intex)
Looking for hot tub deals? You're in the right place. We've rounded up all the top hot tub deals on offer right now, including up to 40% off Lay-Z-Spa inflatable hot tubs and Canadian Spa models – look out for a fantastic £450 saving on a hi-tech hot tub with integrated LED lighting and aromatherapy system – and the cheapest inflatable hot tub you can buy right now – a 4-person inflatable for just £200!
After all, as outdoor temperatures cool, now is the perfect time to extend your enjoyment of the garden with a heated jacuzzi, or just bag a bargain ready for when warmer weather rolls around, and with these prices, you can be soaking your cares away in a soothing outdoor jacuzzi for much less than you may have thought.
Want to know what you should be looking for when buying a hot tub first? Dive into our guide to the best hot tubs around for all of the detail. Then, whether it's a two-, four- or six-seater hot tub you decide on, you'll find all the top hot tub deals on offer below.
Hot tub deals: an A-Z of hot tub sales happening now
The top hot tub deals you can shop right now
The best value hot tub deals available right now, with big savings on Lay-Z-Spa, CleverSpa, and more.
By price: Low to high
The best deals on hot tub essentials
Investing in a hot tub isn't just about the initial purchase, there's also the (less exciting) hot tub maintenance to consider.
From hot tub water testing kits to chlorine and pH. adjustment packs, it's worth stocking up on the essentials for everyday running whilst they're on offer – or at least at the best price around.
We've rounded up the essentials and accessories you might need below.
When are the best hot tub deals?
The best hot tub deals are generally found at a few key times of year; Black Friday and either the Boxing Day or January sales.
Often hailed as the biggest shopping day of the year, Black Friday falls on the last Friday of November, so the next time it will roll around is Friday 25th November 2022.
The term Black Friday originated in the US to denote the first day following Thanksgiving when retailers would cut prices to draw holidaymakers to shop their store's sales. Driven by global brands, the price-slashing event soon crossed the pond, and now Black Friday – closely followed by Cyber Monday – has become one of the UK's biggest consumer extravaganzas, rivaling traditional Boxing Day sales.
The event has also spread to encompass more than one day, with many retailers starting their discount events earlier and earlier each year.
Next up are the Boxing Day or New Year's Day sales. This is often an opportunity for retailers to clear any remaining stock of last year's lines, which – as long as you don't mind not having the very latest of hot tub models – can make a great time to get a hot tub bargain.
However, these dates aren't the only times to score a hot tub deal, and on this page we keep you informed of all the best prices to be found each month
Of course, as with any sale, it's important to keep a level head and not get too swayed by the price reductions. Making sure to compare water capacity, specifications, and whether the hot tub offers freeze-protection to allow year-round use can also be just as important as the discount.
You can also find great savings on other big-ticket outdoor purchases on our garden furniture deals page.
In-stock hot tubs
Hot tubs deals tend to sell out fast, so if a sale deal has disappeared by the time you click, then browse these real-time best buys to see more great offers in-stock and available today. Simply scroll to the right to see additional options at a gradually increasing price, then click to be taken through to the retailer to shop.
Lay-Z-Spa hot tub deals
If you already know that you want a Lay-Z-Spa hot tub – one of the best-known inflatable hot tub brands – and are trying to score one at the cheapest possible price, then we can help find you one within your budget with our deal finder below.
Amy writes about interiors, furniture and decor for a wide range of publications including Livingetc, Homes & Gardens, Ideal Home, and Real Homes. She now brings her design expertise outdoors into the garden for Gardeningetc.
Initially honing her green thumb growing indoor plants in her first-floor apartment, she greatly appreciates the benefits we gain from coexisting with plants; considering how we can best balance our valuable outdoor spaces to restore health to our own patches of soil, boost diversity for plants and wildlife, and embrace outdoor living with design that helps us to relax, entertain and improve our overall wellbeing through relationship with nature.