Hot tub deals: the best spring offers from just £250
These hot tub deals will make shopping for your inflatable tub cheaper, with picks from Lay-Z-Spa, CleverSpa, and Canadian Spa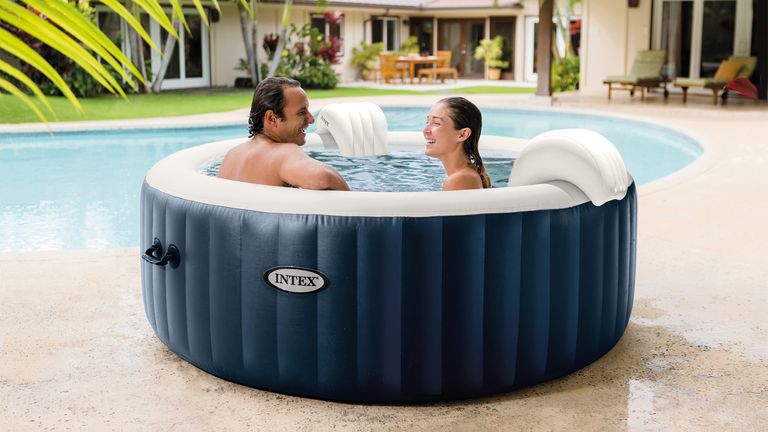 (Image credit: Intex)
Searching for hot tub deals as spring begins? We have all of the discounts you need to know about from top-rated retailers, including Lazy-Z-Spa and Canadian Spa models. From tubs with integrated LED lighting to an impressive number of jets to mimic a real jacuzzi experience, you can provide a relaxation zone for your whole family for less.
There are plenty of options with seating that range up to four people, as well as built-in features to make the whole experience that bit more luxurious. As the days get longer, you can make the most of your garden and take a dip even when the temperature isn't as summery as you'd like.
To establish exactly what you should be looking out for when buying your new garden centrepiece, check out our guide to the best hot tubs with all the information you'll need. Then head back here for all the discounts you need to know about, with discounts on two, four and six-seater models. As well as hot tub sale info that you must read.
Where to buy a hot tub?
The best hot tub deals you can shop right now
The best-value hot tub deals available right now, with big savings on Lay-Z-Spa, CleverSpa, and more. We've also included cheap hot tubs in this list that might not be on sale, but they are still listed at a bargain price.
Top tip: Make sure to check the capacity of the hot tub matches your requirements. Often hot tub marketing states the absolute maximum number of people you can squeeze into the jacuzzi, but reducing the stated person capacity by 1 to 2 people is likely to result in a more relaxing spa experience.
By price: Low to high
CleverSpa Inyo 4 Person Inflatable Hot Tub | £250 at Argos (opens in new tab)
Although it's not actually discounted right now, this is still the cheapest hot tub with 'freeze-technology' (that allows year-round use) that you can buy right now. It has also features a generous 800L water capacity, plus 110 air jets for underwater massage.
Wave Atlantic 4 Person Inflatable Hot Tub | £499.99 now £299.99 (save £200) at The Range (opens in new tab)
For a 4-person inflatable hot tub, Wave's Atlantic model is a good size, offering an 800L water capacity. The water heats up to 39˚C and 105 massaging air jets are on hand to offer an underwater massage. It also now has £200 off for a limited time only at The Range!
CosySpa 4 Person Inflatable Hot Tub | £299.99 at Amazon (opens in new tab)
Another non-sale option that is great value. For a 4-person hot tub the 800L water capacity and 130 bubble-creating air jets offer impressive specs, rivalling many inflatables that are marketed as 6-person spas. The basic model is a great price, although you can upgrade to a 'comfort' package to get drinks holders, headrests, and an inflatable cover too.
CosySpa 6 Person Inflatable Hot Tub | £359.99 at Amazon (opens in new tab)
This 6-person CosySpa hot tub is a great price considering its size; offering a 1000L capacity and 130 air jets. The best deal is the no-frills package, but you can upgrade to get cover, headrests, and, the all-essential drinks holder. The only downside is that this option doesn't offer freeze prevention, so it's not marketed as suitable for year-round use.
Lay-Z-Spa Miami 4 Person Inflatable Hot Tub | £514 now £399.99 (save £115) at Home Essentials (opens in new tab)
As one of the leading names in inflatable hot tubs, you will generally pay more for a hot tub with the Lay-Z-Spa logo compared with other brand names. The entry-level Miami is the one of the cheapest Lay-Z-Spa hot tub deals we've found, with 669L water capacity, 120 airjets, and 'FreezeShield' technology to ensure water doesn't freeze on cold winter nights.
Lay-Z-Spa Paris 4-6 Person Inflatable Hot Tub | £649 now £439.95 (save £210) at All Round Fun (opens in new tab)
The perfect party hot tub, the Lay-Z-Spa Paris has remote-controlled LED lighting that allows you to illuminate the water with a red, green, blue, white, orange, light blue, or purple glow. A water capacity of 806L, 140 airjets, and 'FreezeShield' technology ensure the fun doesn't need to stop when the weather cools down.
Lay-Z-Spa Vegas Airjet 4-6 Person Hot Tub | £599 now £464 (save £135) at Amazon (opens in new tab)
This tub has plenty of great features included, such as a power saving timer, 'Freeze Shield' technology, 140 massaging air jets and a 40ºC Rapid Heating System. It's also super easy to set up, inflating in under five minutes, with no tools needed. And, the circular beam construction ensures long-lasting stability and comfort. Accommodates up to six people at one time.
Lay-Z-Spa Helsinki 5-7 Person Inflatable Hot Tub | £899 now £650 (save £249) at Amazon (opens in new tab)
The thin, rigid walls of the Lay-Z-Spa Helsinki allow it to hold a whopping 1123L of water, plus its 'Freeze Shield' technology allows you to use the hot tub all year round. Add in the Nordic-inspired faux wood panel print and you have one of the roomiest, and most stylish, inflatable hot tubs you can buy.
Intex PureSpa 6 Person Bubble Hot Tub | £799.99 now £650 (save £149) at Robert Dyas (opens in new tab)
With 140 heated bubble jets, this 1098L tub will provide the ultimate relaxation experience for up to six people at a time. Intex's unique Fiber-Tech construction means it's sturdy and robust as well as comfortable. And, it can be controlled via an easy-to-use panel.
Canadian Spa Gander 4 Person Hot Tub | £4,199.99 now £3,989.99 (save £210) at Robert Dyas (opens in new tab)
Another brilliant option for a discounted static tub. Kitted out with multi-coloured LED lighting, 14 jets, a two-speed pump and an 'Ozone' water care system to keep the water clean, it will instantly elevate your outdoor living space. Accommodates four.
The best deals on hot tub accessories
Investing in a hot tub isn't just about the initial purchase, there's also the (less exciting) hot tub maintenance to consider.
From hot tub water testing kits to chlorine and pH. adjustment packs, it's worth stocking up on the essentials for everyday running whilst they're on offer – or at least at the best price around.
We've rounded up the essentials and accessories you might need below.
Lay-Z-Spa Hot Tub Drinks and Food Holder | £11.99 now £9.37 (save £2.15) at Amazon (opens in new tab)
This inflatable-spa accessory is super convenient for keeping drinks and snacks to hand while you enjoy your hot tub. It's compatible with all Lay-Z-Spa designs (except for the Monaco model), and is currently 18% off.
Clearwater Chemical Starter Kit for Hot Tub Water Treatment | £25.54 now £21.97 (save £3.57) at Amazon (opens in new tab)
It might not be a huge saving, but the discounts on everyday essentials all add up. This popular hot tub starter pack includes all the chemicals you need to keep your water bacteria-free – including 500g chlorine, 700 g pH minus, 500 g pH plus, 500 ml foam remover, 25 test strips and a dosing guide.
When are there usually hot tub sales on?
The best hot tub sales are generally found at a few key times of year; Black Friday and either the Boxing Day or January sales.
The term Black Friday originated in the US to denote the first day following Thanksgiving when retailers would cut prices to draw holidaymakers to shop their store's sales. Driven by global brands, the price-slashing event soon crossed the pond, and now Black Friday – closely followed by Cyber Monday – has become one of the UK's biggest consumer extravaganzas, rivaling traditional Boxing Day sales.
The event has also spread to encompass more than one day, with many retailers starting their discount events earlier and earlier each year.
Next up are the Boxing Day or New Year's Day sales. This is often an opportunity for retailers to clear any remaining stock of last year's lines, which – as long as you don't mind not having the very latest of hot tub models – can make a great time to get a hot tub bargain.
However, these dates aren't the only times to score a hot tub deal, and on this page we keep you informed of all the best prices to be found each month
Of course, as with any sale, it's important to keep a level head and not get too swayed by the price reductions. Making sure to compare water capacity, specifications, and whether the hot tub offers freeze-protection to allow year-round use can also be just as important as the discount.
You can also find great savings on other big-ticket outdoor purchases on our garden furniture deals page.
In-stock hot tubs
Hot tubs deals tend to sell out fast, so if a sale deal has disappeared by the time you click, then browse these real-time best buys to see more great offers in-stock and available today. Simply scroll to the right to see additional options at a gradually increasing price, then click to be taken through to the retailer to shop.
Lay-Z-Spa hot tub deals
If you already know that you want a Lay-Z-Spa hot tub – one of the best-known inflatable hot tub brands – and are trying to score one at the cheapest possible price, then we can help find you one within your budget with our deal finder below.
Molly is the Ecommerce Writer for Gardeningetc and spends her time searching the internet for the next best thing for your garden. When she's not writing, she would most like to be swimming in the nearest sea/ocean or getting through her neverending pile of novels. She's a huge fan of houseplants and loves identifying new plants and trees on walks too.
Sponsored by