Best Bluetooth speakers 2021: enjoy your favourite tunes outdoors
Buy one of the best Bluetooth speakers and spend summer evenings outside listening to your favourite music. Take your pick from our top buys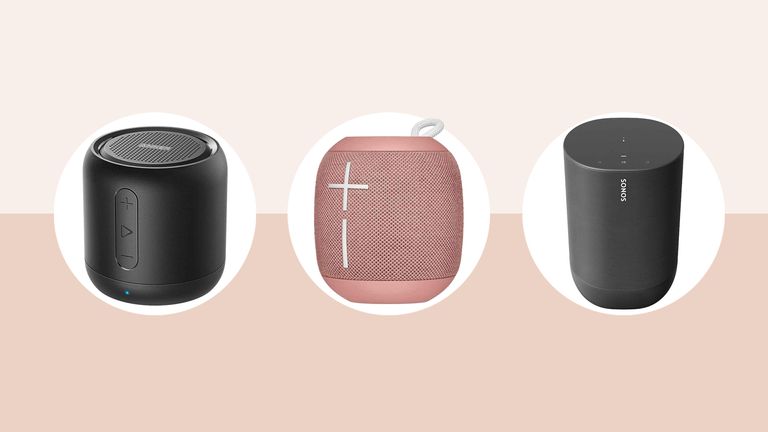 (Image credit: Future)
Investing in one of the best Bluetooth speakers? Smart idea. This way you can enjoy your outside space while listening to your favourite artists, wire-free. No need to search for an outdoor plug, or for a remote control since Bluetooth speakers connect to smartphones. And sometimes even voice assistants. Happy days.
When buying a Bluetooth speaker, you should consider whether it's waterproof and durable – especially if you'll be using it outside – and how much battery life it can hold. Another thing to bear in mind is colour: if your new Bluetooth speaker is going to be on show, it needs to look and play the part.
Keep reading for our top picks, and if you love the idea of creating an outdoor cinema in your garden too then make sure you check out our best outdoor projector guide.
The best Bluetooth speakers
1. Bose Soundlink Mini II
Best Bluetooth speaker: the Bose Soundlink Mini II packs a punch
Specifications
Battery:: 10 hours
Waterproof:: No
Colour: Silver or Black
Reasons to buy
+Easy to use+Built-in microphone+Compact+Remembers up to 8 devices+Long battery life
Reasons to avoid
-Not waterproof
The Bose Soundlink Mini II is the best Bluetooth speaker you can buy. It's compact, lightweight, easy to use and it has a built-in microphone. This speaker has five different buttons – a power button, two volume buttons, a Bluetooth pairing button and a multi-function button.
While the rest are self-explanatory, the multi-function button activates the speaker's built-in microphone. Though this is not a smart speaker, the Bose's built-in microphone can be used to take calls or access voice assistants once connected to a smartphone or tablet. Once connected to Bluetooth, this speaker can remember up to eight devices at once. It also boasts an auxiliary input so you can connect to other audio sources.
Charging the Bose Soundlink Mini II is easy – it has a USB-C port and one full charge powers this speaker for up to 12 hours. Amazing. Not only does this speaker play the part but it looks the part, too. Its anodised aluminium housing makes it look sleek and is engineered to pack a punch.
2. Anker Soundcore Mini
Best budget Bluetooth speaker: a great option for a very competitive and purse-friendly price
Specifications
Battery: 15 hours
Waterproof: No
Color: Black, Gold, Grey, Rose Gold
Reasons to buy
+Compact+Long battery life+Range of colours+Easy to use+Good sound+AUX
Reasons to avoid
-Not waterproof
The Anker Soundcore Mini may be small but what it lacks in size it certainly makes up for in features. This Bluetooth speaker comes in four colours and delivers a powerful sound thanks to its 5W driver and passive subwoofer. It has a Micro SD port and AUX capability so you can connect it to almost anything, otherwise, Bluetooth works at a range of 66 foot.
One charge gives this speaker a long 15-hour battery life, and with only five buttons it's also very easy to use. One for power, another for play, another for mode and two for volume.
Due to its super-compact size, this great Bluetooth speaker can be popped in a handbag or packed in a suitcase with ease. Ultra-portable and ultra-stylish – it comes in four different colours.
3. Bang & Olufsen Beoplay A1
Best luxury Bluetooth speaker: a high priced option that has incredible sound capabilities
Specifications
Battery: 24 hours
Waterproof: No
Colour: Black, Green, Natural, Stone
Reasons to buy
+Compact+Incredible battery life+Dust and splash-resistant+4 colours+Double up
Reasons to avoid
-Expensive
The Bang & Olufsen Beoplay A1 is an incredible Bluetooth speaker if you have a lot of money to spend. It weighs just 600g and is ultra-portable. Not only does this speaker look the part – it comes in four stunning colours – but it plays the part, too. One charge gives it 24 hours of battery and the sound quality truly is impeccable.
It's also dust and splash-resistant (ideal for the changeable British weather) and has hidden, easy-to-use buttons that only require a light tap to be activated. It has a multi-directional microphone built-in so that you can take calls, and the best part is that it can connect to another Beoplay A1 speaker for a wireless surround sound experience.
4. Ultimate Ears Wonderboom 2
Best waterproof Bluetooth speaker: great for pool parties and safe to use around clumsy people
Specifications
Battery : 13 hours
Waterproof: Yes
Colours: 9
Reasons to buy
+Floats+Hang loop+Easy to use – large buttons+Double up
Reasons to avoid
-Not the longest battery life
The Ultimate Ears Wonderboom 2 is a great pick for the clumsy. It's fully waterproof so should it fall into the pool or a bath, you'll have no problems. Boasting 360 degree sound and additional bass, this Bluetooth speaker certainly doesn't hold back on noise. It has a special Outdoor Boost button to increase loudness, too.
With 13 hours of battery life, you can take it with you on day trips and more. It's waterproof, dust-proof and it floats – should it need to – and you can even use it in the shower to sing along to while washing your hair.
It has a hang loop to be popped out of the way and very easy to use buttons including two very large volume up and down buttons. Even better? You can connect it to another Wonderboom 2 for double the sound.
5. Sonos Move
Best smart Bluetooth speaker: voice activated and bursting with features
Specifications
Battery: 10 hours
Waterproof?: No
Colour: 1
Devices: 10+
Reasons to buy
+Weatherproof+Drop-resistant+Alexa and Google Assistant built-in+Automatic Trueplay tuning
Reasons to avoid
-Expensive-Only one colour option-Large
The Sonos Move is a very intelligent Bluetooth speaker that has Alexa and Google Assistant built-in to play music hands-free. This speaker is weatherproof and drop-resistant, and its tough durable shell can withstand everything from extreme temperatures to moisture. Once charged, it can offer 10 hours of continuous play.
It can connect via Bluetooth, Wi-Fi or AirPlay 2 on Apple devices that run iOS 11.4 and higher. Our favourite part? Automatic Trueplay tuning perfectly balances the sound depending on both where you are and what you're listening to. You can connect this smart speaker with any other Sonos devices around your home for a multi-room experience.
How to buy the best Bluetooth speaker
Battery life
Bluetooth speakers benefit from being wireless, so long battery life is a must-have on your checklist when buying the best Bluetooth speaker. Though this will be dependent on how much music you tend to listen to, an average time is around 10 hours.
Waterproof
Though not a necessity for some, having a Bluetooth speaker that's waterproof too will make life slightly less worrying when that unexpected rain shower arrives. Even more so if you have a pool or hot tub. You can even buy ones that float now...
Colours
Nothing to do with practicality though a lot to do with looks, it's important that the Bluetooth speaker you want to buy comes in a range of colours. It can blend in with your decor and it won't be an eyesore.
More outdoor living ideas:
Annie is our Shopping Editor at Gardeningetc. She spends much of her time helping you add those all-important items to your shopping cart, whether that be some comfortable garden furniture, a luxury pizza oven or a shiny new hot tub. Otherwise, you can find her thinking of ways to maximise space, and buying things, for her London flat which has a delightful but teeny-tiny terrace. Next on the shopping list: some rattan garden furniture and a fire pit...