Springwatch's Chris Packham shocks gardeners with his advice on mowing the lawn
We've got the lowdown on Chris Packham's lawn advice and what it means for your garden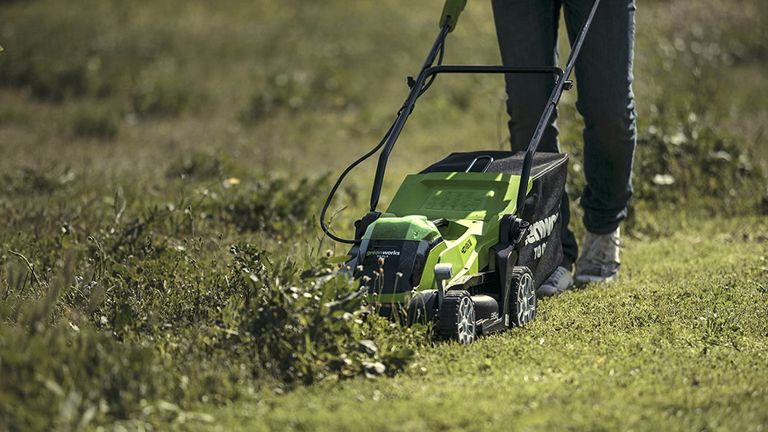 (Image credit: Amazon)
Winter is usually the time most households store their best lawn mower away, waiting to mow the lawn again in spring. However, the BBC's Springwatch presenter Chris Packham is calling on gardeners to abandon their mowing schedule and let your lawn grow wild.
The 59-year-old presenter called mowing the lawn 'a very bizarre habit' on the Andy Jaye podcast. He went on to say that it would be a 'win-win' for not just homeowners and the environment too, if gardeners were to let the grass grow.
'We enjoy the diversity of nature – why not enjoy that on your patch?' he explained. 'A lot of people's patches are a lawn.' However, he did recognise the many reasons why many homeowners might want to mow their lawn.
'I appreciate that the kids may want somewhere to kick a football and you may want somewhere to lay a towel and do some sunbathing or whatever else,' he adds. 'So it's a question of getting the balance right.
'But if you have space, and you can give the lawn over to a wildflower patch, then you will see enormous riches as a result.'
Chris Packham's advice on lawns is at odds with the Royal Horticultural Society (opens in new tab). The RHS recommends mowing lawns twice a week in summer. You can follow our tips on how to mow a lawn in our guide.
Keeping lawns in order is a costly business too. In the UK alone more than £50million is spent on lawn fertilisers. Another astounding £125million is spent on the lawn mowers every year.
However, Chris Packham claims you won't regret the results if you abandon the mowing schedule and do let the grass grow under your feet. It's great for wildlife garden ideas and you can expect a stunning range of wild flowers and diverse creature to inhabit your garden. Plus, it's easy to maintain and lovely to look at.
'Firstly, flowers are a lot more interesting than most grasses. Grass flowers are pretty cool but not the ones people normally have in their lawns,' he says. 'Then you've got all the insects, a myriad of insects – bees, flies, wasps and beetles. And all of the things that in turn eat those, so all of the invertebrate predators – spiders and the things that hunt them – and then the birds come too.
'You begin to build a far richer community and it's much easier to manage anyway – you only have to cut it once a year,' he adds. 'You can literally sit back on your deckchair on that part of the grass that remains and enjoy that lawn.'
The best lawn mowers
Need a new lawn mower, even if you now plan to reduce the number of times you mow your lawn each spring and summer? Check out our best-rated lawn mowers at their best prices below, or head over to our best lawn mower deals feature for today's best offers in the January sales.
Read more:
As the News Editor on Gardeningetc, Rebecca covers everything from the common mistake your making when pruning your roses, to handy tips about how to keep your houseplants alive. She has been covering all things gardening for two years across Homes & Gardens and Ideal Home. There isn't a single gardening trend that passes without her knowing about it.
She's currently the proud owner of a thriving container garden on her small city balcony and a jungle of houseplants. Small gardens and container plants are her specialties.
Sponsored by