Black Friday lawn mower deals: have a tidy up with these Cyber Monday sales
Don't miss the last chance to grab top Black Friday lawn mower deals on robot, cordless, petrol and manual mowers in the Cyber Monday sales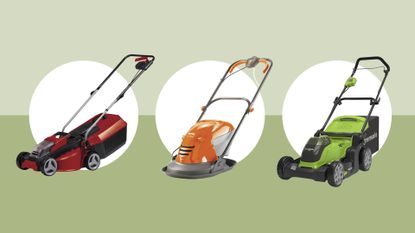 (Image credit: Future)
Gardening Etc Newsletter
The Home Of Outdoor Living
Thank you for signing up to . You will receive a verification email shortly.
There was a problem. Please refresh the page and try again.
Our best Black Friday lawn mower deals will have you longing for a mower upgrade, even if mowing the lawn isn't top of your gardening priorities over the winter months. A cut price mower is perfect for upping your lawn maintenance game and as it isn't high season for buying, there are some brilliant discounts around for Cyber Monday as retailers look to make way for new product lines next year.
In even better news, we have found a few of our favourites from our list of the best lawn mower are on sale too for Cyber Monday, so you know they are worth the investment. But there are plenty of other bargains from every brand for you to browse too.
These Black Friday lawn mower deals aren't just for people who don't have a working mower at home either – some of you might have been thinking of a trade up to a different type. Maybe you've been considering upgrading to one of the latest cordless models for more mowing flexibility? Or perhaps you're keen to test out the latest technology and let a robot lawn mower do all the hard work for you instead?
From budget-friendly buys that will easily manage small city lawns to feature-packed cordless designs that can handle large lawns and long grass, we've put together our top selection of deals available right now. With several offers under £100, you won't have to blow the budget to get your lawn in shape.
So keep scrolling for the best Cyber Monday lawn mower deals. Then for more offers for keeping your outside space looking its best, check out our top picks of the best Black Friday garden deals.
Where to shop for the best Black Friday lawn mower deals?
The best Black Friday lawn mower deals
Not sure what type you want to buy in the Cyber Monday lawn mower sales? Perhaps the prices of our top rated mowers will help you decide. See them below, then scroll on to shop by categories including robot, petrol and cordless.
Our best-rated lawn mowers at their best prices:
Cordless lawn mower deals
The best cordless lawn mowers are so much more convenient than corded models and don't need fossil fuel like a petrol mower. The thing is though, because of all of the benefits, they sometimes cost a little more. Or so you would think.
These Black Friday cordless lawn mower deals make it very affordable to switch to an easier way to mow. Prices start from just over £100 for Cyber Monday.
Petrol lawn mower deals
If you want to be cord-free, but would prefer fuel to batteries, these petrol lawn mower deals are for you. They tend to be best suited to very big gardens so we have chosen some with large grass boxes to fit the bill.
Electric lawn mower deals
Affordable electric mowers do need plugging in, but if you have a small garden or lots of power points in reach this is no problem. They are often less than half the price of cordless and petrol models too, so if you want a good but cheap mower, look no further – and they're on offer!
Robot lawn mower deals
Robot lawn mowers often need a pretty hefty budget. But if you can get one they do save you hours and hours on lawn maintenance. So, if you have been looking to treat yourself to one, Cyber Monday is definitely the time.
See some of the lowest prices below from our pick of the best robot lawn mowers.