B&Q sale: grab these B&Q Black Friday deals while you can
We love a B&Q sale, and the B&Q Black Friday one is no exception. Take a look at what's on offer right now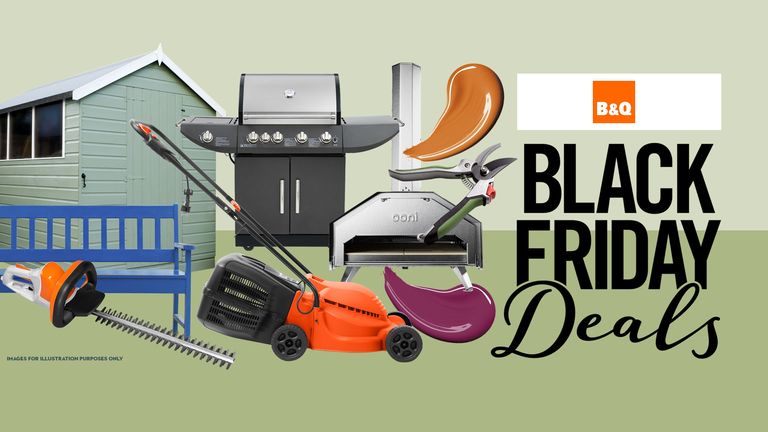 (Image credit: Future)
The B&Q Black Friday sale is already underway and we've searched out some of the top buys so you can update your garden for winter and beyond. Despite what you might think, now is a great time to be planning your garden makeover so you can get it all finished by spring when you can simply sit back and enjoy all your hard work. 
Whether you're looking for a few easy updates, some new garden furniture or even some outdoor paint to give fences and furniture a refresh, we've found some great money-saving buys. Plus, there's an incredible deal on a hot tub so you can sit back and unwind in your own garden spa after finishing all your gardening jobs. There will be even more discounts to be found with more Black Friday 2020 deals on the day itself, so keep checking back for the latest updates. 
Read on to find out everything we know about the B&Q Black Friday sale, plus take a look at the deals we've already have spotted.
B&Q Black Friday 2020
We've scoped out B&Q's Black Friday page for some early deals. There are sections for outdoors and power tools, which is great news for anyone looking to spend the colder months of the year having a good old tidy, ready for more time in the garden next spring. 
Shop the B&Q sale: quicklinks
See what deals B&Q currently has below. We will keep you posted as soon as the offers change. Follow the quicklinks to shop the B&Q sales for yourself.
Best B&Q deals:
The B&Q sale is offering so many great offers for Black Friday. See everything we would buy for our gardens, from hot tubs to storage and more.
B&Q garden furniture deals:
Buying garden furniture in autumn seems like an odd idea, but this is a great time to grab a deal. Then, come spring, you won't be paying full price and wishing you had jumped on a garden table set offer back in November. See some great deals below on various types of seating and structure.
B&Q garden power tool deals
When the weather is chillier, most of your time in the garden in autumn and winter will be spent tidying and trimming. This is exactly why you want garden tools that do the job easily and efficiently so you can get back in the warm once the job is done. See a selection of lawn mowers, grass trimmers and shredders to help your get your garden in shape.
B&Q hot tub deals
We never thought hot tubs would be the sell-out product of 2020, but here we are. With so many of us cancelling our annual holidays, getting creative in the garden was the way to go. We have no idea what 2021 looks like, but come rain or shine a hot tub or garden spa at home will always get plenty of use. See some top deals below.
B&Q garden lighting deals
Garden lighting is an often overlooked part of garden design, but so practical for when you get home in the dark, or need to take the dog out for a pre-bedtime toilet trip. See some B&Q garden lighting deals below – from stylish buys to add interest to your space, to task lighting for taking the bin out, you will never be in the dark.
Shop more brilliant deals: