Best chainsaws: from budget buys to heavy duty options, we've got it covered
Whether you're garden pruning or felling branches, the best chainsaws will help you get the job done with ease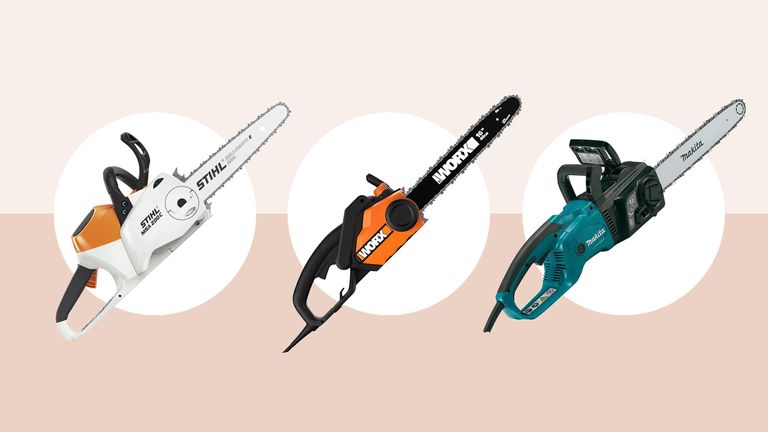 (Image credit: Future)
Investing in one of the best chainsaws is a good idea if your property requires frequent trimming of trees or you're into occasional carpentry and other related weekend projects. They're powerful tools used primarily for cutting wood, from generations-old trees to brand new branches taking up space. But it's important to consider a few key elements before starting your search, like why you need a chainsaw, how much you're willing to spend, and whether you're comfortable wielding one around the yard.
Once you've decided on the size of the chainsaw and how you'll power it up (you'll find lots of advice at the end of our article to help you with this), you're all set to start shopping. Keep scrolling to take a look at our selection of the best picks, then make sure you check out our best gas grills feature too if you're after more top buys for your backyard.
Best chainsaw
1. WORX WG303.1 electric chainsaw
Best chainsaw for under $100: enough power for any small to medium branch jobs
Specifications
Size of chain bar: 16 inches
Weight: 12 pounds
Power source: Electric
Reasons to buy
+Light+Easy to yield
Reasons to avoid
-Loud -Oil leaks
If what you're after is an affordable piece of machinery for chop jobs around the property, the Worx WG303.1 is a great budget choice for under $100. This chainsaw is among one of the most well-rated in its category. Reviewers liked the Worx WG303.1 for its user-friendliness and overall efficiency, with many marks in favor of its well-balanced handling.
Basics on a budget
The Worx WG303.1 is a corded, electric saw. It has a bevy of nifty exterior fixings, including rubberized grip handles, an automatic oiler, and a chain brake. It also uses an auto-tensioning system for the chain, so you don't have to deal with tightening it as often as other budget chainsaws.
First-time friendly
First-time chainsaw users will appreciate the thoughtful safety features of the Worx WG303.1, like the fitted bar cover for safe storage when it's not in use. Reviewers have also noted this chainsaw's narrow build makes it wieldable both vertically and horizontally, and it helps that it's barely 12 pounds.
Limited by the cord
The Worx WG303.31 is corded, so you have only 100-feet of workspace once it's plugged in, or as long as your extension cord allows. It's also not for heavy-duty cutting, so you're limited to bush trimming and other small wood cutting jobs. Customer reviews sometimes mention an issue with oil leaks from the chain because of a poorly insulated reservoir. And despite it being electric, it's a very loud saw, which can make you unpopular with the neighbors.
2. Husqvarna 455 Rancher gas chainsaw
Best gas-powered chainsaw: keep your yard clean and clear with this fast-cutting gas saw
Specifications
Size of chain bar: 20 inches
Weight: 13lbs (without gas cutting equipment)
Power source: Gas
Reasons to buy
+Fast, efficient cutting +Enough power for occasional big jobs
Big piles of wood and large properties require a chainsaw that can handle the work. The Husqvarna 455 Rancher Gas chainsaw is a top choice whether you're pruning giant trees or setting aside firewood for the winter.
Heavy-duty jobs
The Husqvarna 455 Rancher Gas chainsaw is packed with a powerful 55.5-cc engine, capable of up to 9,000 RPM. This chainsaw received top marks for its cutting speed, helped in part by its anti-vibration features. Husqvarna is known for its proprietary X-torq engine, which the company claims to offer good fuel economy and reduced emissions. It has a 20-inch bar, making it a worthy adversary for that large tree taking up space in your backyard.
Heavy to use
Once you add on the cutting equipment, the Husqvarna 455 chainsaw weighs about 16 pounds. That's a bit hefty for a rookie to carry around, and even hobbyists and professional chainsaw users might find it a bit tiring to use. It's not a chainsaw for high-up tree trimming jobs. At the very least, the Husqvarna 455 Rancher gas chainsaw includes other covetable features, like a side-mounted chain tensioner, a chain break, and even a centrifugal air cleaning system to help clean out the filters between uses.
Smart start
Husqvarna uses Smart Start engine technology, enabling quicker startup by reducing the RPMs needed for ignition. Reviewers like it enough to mention it as a reason to buy the chainsaw, though some customer reviews found the starting mechanism to be finicky and hard to use. There are also complaints about oil leaks.
3. Makita UC4051A electric chainsaw
Best electric chainsaw: full of user-friendly features for tackling a variety of wood-cutting projects
Specifications
Size of chain bar: 16 inches
Weight: 12 pounds
Power source: Electric
Reasons to buy
+High chain speed+Low maintenance
Reasons to avoid
-Heavy-No anti-vibration reinforcement
Makita is a common name throughout tool enthusiast circles, so it's a brand that's known for its reliability. The Makita UC4051A, in particular, is a replacement model for the longtime heralded Makita UC4030A. Besides an updated design, Makita improved various little bits on the UC4051A chainsaw to make it easy to use regardless of skill level.
Powerful and punchy
The 16-inch Makita UC4051A packs a punch with its proprietary 14.5-Amp motor and high chain speed of 2,900 FPM—a bit over the 2,500 FPM standard. New chainsaw users will like the easy maneuvering of the UC4051A, particularly its soft-start trigger and rubberized handle. Altogether, the chainsaw weighs nearly 16 pounds, putting it on the heavier side of the spectrum, so any relief you can get in terms of ergonomics will be a huge help. It also doesn't offer any anti-vibration technology, which can make it hard to stabilize as you're tackling tough jobs. A pair of anti-vibration gloves will come in handy here.
Easy maintenance
Chainsaws require frequent, thorough maintenance of parts like air filters and the chain brake. But the Makita UC40551A is electric, so you don't have to tend to air filters. It's equipped with a tool-less blade and chain, which merely requires turning a level to adjust either part. The viewing window for the oil reservoir is also nice to have, though reviews have noted that refilling the oil tank is messy without a funnel.
Big and small jobs
The Makita UC4051A is a double insulated chainsaw, making it durable enough to handle all sorts of cutting jobs despite its seemingly small size. This includes tree trimming, firewood cutting, and even chopping up fallen trees. It's a quiet chainsaw, too. The most significant issue with the Makita UC4051A, as noted by customer reviewers, is that the chain has a propensity to slip off and can be difficult to realign.
4. Makita XCU08 Cordless chainsaw
Best top-handle cordless chainsaw: take down high-up tree branches with this speedy chainsaw
Specifications
Size of chain bar: 14 inch
Weight: 10 pounds
Power source: Battery
Reasons to buy
+Torque boost for tough cuts +Low maintenance
Reasons to avoid
-Not for large jobs
The Makita XCU08 cordless top handle chainsaw is a good choice when it comes to value. It's also a top handle chainsaw, which can be easier to maneuver for people working with overgrown yards. That said, the Makita XCU08's relative heft might negate any benefit you receive from opting for that top handle.
Top handle design
The Makita XCU08 is a top handle chainsaw. Top handle chainsaws are best as climbing saws for utility workers and arborists, but they're helpful in the backyard, too. If you're considering tackling related jobs, a top handle chainsaw can get you to heights that a rear-handled chainsaw can't. The Makita XCU08 is just over ten pounds with the battery packed in, however, so if you're genuinely planning to go up the ladder to take down branches, make sure you're comfortable carrying that much.
Extra power options
Though the Makita XCU08 isn't made for cutting large diameter wood, the included Torque Boost mode helps keep the chain speed up so that a branch cut can be down in one round. The Torque Boost doesn't increase the overall chain speed either, so you don't have to worry about burnout.
Good value for small jobs
The Makita XCU08 runs on two 18V batteries. If you buy directly through Makita, the batteries are compatible with the brand's power tools, which can help you save some money if you're looking to invest in an ecosystem. You can pick up the XCU08 kit with battery and charger for less than $500—cheaper than Stihl's cordless offerings. Despite its nearly 30cc-equivalent engine, however, the Makita XCU08 is best reserved for small jobs and tree trimming.
5. Remington RM4214 Rebel gas chainsaw
Best budget gas chainsaw: when all you need is a chainsaw to help cut down that tree
Specifications
Size of chain bar: 14 inch
Weight: 16 pounds
Power source: Gas
Reasons to buy
+Solid performance+Can tackle large jobs
Reasons to avoid
-Heavy-Uses non-standard parts
The Remington RM4214 Rebel chainsaw isn't the most impressive power tool, nor does it boast any unique engineering. It's simply a well-liked, run-of-the-mill gas chainsaw, with enough power to take down that tree that's huddling over the yard.
Gas-powered gutting
The Remington RM4214 packs a 42-cc engine, which is about standard for a gas chainsaw this size. The 14-inch bar is the perfect length for small suburban clean up jobs or wannabe lumberjacks. However, the chainsaw is nearly 16 pounds out of the box, requiring some muscle to use.
Standard safety features
The Remington RM4214 Rebel chainsaw has all the standard safety features of pricier models. The five-point anti-vibration system helps stabilize the chainsaw so those learning to use one can handle it with some ease. There's also a manual chain brake to protect from kickbacks. And an included carrying case for safe stowing.
Not-so-friendly features
There are some drawbacks to choosing an ultra-affordable gas chainsaw like the Remington RM4214. Customer reviews complain of replacement chains being hard to find because of the RM4214's non-standard chain size. Others have complained the chainsaw requires frequent maintenance of the air filters and oiling mechanism to prevent clogging. The Remington RM 4214 is best considered for one-time or urgent saw jobs.
How to buy the best chainsaw
Choose the right size
Chainsaws are one of the more daunting tools, which is why you should buy one with a size you find comfortable wielding. Smaller chainsaws offer between 10- and 14-inch chain bars and are suitable for pruning branches and other small jobs. If you need something a little more capable, a medium-sized 16-inch chainsaw is perfectly able to handle bulky projects, as chainsaws can tackle jobs section-by-section.
Larger designs
Larger chainsaws run the gamut of 18-inches and above and can be hard to maintain for first-timers. Those chainsaws also tend to be geared toward industrial jobs, why is why there is only one offering on this list. Novice users should keep in mind that even the most sophisticated chainsaws feature beginner-friendly safety features like built-in chain brakes, throttle locks, and bumpers for minimizing wood chip kickback. That said, you should always wear protective gear when operating a chainsaw, including gloves, safety goggles, earplugs, and cut-resistant safety boots.
Gas or electric motors?
Chainsaws typically run on two-stroke gas engines or electric motors, akin to what lawnmowers use to get around the garden. The simplest way to choose between gas and electric is to consider how often and how vigorously you plan to use a chainsaw in the yard. If you're only planning only a few minor hack jobs a year, an electric chainsaw will likely suffice. Most electric chainsaws are corded, so you'll have to take stock of outdoor-reaching power sockets. Battery-powered chainsaws are available, too, and can deliver surprising amounts of power. But take heed that the battery pack and charger increase the price—anywhere from $100 to $300, depending on the brand.
On the other end of the spectrum are gas chainsaws. They're best for dealing with medium-sized trees and woody landscaping. If an electrical chainsaw is out of your price range, there are also affordable entry-level gas chainsaws available for smaller jobs. But keep in mind that gas chainsaws require more maintenance, including frequent lubrication of the chain.
Read more: