The best garden shears 2021: keep your plot neat with these brilliant buys
Keep hedges and grass edges in trim. We've found the top garden shears for tidying up your outdoor space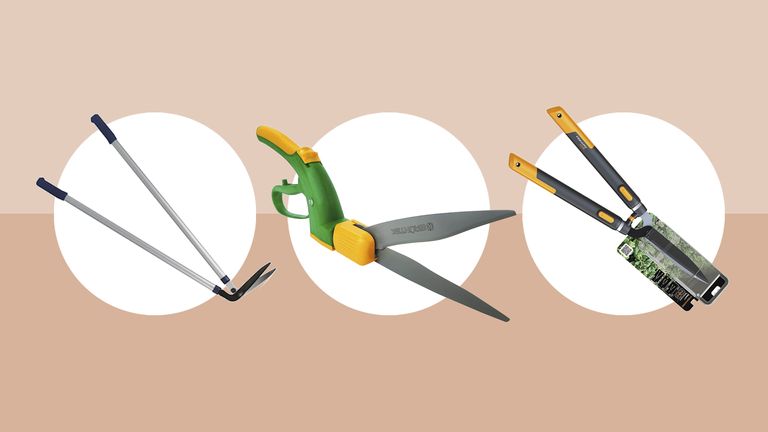 (Image credit: Future)
Garden shears are a must-have for your toolkit. Equipped with your shears, you can keep hedges in shape, and trim lawns and get their edges tidy. Choose from a single pair you can use for different jobs, or opt for separate pairs designed specifically for all the tasks you need to undertake in your plot. 
But which are the best garden shears on offer? That's where we come in. Our guide has the top picks, so you can get kitted out to tend your garden whatever its size and whichever planting it includes.
Read on for our selection plus scroll down for our buying guide with advice on picking garden shears. And don't miss our best hedge trimmer guide for know-how on all the top buys you'll need to make your plot lovely.
The best garden shears 2021
1. Wilkinson Sword Single Handed Grass Shears
Best all-round garden shears: use this neat pair for light hedge trimming as well as lawn edges
Specifications
Best for: Edges and hedges
Material: Chrome
Reasons to buy
+Single-handed design+Anti-rust blades
Reasons to avoid
-Not for woody hedges
If you like the idea of owning one pair or shears to perform a variety of garden, tasks, check out this easy-to-use design.
Be neat
These shears are all you require for light hedge trimming, and to keep other soft growth in order. You can also go round the lawn edges with them after mowing for a fully manicured finish.
Left or right
These shears will suit a left or right hander, and you can trim one handed, which makes lighter work of your task.
Durable option
The chrome blades are anti-rust, but you should still clean the blades after use to keep them in good condition.
Buy the Wilkinson Sword Single Handed Grass Shears
2. Spear & Jackson Razorsharp Edging Shears
Best garden shears for edging: tidy round the lawn without having to stoop
Specifications
Best for: An immaculate lawn
Material : Carbon steel
Reasons to buy
+Rust-resistant blades+Trimming without bending
Reasons to avoid
-Made for a single job
Owner of a decent size lawn? You'll want to be able to tidy up the edges without strain after you've mowed.
No bend
If you can stand more upright to edge the lawn, you'll feel much more comfortable, and these long-handled shears will help save your back.
Smooth move
In carbon steel these blades are good quality. They have a PTFE coating that makes them easy to clean, too.
Non slip
The ergonomic handles of these shears have non-slip grips to reduce hand and wrist tiredness.
Buy the Spear & Jackson Razorsharp Edging Shears
3. Royal Botanic Gardens, Kew Razorsharp Ergonomic Wishbone Hand Shears
Best garden shears for thicker stems: get to grips with the tougher cutting jobs with this ergonomic pair
Specifications
Best for: Woodier hedges
Material : Carbon steel
Reasons to buy
+High carbon steel blades+Can cut thicker stems+Soft feel grips
Reasons to avoid
-Hedge specialists
Tackle twiggy hedges with ease with these sharp and precise shears which have an ergonomic design.
Sharp operator
These shears have hardened high carbon steel blades to make cutting precise and to enable them to stay sharp.
Tidy hedges
The notched blades of these shears mean you can cut through thicker twigs without having to go and fetch your secateurs. 
Cutting ease
Adjustable tensioning allows you to sort things out if the blades are too tight for easy cutting, or too loose for clean cuts. These shears also have light wishbone-shaped handles to relieve the strain of your chores. 
Buy the Royal Botanic Gardens, Kew Razorsharp Ergonomic Wishbone Hand Shears
4. GRÜNTEK Grass Shears
Best garden shears for awkward spots: trim grass alongside walls or under shrubs with ease
Specifications
Best for: Hard to reach areas
Material : Steel
Reasons to buy
+16 cutting positions+One-handed operation+Teflon-coated blades 
Reasons to avoid
-You'll have to bend
If your garden's features pose challenges when it comes to trimming grass, these shears will make your life simpler.
All round
The 360º rotary cutting head of these shears offers 16 positions so you can get it at the right angle to cut grass and other greenery.
Challenging spots
If you need to get alongside walls, banks or paths, these clever shears will help you do it. What's more, the lower handle will protect your hand as you do so.
Non-stick
The steel blades of these shears are Teflon coated which will make them easier to keep clean.
Buy the GRÜNTEK Grass Shears
5. Fiskars SmartFit Hedge Shear
Best telescopic garden shears: reach up when you need to with handles of adjustable length
Specifications
Best for: A variety of trimming tasks
Material : Stainless steel
Reasons to buy
+Telescopic handles +Lightweight+Non-slip grips+Coated blades 
Reasons to avoid
-You might prefer to get a stepladder out
Need shears that allow you to trim higher? The handles of this pair let you reach upwards.
Go up
Tall hedges mean you need longer-handled garden shears, or to stand on a set of garden steps. If you prefer to stay on the ground, the telescopic handles of this pair will come to your aid.
Lighter by design
Once you've got your arms up muscle strength counts, but with light handles these shears mean less to heft.
Sharpen up
The blades are made from steel, and they have a non-stick coating to keep the clean cuts coming. You can invest in a diamond file separately to keep them sharp.
Buy the Fiskars SmartFit Hedge Shear 
How to choose the best garden shears
The features you have in your garden will determine which type, or even types, of garden shears you should add to your toolkit. Its size will also likely influence your choice: if a job is fairly quick, a multipurpose design could suit fine, while owning large hedges, lawns and so on will probably lead you to prefer separate tools.
Types of garden shears
Hedging shears come in various sizes. If your hedge is leafy, you can opt for smaller shears with shorter blades that are lighter to hold. You can use them for other tidying up jobs, too.
If your hedge is woodier, you'll need bigger shears with longer blades to get the leverage to snip through it. Longer handles are necessary if you want to reach up to trim a tall hedge, but if you're going to use them for other jobs the length of the handles can be a disadvantage, so consider a pair of shears with telescopic handles if this is the case.
Grass shears can have long handles that keep you upright while you're trimming the edges the lawnmower doesn't get to. They're worthwhile to save your back if you have a medium to large lawn. 
If you don't mind bending down, or you have to reach into awkward areas where long-handled shears wouldn't fit, grass shears you can use one handed will make things neat.
Bear in mind that you can use hedging shears to trim grass. Specialist tools will prove more convenient, but if budget and storage space preclude it, one good pair of shears could suffice.
Blade materials
Stainless steel will resist rust and these blades are ideal for green growth. Carbon steel is stronger so look for these blades if you're buying garden shears for tougher jobs. A Teflon or PTFE coating will stop sap sticking to the blades so you can keep cutting for longer before they need cleaning, and doing so will be easier.
More garden tool advice: