Best garden shears 2022: shape up your outdoor space with ease
These are the best garden shears to make light work. From hand pruners to long handled hedge shears, keep your garden tidy this summer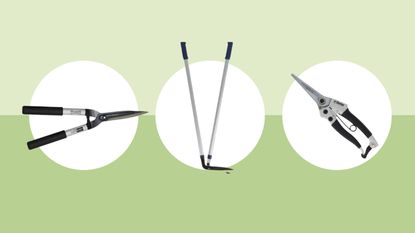 (Image credit: Future)
A set of the best garden shears are a must-have for any gardener, whether you're a first time tender or a professional landscaper. If you're simply wanting to have your hedges and grass edges neat and tidy, garden shears are the top tool for you. Different sets tackle different jobs though, and we're on hand to make sure you select the right shears for your topiary needs; be it the best pruning garden shears or the best hedgers. Snip errant sections of your lawn, trim your borders to perfection and keep your bushes in shape with these top garden shears this year.
Does tending to your outside space seem like an overwhelming challenge? With the best garden shears, you'll be able to tackle your outdoor oasis by cutting back and tidying up your shrubs with just a few snips. The better the shears, the lighter the leg work, we say.
When it comes to what makes an essential garden tool, like garden shears, the best, they should be sharp, sturdy and comfortable to hold. Unlike battery or electric trimmers, these garden shears are powered by you, so you can shear at the speed you like. But if you do want to give your arms a bit of a break, then check out our best hedge trimmer guide for the lowdown on all the top buys for tending to your garden.
The best garden shears 2022
Why you can trust Gardeningetc Our expert reviewers spend hours testing and comparing products and services so you can choose the best for you. Find out more about how we test.
1. Fiskars PowerGear II Hedge Shear
Best overall garden shears
Specifications
Best for: Pruning and carving hedges, shrubs and bushes
Material: Steel
Reasons to buy
+
Right hand and left hand use
+
Anti-rust blades
+
Easy to use
Reasons to avoid
-
Heavier for larger tasks
-
More expensive
These versatile garden shears are our best overall set. Suitable for both right and left hand users and lightweight in feel, any gardener wanting to trim or prune their bushes and trim down shrubs, can use these garden shears with ease. The price may be higher but you're paying for versatility - there's no need for a full-set when this shear is best for all.
Hence, upon testing we found this Fiskars set from the PowerGear range as the best for performing a variety of tasks. This is due to their easy-to-use design that features stable lever arms, non-stick blade coating and a patented gear mechanism with three times higher cutting performance. Though this high tech does mean they're on the heavier side. Nonetheless, if you're looking to own one pair of shears for maximum use, they're the best to help keep all-round shape of your garden this summer.
2. Spear & Jackson Razorsharp Edging Shears
Best garden shears for edging
Specifications
Best for: Lawn trimming and edging
Material : Carbon steel
Reasons to buy
+
Rust-resistant blades
+
Easy to use
If you own a large lawn or garden with bigger patches of grass, this garden shear set by Spear and Jackson is the best shears for edging. This long-handled set is just the tool to help get the job done (no other shearing styles however) due to its careful design. Tidy up the long strands of grass without having to stoop or strain. If you can stay upright and comfortable whilst edging your lawn, you'll avoid any back breaking work.
They also have ergonomically-designed handles with a non-slip grip for even better ease of use. Made from durable carbon steel, the blades of this best edging set feature a PTFE coating, that makes them easy to wipe clean too. There's no surprise these shears are a best-seller and one of the top reviewed on the market.
Still, trimming the edges of your lawn is second to mowing your lawn right? If you're current mower isn't up to scratch then it might be worth getting one of the best lawn mowers.
3. Wilkinson Sword Ultralight Shaping Shears
Best lightweight garden shears
Specifications
Best for: Shape and trim hedges and shrubs
Material : Carbon steel
Reasons to buy
+
Ultra Lightweight design
+
Soft-grip handles
+
Easy to use
Reasons to avoid
-
May not be best for thicker stems
Weighing 50% lighter than the average garden shears, this best lightweight set by Wilkinson Sword will resist any achy hands or tired arms whilst tending to your harden. Even better, they're slender in shape and smooth in design with a non-slip comfort for even better comfort.
Precision blades also help maintain shape and trim with a light slice. For quick and easy snipping here and there when you notice a plant out of place, they're the best shears to grab when you're out and about. We're currently testing this product and are eager to see how well they work against their glowing reviews. Combining an agile mix of comfort, control and lightweight useability, you can enjoy gardening for longer this summer.
4. Darlac DP44 Compact Shear
Best compact garden shears
Specifications
Best for: Smaller, denser growth and hard to reach areas
Material : Steel
Reasons to buy
+
Small compact design
+
One-handed operation
+
Anti-rust blades
Small in design but not to be underestimated, these Darlac compact garden shears are great for tackling tough, hard-to-reach areas. They have longer, broader blades that are overall smaller in size for a precise snip that will cut through even the twiggliest of stems and branches. With anti-rust blades, there's no fear of them blunting either.
Darlac shears are a long-time favourite for our testers, who find themselves reaching for it time after time. We particularly like the contoured handles of this set, that are designed for single-hand use, leaving your other hand free to catch the debris or sought out your next shear. We wouldn't recommend them if you do have larger hands though - you may find them a little fiddly. Since they're small, they can be easily stored as they won't take up too much room in your shed or storage space.
5. Gonicc 8" Professional Pruning Shears
Best pruning garden sheers
Specifications
Best for: Pruning bushes and flower beds
Material : Steel
Reasons to buy
+
Curved design for thick pruning
+
Anti-rust blades
+
PVC coated comfortable handles
Reasons to avoid
-
Not the best for larger surface shearing
The best partner for your gardening work these pruning shears by Gonicc are the perfect accessory to help keep your flowers and foliage looking its best. That's not to mention how smart the shears are themselves in appearance. Recommended for any pruning work less than ¾" diameter size branches (pretty impressive given it's small size), they're the best pruning shears we've found.
As is with Gonicc garden tools, these pruning shears are made using high-quality materials for shearing control. And the reviews agree. The titanium-coated blades are made using ultra-fine polishing technology to keep them sharp by preventing adhesions from rust, and the handle is wrapped in PVC for a soft and comfortable hold. While we'd still recommend cleaning your shears for the ultimate longevity, reviews prove these are highly durable with limited maintenance necessary.
---
How to buy the best garden shears
Not sure which of the best garden shears to look for? The planting that you have in your garden will determine which type, or types, of garden shears you should add to your toolkit.
Your garden's size will also likely influence your choice: if a job is fairly quick, a multipurpose design could suit fine, though if you own large hedges, lawns and so on, a single set probably won't be enough and it may be worth investing in separate tools for different tasks.
Type of garden shear
There are two main types to choose from - hedging shears and grass shears.
Hedging shears: These come in various sizes. If your hedge is leafy, you can opt for smaller shears with shorter blades that are lighter to hold. These can be used for a number of tidying up jobs around the garden, not just hedges.
If you have woodier hedges, you'll need a set of bigger shears with longer blades for enough leverage to snip through thick branches.
Need something longer to trim a tall hedge? Look for a set of best garden shears with longer handles to give you extra reach when cutting. If, however, you plan to use them for other jobs, the length of the handles may be a bit unwieldy, so consider investing in a pair of shears with telescopic handles instead.
Grass shears: On the whole, grass shears tend to have longer handles that allow you to stand upright as you trim the edges of your lawn that your mower can't get to. They're an excellent purchase if you have a medium to large lawn - trust us, your back will thank you.
If you're not averse to bending down, or you need to reach into awkward areas where long-handled shears wouldn't fit, one handed grass shears are much easier to use. It's also possible to double up and use a set of hedging shears to trim grass. Specialist tools will prove more convenient, but if budget and storage space preclude it, one good pair of shears could suffice.
Alternatively, you could look to investing in a best strimmer to keep your borders and edges in check.
What's the difference between garden shears and pruners?
Shears, pruners or secateurs? Depending on where you look, these can all be interchangeable names for the same thing, but as a rule, shears are for larger garden tasks, like trimming hedges and lawns.
Pruners or secateurs are handheld tools and best used for smaller, precise jobs such as deadheading flowers and trimming flower stems or snipping back individual branches.
Check out our best secateurs buyers guide if you're looking to expand your tool kit.
Material
Once you've decided what type of garden shears you require to tackle your garden's specific needs, focus on the material that the blade is made from.
Naturally rust resistant, stainless steel is an excellent material for tackling any sort of garden growth. Carbon steel is stronger than stainless, so if you're buying garden shears for tougher jobs, aim to get blades made from this robust material. If your shears have a bonus coating of Teflon (or PTFE) , this stops any sap sticking to the blades, so you can continue cutting for longer before they need cleaning.
---
How we chose and tested the best garden shears
For the best garden shears, we have tested or are currently testing many of the products featured in this guide, like the Fiskars, Darlac and Wilkinson Sword models. We've tried them in a garden, as a gardener or any discerning garden owner would. Hedge shears are tested on shrubs, grass shears on lawn edges, paving stones and borders and pruners on flower beds and bushes. We've compared these best round-up by material quality, handle comfortability and overall ease of use to get the job done.
For those we haven't got our hands on just yet, the selection has been chosen for their reviews from all kinds of customers that are more than happy with the work produced. Some are best-sellers that have been recommended by many. Trust us (and them), if we haven't used these shears, someone else has.
See below the comments from our gardening experts on the shears they see as best.
Ruth is Gardening Editor of Amateur Gardening. Horticulturally trained and a full-time pruner, garden tender and wildlife lover, she knows what to look for in the best gardening tools. She's tested two of our best garden shears on this list that she uses on rotation:
'One is from Fiskars' PowerGear range and they are an excellent 'workhorse' tool, ideal for trimming hedges and deadheading and cutting back early-flowering clematis that need deadheading and keeping in place.
The Darlac shears have shorter blades than the Fiskars ones so they are perfect for snipping trickier areas of growth. Both shears are easy to use, sharpen and clean. The Fiskars ones are slightly heavier which can be a disadvantage for big tasks and the smaller blades of the Darlac ones mean I generally only use them for quicker jobs. But together they cover all the bases.'
Editor of the world's oldest gardening magazine and devotee to improving his own garden, Garry knows there's always some sort of tending to be done. He's currently testing out the Wilkinson Sword Ultralight Shear set and is eager to see if their lightweight promise lives up to making the task at hand, easier on his hands. Pop back in a month's time to see his verdict.
---
How to sharpen garden shears?
Gardens are packed with damp grass cuttings and wet, sticky sap, as well as mud and dirt. If you get in the habit of giving your shears a quick clean after every use, they're bound to stay sharper for longer and last you a lifetime.
Start by cleaning any dirt or vegetation off the blades and handles after every use. Several wipes with a damp cloth should do the trick. Allow the shears to dry completely before you put them away. If your set has wooden handles, rub a little oil (either linseed or walnut oil work well) into the wood every six months or so. Finish with a quick, light spritz of WD40 on the blades after use.
If over time, your blades start to feel blunt, you can invest a diamond file to keep them sharp, so you can care for your garden with ease.
Louise is the Ecommerce Writer for Gardeningetc, sourcing the best buys to spruce up your outside space. When she's not on the lookout for the latest outdoor design inspiration, you'll find her in the winter garden of her East London flat; soaking up the sun on her outdoor patio set or tending to her ever-growing collection of balcony plants.