Best gardening books: all the inspiration and advice you need
Whether you're a seasoned gardener or a beginner, the best gardening books are sure to inspire and help you achieve the garden of your dreams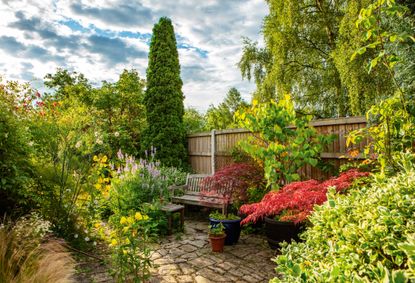 (Image credit: Future/Leigh Clapp)
Looking for the best gardening books? Whether you're a complete beginner or a more seasoned gardener who wants to be more adventurous with their space, then there is no better place to start than the bookshelf. From gardening sustainability to transforming kitchen waste into a bountiful garden, we've rounded up the best books for getting your garden flourishing.
The best gardening books
Why you can trust Gardeningetc Our expert reviewers spend hours testing and comparing products and services so you can choose the best for you. Find out more about how we test.
1. Urban Gardening for Beginners
Best garden book for city gardening: top tips on perfecting your urban patch
Specifications
Author: Marc Thoma
Best for: Beginner city gardeners
Release: 05 May 2020
Pages: 170
Reasons to buy
+
Perfect for small city gardens
Reasons to avoid
-
Basic for experienced gardeners

You may think that a garden is a key part of growing your own fruit and veg, but it turns out it's not. Whether you have a small balcony, an enclosed patio or maybe you don't have an outside space at all, you can still jump on board the trend of growing your own fruit and veg with this expert guide.
Starting from scratch, Marc Thoma Urban's Gardening for Beginners takes you through the basics before offering a whole host of indoor and outdoor growing solutions including hydroponics and using artificial lighting. You'll be inundated with fresh tomatoes, strawberries and a whole bunch of other produce in no time.
2. Planting for butterflies: The Grower's Guide to Creating a Flutter
Best book for wildlife and butterfly gardening: introduce more species into your garden
Specifications
Author: Jane Moore
Best for: Gardening for butterflies
Release date: 4 June 2020
Pages: 144
Reasons to buy
+
Great for encouraging wildlife
We all know how important it is to create a safe haven for wildlife, encouraging them to our garden and making spaces that help them to thrive. In the latest edition to the 'Planting for…' series, Planting for Butterflies shows you how to encourage some of nature's most beautiful pollinators. Filled with inspiring illustrations as well as useful information about flowers and plants to encourage them into your garden, it's a perfect addition to your coffee table.
Buy Planting For butterflies: The Grower's Guide to Creating a Flutter
3. The Complete Gardener
Best classic gardening book: a must-have for any keen gardener
Specifications
Author: Monty Don
Best for: Great writing and advice
Release date: 2 March 2009
Pages: 440
Reasons to buy
+
Expert advice from the host of BBC's Gardeners' World
If you only get one gardening book, then Monty Don's The Complete Gardener is probably it. Beautifully written, it is the perfect mix of advice, experience and anecdotes. Perfect for reading cover to cover or just to dip in and out of, it is full of useful tips and tricks based on Monty's own experience in the garden, covering everything from organisation to harvesting. Whether you're a beginner or an experienced gardener, you will, without doubt, unearth a whole host of hidden gems to help your space flourish.
4. Gardening Planner Journal
Best garden planner: organise your plot with this handy book
Specifications
Best for: Organising your garden
Size: A5
Reasons to buy
+
Keeping track of your garden plans
Reasons to avoid
-
Not huge amounts of in-depth advice
Organisation is key when it comes to gardening so keep yourself on track with a beautiful planner. We love this one from Etsy: it has a helpful sowing and harvesting guides as well as monthly to-do list. Plus it looks beautiful!
5. Veg in One Bed: How to Grow an Abundance of Food in One Raised Bed
Best gardening book for vegetable gardens: learn how to grow your own with confidence
Specifications
Author: Huw Richards
Best for: Starting a vegetable garden
Release date: 7 March 2019
Pages: 224
Reasons to buy
+
Growing your own fruit and veg
If you crave your own organic veg but turning your whole garden into a vegetable patch seems a bit much, then Huw Richard's Veg in One Bed is the perfect place to start. Taking you through each month, from building your bed to harvesting your crops, it is ideal for those who are embarking in their first foray into growing their own. Beautifully illustrated, no stone is left unturned, answering every possible question you could have as your start out on your gardening journey.
6. How Not to Kill Your Houseplant: Survival Tips for the Horticulturally Challenged
Best book for house plants: give your indoor plants the best chance of survival
Specifications
Best for: Keeping your houseplants alive
Author: Veronica Peerless
Release date: 15 August 2017
Pages: 144
Reasons to buy
+
Anyone who loves house plants
Reasons to avoid
-
Advice is only for indoor plants
While we all aspire to the Instagram aesthetic of rooms filled with thriving houseplants, the reality for many of us is several crispy leaved monstrosities that you just can't get to grow no matter how hard you try. How Not to Kill Your Houseplant is the essential guide to keeping your indoor oasis flourishing.
Perfect for beginners it has everything you need, from identifying exactly what's in the pot to clear care advice including exactly how much water you need to give it and how often, as well as expert tips on troubleshooting, answering questions like why are the stalks looking spindly or why your plant's leaves are suddenly dropping off.
7. We Are The Gardeners
Best gardening book for children: encourage them to get involved from an early age
Specifications
Author: Joanna Gaines
Best for: Beautiful illustrations and helping children start gardening
Release date: 26 March 2019
Pages: 40
Reasons to buy
+
Ideal for enthusiastic kids
If you're looking to get your little one involved in the garden then this is the perfect bedtime book. Following one family's story into gardening, it teaches little ones what plants need to grow as well as the importance of insects, water and a lot of patience. Filled with beautiful illustrations, it will get you, as well as them, excited to get out in the garden. This heartwarming story is one that you all will treasure for years to come.
More great garden ideas: