Best gas BBQ 2021: our top picks from Weber, Char-Broil, Napoleon and more
Spring has arrived, which means it's time to buy the best gas BBQ in 2021. Keep reading for our top picks from Weber, Napoleon, Char-Broil, Kuhn Rikon and more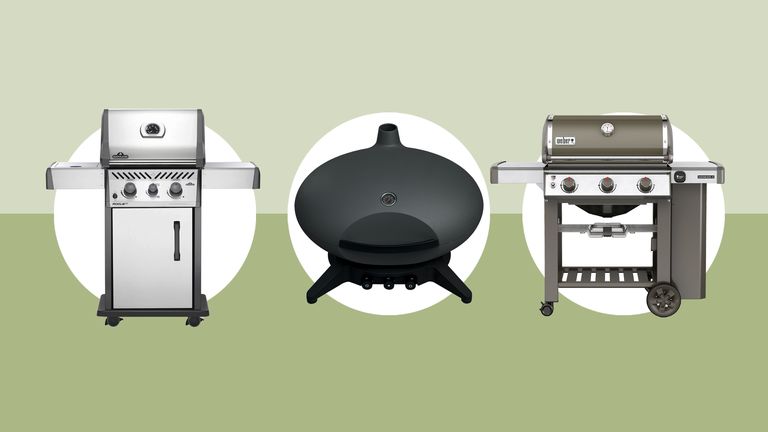 (Image credit: Future)
If you're in the market for the best gas BBQ, you've come to the right place. We've rounded up the very best that Weber, Char-Broil, Napoleon, Kuhn Rikon and other top barbecue brands have to offer. This includes large four-burner gas BBQs and compact two-burner gas BBQs for use on balconies or in smaller gardens. 
As spring has now officially begun, it's the ideal time to invest in a gas BBQ. Not only are they easy to use and adjustable for the perfect char every time, gas BBQs are some of the most versatile BBQs you can buy. Some can be taken on the go for use on campsites or park benches, and others are easily stored thanks to foldable arms and even side burners to cook off sauces and side dishes while you grill your main course.
For more of our favourites in 2021, check out our guide to the best BBQ. This includes not only the best gas BBQs you can buy this year, but top charcoal and electric options. For our top picks of gas BBQs, keep reading. 
The best gas BBQs for 2021
1. Weber Q3200 Gas Barbecue
Best gas BBQ: this Weber barbecue packs away easily and looks great when assembled
Specifications
Fuel: Gas
Weight: 45kg
Colour: Black
Reasons to buy
+Lightweight+Foldable side shelves+Bottom shelf for storage
Reasons to avoid
-Limited to two burners
The Weber Q3200 BBQ has quality porcelain-enamelled cast iron cooking grates and comes on a lightweight frame that's easy to move as you need. 
For the family
The Q3200 will serve up to six people on its two burners. While the frame is small, the grill covers the entire top surface area so no space is wasted. It also has two side tables that can be folded away easily, and a storage shelf underneath the aluminium frame that keeps tools and other essentials nearby. 
A portable gas BBQ
Most gas barbecues can be on the heavy side, making them difficult to drag inside after use. The Weber Q3200 has two front wheels and weighs 45kg, so you'll have no trouble taking it just about anywhere. 
High quality
The cooking grates are cast iron and porcelain-enamelled for easy cleaning and durability. The frame is glass-reinforced nylon, and burners are stainless steel. The body itself is cast aluminium and comes with an in-built thermometer. 
2. Weber Genesis II E-310
Best gas BBQ for the whole family: a smart outdoor cooker for your garden get-togethers that makes barbecuing a relaxed affair
Specifications
Fuel: Gas
Weight: 57kg
Colour: Black
Reasons to buy
+Space for meat, fish and veggies for all+Side shelves+Warming rack
Reasons to avoid
-Takes up space
If you think food from a gas barbecue won't deliver on flavour, the Weber Genesis II E-310 BBQ could convince you otherwise.
Barbecue flavour
We know not everyone's convinced that food from a gas barbecue can meet their standards, but with its nifty Flavorizor bars, this model should make you think otherwise. It has three burners and 68 x 48cm of grilling space plus a warming rack as well so you can keep up with demand.
Stylish design
We're fans of this stylish black porcelain design, which will make a fabulous centrepiece for an outdoor entertaining area. It's easy to look after, too, with a rust-proof porcelain-enamelled lid and wheels to make moving easy, or a cover available. 
App available
Love your smart appliances? The Weber Connect Smart Grilling Hub could be added to this BBQ to help make cooking even more precise. The notifications will let you relax without compromising on food quality.
3. Argos Home Deluxe 3 Burner Outdoor Kitchen
Best budget gas barbecue: cooking and work space, plus storage, for a low price tag
Specifications
Fuel: Gas
Weight: 45kg
Colours: Silver, black and wood finish
Reasons to buy
+Three burners and one side burner+Affordable+Easy to move around
Reasons to avoid
-Not the best looker
If you're making your first steps into the world of gas barbecuing, then the Argos Home Deluxe 3 Burner Outdoor Kitchen Gas BBQ could be the one for you.
Simple prep
Although this barbecue has a small price tag, it'll still deliver all the ease of cooking you'd expect from a gas barbecue. There are three adjustable burners, and it has a side burner as well. We like the fact that there's a warming rack as well as it makes timings stress-free.
Family pleaser
This design promises to feed a decent size group with a cook top of 60 x 41cm. Organising what you need to cook and to dish up is made easier with a good amount of storage and space for condiments, too.
On wheels
You can roll this gas BBQ to where you need it in the garden without too much effort, and if you have space to put it away in winter. Otherwise, you can buy a cover that would work with it. 
4. Char-Broil Professional Black Edition 3500 Gas BBQ
Best gas barbecue for gourmets: opt for a model designed for even heat and juicier results
Specifications
Fuel: Gas
Weight: 56kg
Colour: Black
Reasons to buy
+Made for great cooking results+Sleek design+Easy to clean grates
Reasons to avoid
-If sleeker lines are more your thing
The CharBroil Professional Black Edition 3500 Gas BBQ has sturdy good looks and a striking black finish. 
Even heat
Garden chefs, this barbecue's TRU-Infrared cooking technology promises you even heat distribution and flare-up prevention for the best cooking results, as well as 50% juicier food and 30% less gas use. There's a lid thermometer, and three gas burners plus a side burner to prep your food on.
Store more
You can stash the essentials for meal preparation behind the barbecue's enamelled steel doors and use the side shelves to ensure everything you need is at hand.
Colour choice
We like this black exterior, and the red LED illumination of the temperature controllers, but you could go for red to make more of a splash, or the ever-popular stainless steel.
5. Napoleon Prestige Pro 500 RSIB
Best upgrade pick for experienced grillers: All the extra bits you need for cooking outside
Specifications
Dimensions: 66.50 W x 25.50 D x 51.75 H inches
Weight: 197 pounds
Reasons to buy
+Lots of cooking space+Lots of cooking space+Rotisserie and infrared burner included
Reasons to avoid
-Too hefty to wheel around -Expensive 
The Napoleon Prestige Pro 500 is a professional-grade grill with helpful features and nearly twice the cooking space of others in its class. 
Lots of cooking space
The Napoleon Prestige Pro 500 is a high-capacity cooker with 760 square inches of primary grilling space. There's also an additional warming area, which adds up to 900 square inches total. 
Hot, hot, hot 
The Prestige Pro 500 employs four burners rather than three, with a maximum output of 48,000 BTUs. Each burner has its own heat diffuser, and there is an additional rotisserie burner and infrared burner for handling different cuts of meat and types of food. The Prestige Pro 500 also has an easy-to-see gauge embedded into the grill's hood for precise temperature counts. 
Flair everywhere 
There are other little bits to the Prestige Pro 500 that make it feel as premium as its price tag. It's constructed of sturdy stainless steel and features a cast-aluminum firebox. There are LED indicators in each of the control dials and interior lights for night grilling – no more wearing a headlamp to make sure the meat is cooked all the way through. There's also a ton of storage throughout, including an integrated ice bucket and cutting board.
6. Kuhn Rikon Table Top BBQ
Best tabletop gas BBQ: easy to store and take on the go
Specifications
Fuel: Gas
Weight: 19kg
Colours: Black & beech wood
Reasons to buy
+The most portable option out there+Will sit happily on most tables+Generous 47 x 35cm cooking area+Removable side trays
Reasons to avoid
-No warming shelf
The Kuhn Rikon Table Top BBQ is affordable and it's also portable. This tabletop BBQ can be added to your car boot or placed on suitable patio furniture for all of the barbecued goodness, but without the space demands.
Store with ease
At just 39cm high, 44cm deep, and 97cm wide, the Kuhn Rikon Table Top BBQ is easy to store in a garage, shed, or even cupboard. It weighs 19kg, so you'll be able to pick it up and place it in the car for camping trips or bringing to friends' houses. 
Enough space for the family
The Kuhn Rikon Table Top BBQ has a 47 x 35cm cooking area. Not the largest of the models in our guide, but still capable of cooking plenty of burgers or hot dogs. If your family barbecues have a constant stream of hot dishes, it can take care of everything you need. Consider something with more burners if you want to serve all in one go.
Reasonably priced
Not many of the best gas BBQs are under £150, so we think this one is brilliant value. It has a thermometer on the lid and is constructed of sturdy metal. The side plates are made of wood, which gives a great look and makes them easy to clean. 
7. Weber Spirit II E-320
Best positionable gas BBQ: exploit a choice of grilling venues in the garden with an easy-to-manoeuvre design
Specifications
Fuel: Gas
Weight: 41kg
Colour: Black
Reasons to buy
+All weather wheels+51 x 46cm cooking area+Two side shelves
Reasons to avoid
-On the smaller side
It's easy to put the Weber Spirit II E-320 GBS Gas BBQ exactly where you want it when you're barbecuing. It's H115.6 x W127 x D61cm in size and even comes with the gas ignition battery included.
Moveable feast
Chunky all-weather wheels make this gas barbecue no problem to move around the garden so you can take advantage of sun and shade as you want, or tidy it easily out the way when you've finished cooking. The cart below the BBQ ensures there's still plenty of storage once the BBQ is in place, and there are tool hooks as well.
Cooking features
This two-burner BBQ also has a side burner for sauces. There's a 51 x 46cm cooking area and a warming rack as well to help you stay on track with serving. There's a built-in lid thermometer for cooking precision.
Barbecue system
You can use the Gourmet Barbecue System to switch out your grates for pizza stones, griddles, roasters and more. 
How to buy the best gas BBQ
Where to buy the best gas BBQs
Burners
Check out how many burners the barbecue has. Multiples are best as you can have different temperatures in different areas to suit the cooking task you're performing. Take a look at the burner controls, too. Ergonomic handles or knobs will give you the control you're used to in your kitchen.
Hood
If you want to cook bigger cuts of meat look for a model with a high hood to accommodate them.
Storage
Think about how much food preparation space you'd like: side shelves, storage underneath, hooks for utensils. All can be really useful to make cooking a smoother experience if your gas BBQ isn't part of an outdoor kitchen with worktops and built-in cupboards.
What is the best gas BBQ for 2021? 
Here's a quick recap – if you want the best gas BBQ for 2020, we'd recommend the Weber Genesis II E-310. It looks great, has lots of features and enough room to cook for the whole family. We love that you can connect it to the Weber app for guided cooking.
For more outdoor cooking options check out the best pizza ovens.