Best patio cleaner: 6 tested solutions to try
Our experts have tested the best patio cleaners, and here are the ones they love the most, for easy, affordable cleaning with no hose required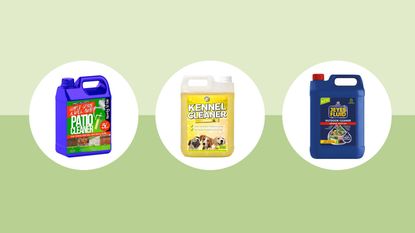 (Image credit: Future)
On the hunt for the best patio cleaner to use in your garden? Whether for your worse-for-wear patio slabs, your old driveway, some dirty decking or even to brighten a garden ornament, we can help. An easy (and affordable) way to rescue your outdoor space without having to invest in the best pressure washer, patio cleaners are super convenient with no hose connection required.
Much to our garden's pleasure, we've been working to test a range of patio cleaners to determine which one is really worth your money and the verdict is in. We had two testers, one who has a dog, test these patio cleaners for us. Annie and Lindsey each tested a few solutions as per the bottle instructions and recorded their results.
Some patio cleaners will need to be diluted with water, and others are ready to pour straight on. Also, if you're in need of a quick fix, then go for a fast-acting patio cleaner as some solutions take weeks to work and slowly show results over months. Be sure to check the weather forecast before applying your new patio cleaner. If rain is forecast, hold off. Similarly, don't apply patio cleaner in the middle of the day if the sun is shining. Instead, wait until the evening.
Here's our verdict to help keep your patio gleaming all year round, for a cheap price.
The best patio cleaners to buy in 2023
Why you can trust Gardeningetc Our expert reviewers spend hours testing and comparing products and services so you can choose the best for you. Find out more about how we test.
1. Pro-Kleen Ready to Use Simply Spray & Walk Away
The best patio cleaner
Size: 5L
Bleach? No
+ No scrubbing
+ Easy to use
+ Multi-use
- Low coverage
Arriving pre-mixed, all you need to do is pour this directly onto your patio and wait. It's hassle-free and it can also be used on fencing, decking, driveways, roofs, sandstone and uPVC surfaces outdoors. Annie tested this and discovered that it's great for removing green mould and algae, fast. For super dirty patios, you might want to apply it twice. She used it on her patio that her dog usually goes to the toilet on, and was sure to keep him away whilst the patio cleaner was still wet. Once dry, it was safe to let him back into this space.
Gardeningetc rating: 5 out of 5 stars
2. Jeyes 4-in-1 Patio and Decking Power
The best multi-use patio cleaner
Size: 2L/4L
Bleach? Yes
+ Multi-use
+ Kills 99.9% germs
+ Already diluted
+ Affordable price
- Requires scrubbing
- Not pet-friendly
If you're willing to put in a little elbow grease, this can be used on patios, paths and driveways plus much more. This solution isn't pet-friendly, but Annie tested it for us before her dog came along. It's easy to use but does require scrubbing to work. Just be sure to leave it on your patio for a couple of minutes before rolling your sleeves up and getting to work. It's nice and affordable as you will need more than one bottle, and it takes a couple of days to see results. It doesn't work on moss and algae, though.
Gardeningetc rating: 5 out of 5 stars.
3. Wet & Forget Moss Mould Lichen & Algae Remover
The best patio cleaner for large areas
Size: 5L
Bleach: No
+ High coverage
+ No scrubbing
+ Works on moss
- Slow results
As the name suggests, you just dilute this product, pour it over the desired surface and forget about it. And you probably really will forget as you won't get instant results. Lindsey tested this for us and found that it took about a week to see a difference in her patio, plus it prevents regrowth. For the complete lack of effort, the fact it offers good results in two weeks and how much one bottle can cover (300m²), it's great. It also reduced lichen and made our patio look visibly brighter.
Gardeningetc rating: 4.5 stars out of 5.
4. GardenersDream Kennel Cleaner
The best patio cleaner for pet urine
Size: 5L
Bleach? No
+ Not toxic to pets
+ 7 fragrances
+ Multi-use
+ Kills bacteria and deodorises
- Requires diluting
- Won't clean moss or algae
We've been buying and using this for months and can confirm that it works to banish pet smells from your outside space. Plus, it comes in lots of refreshing scents to not only destroy bacteria but to make your garden smell actually quite pleasant. Annie (and her pug, Doug) tested this patio cleaner and it can be used on pretty much any surface your pet touches, indoors or out. It works instantly and can be used one of two ways: for deodorising only (dilute 4:1), or for killing bacteria and deodorising (dilute 99:1). A little goes a very long way and one 5L bottle offers high coverage. You can use it on patios, brick walls, garden furniture and even artificial grass.
Gardeningetc rating: 4.5 out of 5 stars.
5. Patio Magic! Concentrate
The best patio cleaner for the environment
Size: 5L
Bleach: No
+ Works on moss, lichen and algae
+ Biodegradable formula
+ Bottle is 95% recycled plastic
- Results can take 1 week
This patio cleaner is easy to use though it takes a few days to see results. Lindsey tested it and mixed one part with four parts of water, in a watering can, and poured it over her patio. You can also use it in a pressure washer if you like. It took around one week for us to see visible results. Our patio was noticeably cleaner and moss and algae were gone. For grime, you'll need to scrub. It can cover up to 170m² when diluted.
Gardeningetc rating: 4 out of 5 stars.
6. ULTIMA-PLUS XP Patio Cleaner
The best patio cleaner for a refresh
Size: 5L
Bleach? No
+ Once-a-year use
+ Easy
+ No scrubbing
+ Great long-term effects
+ Biodegradable
+ High coverage
- Results take a good while
If you need something to give your patio a refresh but aren't in any rush, then this formula focuses on longer-term prevention of moss build-up, coating your paving in a protective residue that forms a barrier to prevent algae from growing back for up to six months. Annie tested it on her slightly green patio and it needs to be diluted 1:4. We didn't scrub and it worked surprisingly well, eventually. Avoid it if you're hosting a garden party within a few days and need a quick fix, though. It would be good to have in your cleaning cupboard for once a year use, before spring. It also covers a whopping 200m².
Gardeningetc rating: 4 out of 5 stars.
---
How to apply patio cleaner
There are a number of ways that you can apply patio cleaner, depending on the size of your patio and the tools you have at hand.
The first method, and the method that most people will go for, is to dilute your patio cleaner as recommended and into a bucket that you have laying around. Then, just pour the solution on your patio, ensuring that you cover each part from corner to corner.
Next, it could be a good idea to buy a garden sprayer (like this one from Amazon) if the space you need to cover is somewhat sizeable – or you are less able to bend over or carry a heavy bucket. With a garden sprayer, you can load the diluted solution into a tank and begin covering your outside space kind of like you would do whilst using a pressure washer, only with less... pressure!
Last but not least, some patio cleaners are safe to use with a pressure washer (always double-check) to cover more area, and for a deeper clean. There are plenty of tips on how to use a pressure washer in our guide.
How to choose a patio cleaner?
Some patio cleaners require more effort than others and need to be scrubbed into the patio flooring and then rinsed off. Others are 'spray and walk away'. These can be applied and left to work on grime, mould and algae as it dries, leaving a protective coating that continues to keep the surface of your patio clean for months.
Check the ingredients
Some patio cleaners are not suitable for use on materials like marble, or if they come into contact with some metals. Dilute as directed.
If the cleaner contains acid, it may not be possible to purchase it if you are under 18. Dilute as instructed. Test on a small area of your patio paving if you are unsure how it will affect the patio materials.
Safety issues
Always follow the manufacturer guidelines for use and wear protective clothing and goggles when using patio cleaners as they contain harsh chemicals. Take care in case of splashes and dispose of waste thoroughly after use to avoid harm to humans or the environment.
Check the manufacturer's instructions carefully to find out whether your patio cleaner is safe for children and animals to play and walk on after use. Most patio cleaners are toxic to aquatic life; look for the warning on the back and avoid using near ponds.
Choose the best weather for cleaning
If it looks like rain soon after you've finished, it may wash away your cleaner before it has dried. If the weather is scorching, it could evaporate too quickly.
Don't forget, there are tons more tips on how to clean a patio in our expert guide.
How we tested these patio cleaners
We've been hard at work this summer testing patio cleaners, and the ones that we loved made it into this guide. Yes, we've tested all of the patio cleaners above, so that you can buy online with peace of mind.
Two members of the Gardeningetc team were on patio cleaner testing duties for us, splitting the load. One of which has a pet, so we've been sure to test pet-friendly formulas, too. You can read more details on how we test products and how we curate our buying guides. See our testers just below.
Our Deputy Ecommerce Editor Annie Collyer has a small patio in south London, which is used predominately for testing BBQs, chilling in the sun and WFG (working from garden). She has a dog who often uses this space to do his business, so it's important for her to find a solution that is pet-friendly, and also something that deodorises whilst cleaning.
Annie tested four of these patio cleaners in total.
Our Ecommerce Editor in chief Lindsey Davis has been also testing patio cleaners for us in her spacious garden in the Midlands. She has a large patio that's in need of a refresh, but with little to no time to whack out her pressure washer, two of these patio cleaners came to the rescue.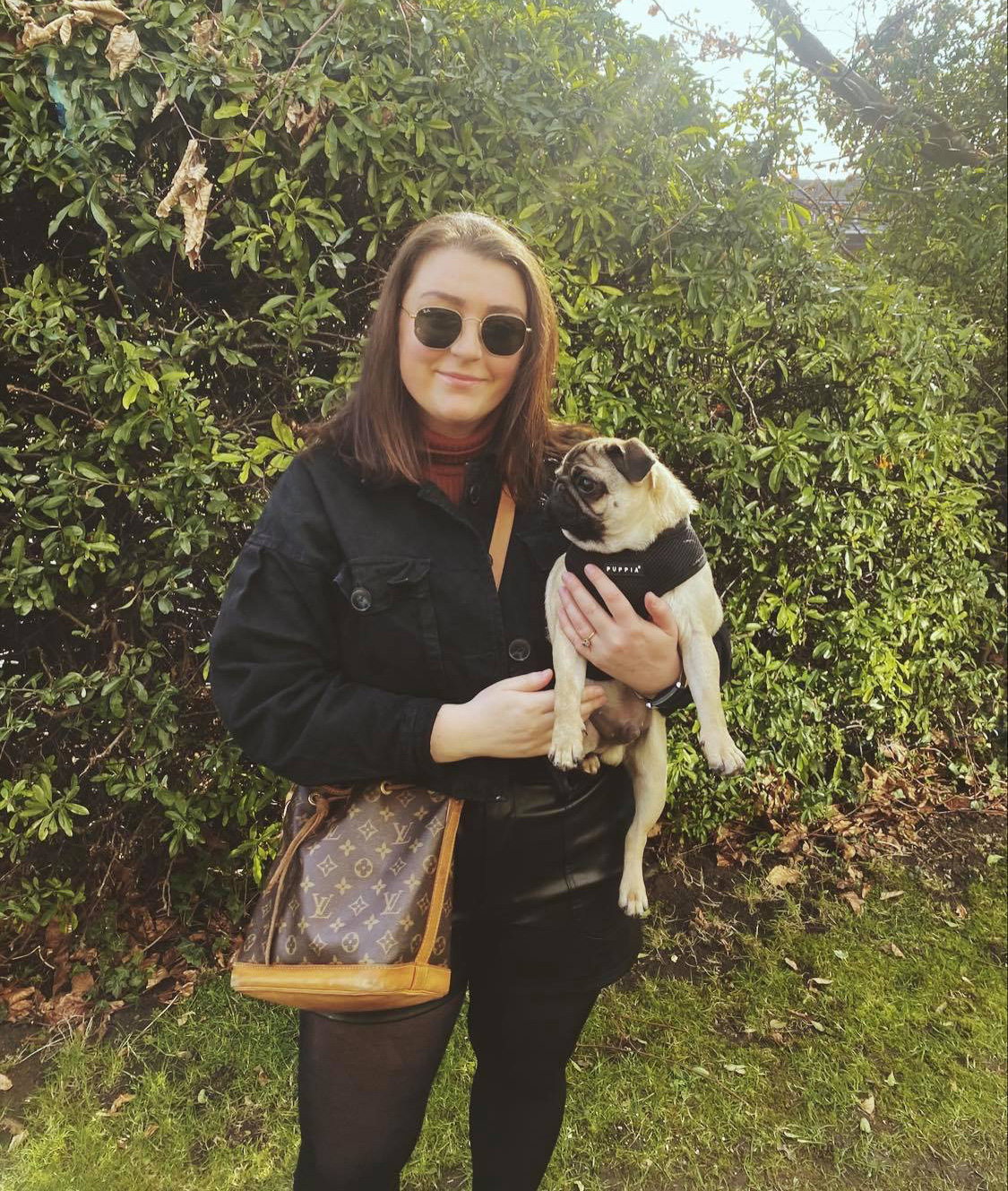 Annie is our Deputy Ecommerce Editor at Gardeningetc. With 4 years of experience when it comes to sales events, from Amazon Prime Day to Black Friday, she is our deals guru if you are after something specific, but are on a budget (aren't we all right now?). She also spends her time reviewing garden essentials for us, think everything from hot tubs to pizza ovens, patio cleaners and even BBQs. With a sizeable terrace to decorate and fill, Annie is always on the hunt for garden buys to make her life easier, and her South London space prettier.