5 garden experts reveal the gardening lessons they've learned this year...
In a year when gardening became everyone's favourite pastime, five experts dish the dirt on what they've discovered so you can learn from their garden successes and mistakes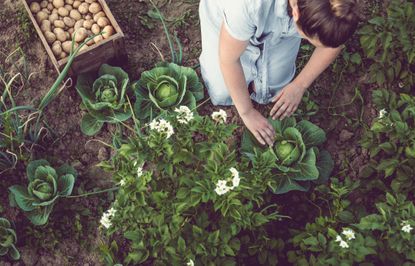 (Image credit: Getty Images)
Gardening can have its highs and lows, but learning from our successes and failures is an important part of the process. Being in nature is so good for us, both mentally and physically, and with the stresses of this rather unusual year, more of us have been turning to our gardens to remind us of our connection to nature and the boost it gives to us mentally.
As most gardeners will tell you, some things work and some don't – those favourite tulips that never bloomed but the beetroot you planted for the first time blossomed. It's all a learning process, and that's part of the fun. With that in mind, we asked five gardening experts what they've learned this year from their gardens – keep scrolling to find out both the good and the bad, then check out our garden design ideas if their advice gets you feeling inspired to make some changes to your outdoor space for 2021.
'Success and failure often go hand in hand'
Victoria Wade is an RHS Gold medal winning garden designer. Follow her blog for her expert gardening tips
'We love to grow our own food, and this year we have appreciated it more than ever. As always with gardening, it's been a year of successes and some epic fails too – that's always the fun of it – and every year is different! This year was the first time growing a wonderful purple podded variety of pea called 'Blauwschokker', the flowers were really pretty and the peas were so sweet and delicious that none actually made it into the kitchen – our toddler ate the lot like sweets straight out of the pod! I was very excited about my purple sprouting broccoli too, but I completely forgot to net it and the pigeons had the lot! But next year may well see broccoli success and complete pea failure – you never can be sure as gardening always keeps us on our toes!'
Our grow your own guides cover everything from how to grow garlic to how to grow potatoes. Find them all in our grow your own hub.
'Don't expect too much from plants that have recently been moved'
Greg Loades is an editor and author of The Modern Cottage Garden (available at Amazon)
'I was looking for a stylish but simple patio look this year, and succulents paired with Mediterranean herbs have worked well as a low-maintenance option that I intend to use more next year. An upright rosemary with a sedum and sempervivum in a terracotta pot filled with gritty compost, and topped with a stone mulch has needed minimal attention and the rosemary was a handy go-to for summer barbecues!
On the downside I've realised I shouldn't expect too much from plants that have recently been moved. I am a great believer in moving plants if they are in the wrong place but I've learned this year that it is unrealistic to expect them to grow as vigorously or flower as freely as they did before, in the first year in their new home. An Alchemilla epipsila and a couple of roses that I moved this spring have taken time to settle. I like to be optimistic though!'
Find out how to create a herb garden in our expert guide.
'It's easy to grow vegetables in containers'
Lucy Butleris qualified at RHS L2 and volunteers at her local RHS garden.
'I've had a few garden successes this year – from trying how to growing dahlias for the first time to creating a beautiful new border during lockdown in April. However, one of my biggest highlights has to be the container allotment I created. I've always grown one or two edibles but lack of border space, raised beds or an allotment has prevented me from exploring this further. Once lockdown hit in March, thoughts turned to what we could start growing as a family and so the container allotment was born!
After a bit of research into best crops to grow we ended up with a plentiful supply of fresh fruit, vegetables and herbs including blueberries, strawberries, gooseberries, chard, beetroot, potatoes, red and yellow cherry tomatoes, plum tomatoes, cucumbers and pepper as well as herbs such as sage, rosemary, marjoram, oregano, chocolate and grapefruit mint, Indian mint and Vietnamese coriander.
Just as I've had successes in the garden this year, I've also had a few failures. My magnolia tree and arum lily not flowering (this is particularly puzzling as they have always flowered in previous years). My grape vine not producing any grapes after a bountiful harvest last year, roseballing on my Rosa 'Josephine Bruce' and my Escallonia developing leaf spot, which despite my best efforts to remove keeps returning. So I guess what I've learned from the garden this year is to take the failures on the chin, accept that you can't win them all and that plants will sometimes do things to surprise you.
Find out everything you need to know about growing vegetables in pots in our expert guide.
'Gardening with kids can be fun'
Laetitia Maklouf is the author of The Five Minute Garden (available at Amazon)
'I've learned that control freakery has no place in a pandemic! That the garden is (as always) the best teacher, that I CAN enjoy gardening with my children and that the garden isn't just a beautiful place; it's a sacred space that we are beyond lucky to have and be custodians of. There really aren't any negative lessons from a garden. There are tough lessons (like understanding that things take time, or that you can't make a plant thrive if it's in the wrong place) but I can't think of any negative ones!'
Head over to our garden ideas for kids for fun ways to get youngsters outdoors and involved in the garden.
'I'll never take my garden for granted again'
Isabelle Palmer is small space container garden designer and author of Modern Container Gardening (available at Amazon)
'This year has been possibly the most beneficial and intensive discovery of not only my garden but of plants in themselves. The imposed exile from many of life's distractions and the necessity to create much of my garden from seed and cuttings this year has attributed a new wonderment that I don't think I quite realised before.
Indeed the forcing of time to explore and initially the deprivation of my visits to the garden centre were tinged with panic at the beginning. But my exploration has given me both hope (to see these plants bloom), patience (to watch them grow), companionship (a friendly face to watch when the world seemed so bleak) and fulfilment (at the creation of something so beautiful from nothing but a single seed) at a time of uncertainty and fear. My garden for me has been the highlight of this year and I will never take it for granted again.'
Our balcony garden ideas feature offers plenty of inspiration for how to make the most of your compact outdoor space.
Read more:
Sophie has been an interior stylist and journalist for over 20 years. She recently trained to be a florist and launched The Prettiest Posy where she curates beautiful flowers for weddings and events.