5 practical greenhouse storage ideas – try these for size
Want to keep your greenhouse space organised? Embrace your inner Marie Kondo with these top tips and ideas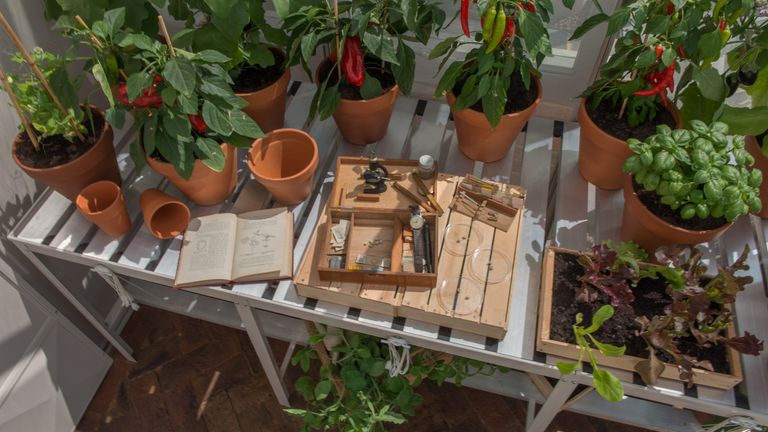 (Image credit: Hartley Botanic)
Our greenhouses are wonderful places to escape to, offering a calm space where we can relax and enjoy our gardening tasks. But that feeling of calm and relaxation can be wiped out in an instant if your space is constantly filled with clutter and you can't find your gardening essentials.
Space can be tight in a greenhouse too, so it's important to keep on top of where everything is. Once it's sowing time you can have multiple seed packets floating about, bags of composts, piles of pots and labels to write! A spot of storage will work wonders to give everything its own place (and restore your inner calm), so check out our five ideas below for improving your greenhouse storage this season.
Want more inspiration for how to use your greenhouse? Head over to our greenhouse ideas for innovative ways to make the most of your garden glasshouse.
1. Go high to maximise space
Don't restrict yourself to single-height storage in your greenhouse if you want to make the most of the space. This well-designed layout makes use of every inch of height with three levels of storage along one side of the greenhouse. There's low-level shelving for storing plants pots and compost, waist-height units that can be used as a potting bench and storage space, then top-level shelving for displaying and growing plants.
2. Look out for original storage items
Storage can be beautiful as well as practical, and wooden fruit boxes can be really useful for storing greenhouse essentials. Vintage ones look particularly effective for a character-filled space. You can often pick them up from reclamation yards or car boot sales – the beauty of them is that you can stack them on top of each other to save on space too. Use them to store bulbs and seed packets until you are ready to plant them, or even for storing freshly harvested apples. There's more innovative ways to use salvaged items in your garden in our guide.
3. Be innovative with your design choice
Sometimes it's worth thinking outside of the box if you can't find the exact storage you're after. Whether they're crafted from wood or metal, plant stands make great storage for greenhouses. They don't need to be fixed to the walls, which is ideal for a glass greenhouse where this isn't possibly. Look out for stands that have tiered shelving so you can store different sized items – always put the heaviest things like bags or buckets of compost on the bigger, lower levels.
4. Go all out with colour
Due to the nature of gardening, the storage you choose for your greenhouse should ideally be waterproof. Look out for shelving that can cope with being wet most days as a result of you watering the plants – you don't want rusty storage racks within a few weeks of use after all. To protect your storage from water damage and to give it a unique look, you could paint it with exterior wood paint (or paint suitable for metal if that's what type of storage you have). We love how this vibrant lime green colour really makes a statement in this traditional greenhouse, but you could choose a more subtle shade if you prefer your storage to fade into the background.
5. Choose drawers for easy organisation
Drawers units are just as useful outdoors as they are in your house, as they make it easy to keep all manner of things organised. If your greenhouse space is small, go for a single unit and tuck it into the corner of the space so you still have room to move about. If you have a bigger space, why not invest in two or three of the same design and have them in a row along one side of your greenhouse? Choose a design that has a flat and easy-to-clean top and it can also double as a potting bench, making it a great multifunctional buy.
Read more:
Sophie has been an interior stylist and journalist for over 20 years and has worked for many of the main interior magazines during that time, both in-house and as a freelancer. On the side, as well as being the News Editor for indie magazine, 91, she trained to be a florist last year and recently launched The Prettiest Posy where she curates beautiful flowers for weddings and events.