5 tips on how to get rid of weeds – fast!
Follow our advice on how to get rid of weeds to stop them spreading out of control in your garden this autumn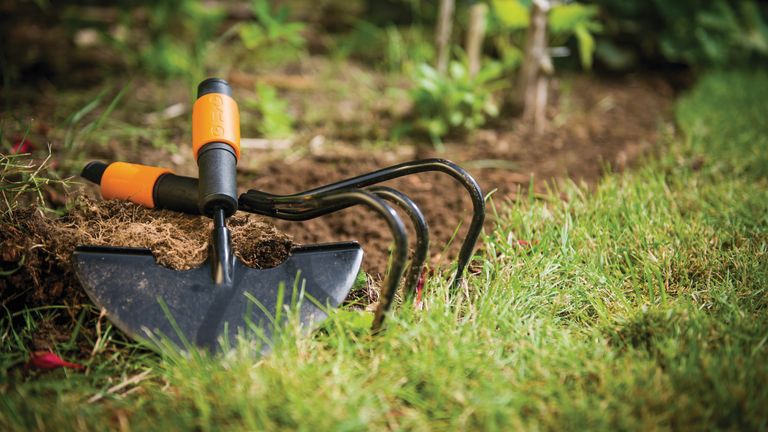 (Image credit: Fiskars)
Learning how to get rid of weeds is a necessity for every gardener. Weeds are a problem in every garden and you need to get on top of them. Left to their own devices they will stifle your precious plants by grabbing water and nutrients from the soil. It's important to stop the seeds getting blown about in the garden which gives them a free reign to multiply wherever they want. 
Using the best weed killer is an efficient way to get rid of weeds, but there are plenty of other methods you can try too. The more often and regularly you weed, the easier the weeds are to get rid of. 
Another thing to consider is that weeds don't rest even in the autumn. They continue to grow until they're covered by frost and snow, according to experts Fiskars. Tidying and weeding properly in the autumn means you'll have an easier time in the spring too. Keep reading for our five easy ways to get started this weekend. Once you get stuck into getting rid of them, it's actually really enjoyable! 
1. Get the right tool for the job
This one is obvious, but you'd be surprised how many people end up using a knife out of the cutlery drawer. If you like weeding with a hand tool and getting down in among the plants you'll like this National Trust patio weeding tool. If you prefer a Dutch hoe to slice through the roots, they come in all sizes so there is sure to be a tool that suits you too. There are even multi-purpose ones, which are a great idea if you don't have a lot of space for storing tools.
2. Remove the whole weed
It's important to get tackling those pesky weeds at this time of year because it's essential to remove the plant before it seeds and multiplies. You also need to dig down and remove every part of the root, as leaving behind just one teeny bit will mean the problem returns. Dispose of everything carefully in your green recycler and keep your fingers crossed you didn't miss any.
3. Chemicals or not?
If you're facing a profusion of weeds as the end of summer approaches the thought may have crossed your mind that it might be a good idea to turn to weedkillers to tackle the job for you. But if you want an eco garden that's chemical free and friendly to birds, butterflies and bees this is not the best way to go. Unless of course something more serious has taken hold. If you have bindweed or another hard-to-eradicate weed it might be the only way to get rid of it. When using the best weed killer, always follow the instructions carefully to ensure you don't accidentally damage any nearby plants too.
4. Tackle weeds fast
Whenever you see a small weed popping up be sure to get rid of it quickly. What's small this week will soon be elbowing your other plants out of the way. Be vigilant and do a regular 'sweep' of the garden, looking out in particular for invasive weeds such as nettles, dandelions and celandines. Once this type of weed takes hold they're tenacious and don't give up easily. So it's important you don't let them get established in the first place.
5. Weed little and often
Set aside a dedicated time every week to tackle weeds in the garden then you will keep on top of things. You may even find you like doing it so much you want to up it to twice a week! It's a known fact that weeding can be therapeutic so take it as an opportunity to step back from your busy schedule and unwind. So not only are you doing the garden a favour but also yourself.
Read more: