5 vegetables that are perfect for growing in pots or containers
Not got much space for a veg patch? These vegetables will be just as happy in a pot on your patio or balcony, so add them to your planting list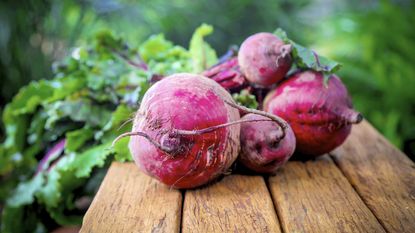 (Image credit: Suttons)
Not all of us have huge gardens with space for a large vegetable patch, or access to an allotment where you can grow an abundance of crops, but that doesn't mean you can't join in the trend for growing your own vegetables at home.
We're here to show you that growing vegetables in pots is easy to do. There are some great varieties that can be grown in containers in a backyard or patio, on a small balcony or even your kitchen windowsill.
So don't let your space (or lack of it) get in your way. Keep scrolling to check out our top five suggestions for starting your grow your own journey.
1. Chilli peppers
Fancy some hot stuff? These chilli peppers have a Scoville heat rating of around 80000chu and once harvested you can enjoy them dried or used fresh from your plants.
A striking variety of chilli peppers to grow, they will give you a yellow, orange and scarlet display in your containers.
Sow indoors in March or direct sow in April when it's warmer and cover with a fine sprinkling of compost or vermiculite. They will flower from June and be ready for harvest from July.
Head over to our guide on how to grow chillies for more top tips.
2. Beetroot
Boltardy is one of the most popular varieties of beetroot as it produces a great yield of tasty deep red beets that you can use in salads, or you can roast or pickle them.
As the name suggests, this beetroot is resistant to bolting, which is another good reason to buy this variety if you're keen to learn how to grow beetroot this year.
If you buy them as plug plants you can plant them straight into your container during April and May – just make sure the soil is moist and give them water. They will be ready to harvest from June through to October.
3. Mangetout
Super sweet and easy to grow, these predominantly string-less pods also have a great mildew resistance. They also have a good sowing window from March to June so there's plenty of time to start them off indoors now, or do successive direct sowings from April when it's warmer.
They will flower and be ready to eat from June through to September, which is a good long harvest window to have.
4. Tomatoes
This fabulous variety of British bred tomato is trailing so can be used in hanging baskets too – perfect for small spaces! It's so vigorous that it will produce up to 4kg of delicious fruit every season, ideal for salads and summer meals outside.
You can start the seeds off indoors in a tray, or keep the pot inside until it's warmer, then harden them off before moving them fully outside. They love a warm sheltered spot and harvest time is from mid-August to mid-October.
There's more tips on how to grow tomatoes in our guide.
5. Broad beans
If you sow broad bean seeds from now until May in your pots, you will get a bountiful harvest from May to July. This dwarf variety is ideal for patio or balcony growing and you'll be eating nutritious broad beans in no time – far superior to those in the supermarket!
Pop the seeds into moist, gently firmed compost in your container and space the seeds at around 15cm. Keep your pot in a partially sunny spot that's sheltered and support with canes as they start to grow.
Want more inspiration for growing vegetables in compact spaces? Our small vegetable garden ideas are a great place to start.
Sophie has been an interior stylist and journalist for over 20 years. She recently trained to be a florist and launched The Prettiest Posy where she curates beautiful flowers for weddings and events.