5 ways to use paint to brighten up your garden
Freshen up your fences, furniture and shed with these fun ideas for revamping your garden with paint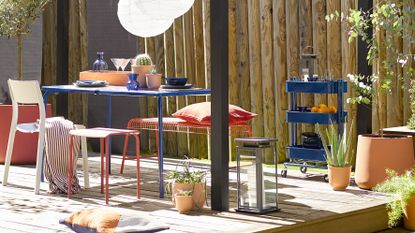 (Image credit: Santex)
Give your garden a stylish update this Bank Holiday with a little help from some colourful paint or wood stains. Not only will painting your outdoor furniture and woodwork, protect it from the elements, it'll also give your garden a fresh new look. And the last Bank Holiday weekend of the summer is ideal for giving your garden a revamp – get in there before autumn arrives! Remember paint will dry too quickly when it's really sunny, so choose a more overcast day or paint in the morning or evening. Here are the five easy ways to update your garden with paint this weekend.
Don't forget to take a look at the best garden design ideas. And if we've inspired you to get painting, check out our handy step-by-step guide.
1. GIVE YOUR SHED A NEW LOOK
Green's the perfect colour for painting a shed, helping it to blend in with your greenery. We love Passiflora 101 by M&L Paints, which is named after the passifloraceae – or passionflower – a dark green vine with glossy leaves. This is the ideal shade if you want your shed/workshop to blend in to the rest of your garden –you could even paint your furniture to match. Place some pots of perennials in front for bursts of colour when they're in bloom.
2. UPDATE YOUR FURNITURE
Is last year's garden furniture looking a bit tired and tatty? Exterior paints these days are so much better than they used to be. You will find a great range of colours and the finishes will protect your furniture for years. Shown here is Sandtex's Microseal ultra smooth masonry paint in Hot Brick, Light Grey and Terracotta, and their rapid-dry gloss in Oxford Blue and Smokey Grey.
3. ADD COLOUR TO YOUR FENCES
Fences are traditionally painted in quite muted colours, like greens and blues, but why not be adventurous and opt for a bolder colour – or three? These lovely shades from Sadolin are from the Superdec range and are called Bleached Rose, Sandbank, Gingerbread and Sharon Fruit. Choose one or make a statement with this striped design.
4. PAINT YOUR GATE
Don't forget to give your gate a lick of paint! Cuprinol has come up with a bright range of colours that purposely contrast against the greens of nature – like this vibrant Garden Shades Beach Blue. It's designed to allow the natural texture of the woodgrain to show though, whilst protecting it and there's a great collection of both nature-inspired and punchier colours to choose from.
5. DON'T FORGET YOUR DOORS!
Your exterior doors are an integral part of your home's exterior and set the tone for the rest of your garden. Most doors are easy to update with paint, just apply a primer that's suited to the material first. This gorgeous shade is called Lavender Quartz by Dulux, it even comes in a masonry paint finish so you could paint your exterior walls to match!
More great garden ideas:
Sophie has been an interior stylist and journalist for over 20 years. She recently trained to be a florist and launched The Prettiest Posy where she curates beautiful flowers for weddings and events.